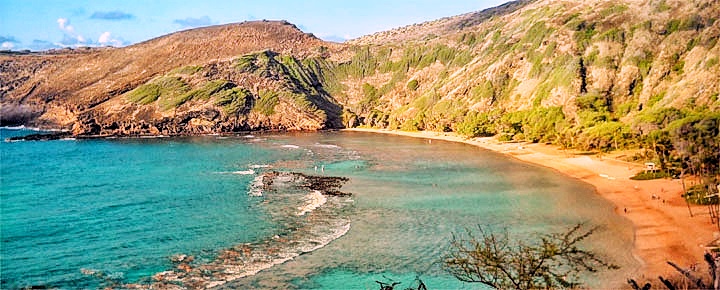 Hawaii officials are suggesting you, our important visitors to Hawaii, be tested 3 days prior to arriving. That as the only way to eliminate the 14-day isolation currently mandated for all arrivals. This raises a myriad of questions including will you agree to testing?
More questions too, including, are the tests even readily available assuming all else is a go? Let alone issues commentors have raised about the legality of such testing, inasmuch as what we are talking about is domestic travel. While that an immunity passports might be acceptable internationally, we are not sure this is even permissible for flights to Hawaii and we understand could result in lawsuits.
Right now, Hawaii feels safer than other places because we are cut off from everyone and have almost no cases.
At the same time Hawaii has 35% unemployment (and likely far more that isn't called unemployment). This cannot continue much longer. Maj. Gen. Kenneth Hara, incident commander for Hawaii, added this weekend, "If we let the economy go the way it's going, there will be significant civil unrest that could lead to civil disobedience and, in the worst case, civil disturbance and rioting." He and many others are frustrated that a plan and schedule to reopen the economy have not been released.
When you start coming back, it will be concerning to see what happens and if the number of cases changes significantly.
Testing for travelers: a first step at reviving Hawaii tourism?
Even though Hawaii Lieutenant Governor, Dr. Josh Green, M.D., is in favor of these as the way to "greenlight" arrivals, experts in public health and the aviation industry aren't sure this is the near term solution. We tend to concur.
The feasibility of implementing such a practice to tens of thousands of arrivals, either before departure or on arrival, seems dubious. Even if it sounds great on paper.
In the meantime, US Airlines have already begun implementing a series of health measures to help protect those flying to Hawaii. This includes wearing masks, appropriate distancing, boarding procedure modifications, food and beverage changes, frequent cleaning and disinfecting of aircraft, availability of hand sanitizer, and more.
As you know, multiple locations around the world are working on testing everyone who travels:
1. Emirates was the first to announce last month they would test passengers pre-flight, with results in ten minutes. To our knowledge these are tests for prior exposure rather than for current infection. Experts aren't sure if these are of any use at all. The World Health Organization (WHO) said they're concerned, given there is no evidence that those previously exposed are now immune.
2. Vienna Airport in Austria, implemented a $200 testing and certification available for both departing and arriving passengers. But would any of this work in terms of domestic travel to and from Hawaii?
3. Hong Kong Airport has been testing all arrivals since last month.
Obviously, testing will not replace other new health security measures for now.
This includes maintaining appropriate distances, masks, temperature screening, and greatly enhanced airport and aircraft procedures that include disinfecting and cleaning.
IATA CEO Alexandre de Juniac's view is "We need a vaccine, and immunity passport or an effective… test that can be administered at scale."
However, to our knowledge, there are still not enough tests to go around. Isn't the USA still rationing those for the most vulnerable?  So how can the airlines, or the State of Hawaii, or anyone else, be poised to do wide-scale testing, at any time reasonably soon enough, to re-start Hawaii tourism?
Keep in mind that there are perhaps 1/4 million tests available daily in the USA for all purposes, whereas more than 2 million passengers a day would typically pass through TSA. Scaling those numbers down for Hawaii, it is not currently feasible.
Beyond that, the notion of tests three days before travel raises additional questions. Experts say that some false-negative tests could permit infected passengers to fly.
What the state, airports, and airlines are doing.
At present, we are unaware of specific plans for any state (including Hawaii), airport, or airline to conduct testing. Instead, all airlines are implementing other mitigation measures, that do little to prevent infections from entering Hawaii.
Efforts are afoot this week in Congress to establish national standards for travel.
Airlines for America (trade organization) said, "As all screening processes for the traveling public are the responsibility of the U.S. government, having temperature checks performed by the TSA will ensure that procedures are standardized, providing consistency across airports so that travelers can plan appropriately." Temperature checks however are of minimal use for a variety of reasons.
Fewer Hawaii arrivals could help to start.
It is likely that at the beginning, given obvious concerns and unknowns, visitors to Hawaii will build slowly over time. That will give us some time to adjust and come to terms with the new normal and establish longer-term, appropriate procedures. In the meantime, Hawaii travelers are going to need to be comfortable with distancing, and other health protocols for the foreseeable future.
We look forward to hearing from you. Mahalo.
Disclosure: We receive a small commission on purchases from some of the links on Beat of Hawaii. These links cost you nothing and provide income necessary to offer our website to you. Mahalo! Privacy Policy and Disclosures.