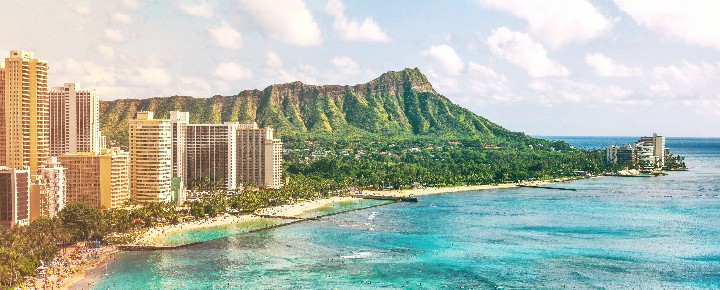 There's no doubt about it, people are traveling big time again, and Hawaii is having one of its busiest summers. Some visitors are making up for lost time with what is coined "revenge travel." That is when people are unwilling to cancel vacation plans again, have grown weary of being at home, are vaccinated, have saved up money and perks, and are ready to spend and go.
At the same time, in an interesting juxtaposition, cost-consciousness is key to consumers, who are saying that the price tag of their destination vacation is still largely determining where to go. Hawaii may want to pay special attention to this trend.
Even though 70% of U.S. consumers are ready to travel after being cooped up, both cost and safety remain the primary drivers as to whether a Hawaii vacation is in the cards or not, following a bizarre, stressful, and socially distant year, more than 50% of U.S consumers are planning on a vacation within the net 6 months. That is according to Discover and their annual travel survey.
Read on for what the survey shows and see our tips in today's post on how to plan a value-oriented Hawaii vacation.
Boomers to the front of the travel line.
In terms of who's most inclined to travel, Discover says that 28% of Boomers will take a vacation, while only 18% of Gen X will. There apparently is an inverse relationship between age and inclination towards adventure travel. Gen Z is aged 18-22, Millennials age 23-38, Gen X age 39-54, and Baby Boomers age 55-73.
"It's clear consumers have a strong desire to travel again… U.S. consumers are considering costs, flexibility, and the spread of COVID-19 while traveling." — Jacob Ayoub, Discover VP of consumer and competitive insights.
Consumers decide on destination largely based on cost.
When making a vacation destination decision, like Hawaii, 87% of consumers say that the cost of their destination is the most important factor, outranking all other considerations.
Tips to still enjoy a value-oriented Hawaii vacation.
1.We say it remains possible off-season but not during the peak of summer. Here are further ideas to help out.
2.There have already been multiple sales on airfare for late summer and fall. Those will continue. Car rental prices are slowly going down, and accommodations will be more plentiful with lower costs too. Airfares have already dipped well below $100 each way during brief sales, and we haven't seen the end of that yet. More fall Hawaii airfare sales are just ahead, and if you sign up for our free emails, you'll be the first to know about them.
3. Avoid the end-of-year holidays. But, if you still choose to travel at this highest-priced time of all, the lowest costs for flights to Hawaii will be December 24, 25, 31, and January 1. Keep in mind, too, that departing for Hawaii after December 25 will be somewhat less expensive. Don't expect easy availability or low cost on car rentals, accommodations, or activities. And remember to reserve all ground activities in advance, including a luau, helicopter tours, car rentals, and favorite restaurants.
4.From early January until later in March (before spring break), there will be excellent winter prices, making this a great time to visit Hawaii.
5.Avoid spring break between mid-March and early April 2022. That will be one of the most expensive times of year to visit Hawaii. Do not expect to see deals offered for spring break.
6.Between spring break and summer 2022 is another fabulous and lower-cost time for a Hawaii vacation.
Health and safety top of mind for travelers after cost.
Discover says that 80% of consumers are seeking accommodations with strict Covid hygiene protocols. They said that trend is not abating despite progress against Covid. 74% reported that cleanliness would remain a priority. And half say they will spend more on "splurge" accommodations that have strict Covid protocols.
Flying still hasn't returned to prior popularity, but…
When it comes to Hawaii, there is virtually no choice, especially with cruising not returned. NCL recently said that it plans to restart its 7-day Hawaii cruises on the Pride of America starting November 6.
Discover said that only 39% of those surveyed would fly on their next vacation.
Note about the Discover survey.
The survey was conducted on behalf of Discover by Dynata and was conducted online from April 23 – 28, 2021, with a total sample size of 2,000 US adults (ages 18+). The indicated margin of sampling error was ±2 percentage points with a 90-95 percent confidence level.
Are you too deciding based on cost, or are you a revenge traveler, ready to go?
Disclosure: We receive a small commission on purchases from some of the links on Beat of Hawaii. These links cost you nothing and provide income necessary to offer our website to you. Mahalo! Privacy Policy and Disclosures.