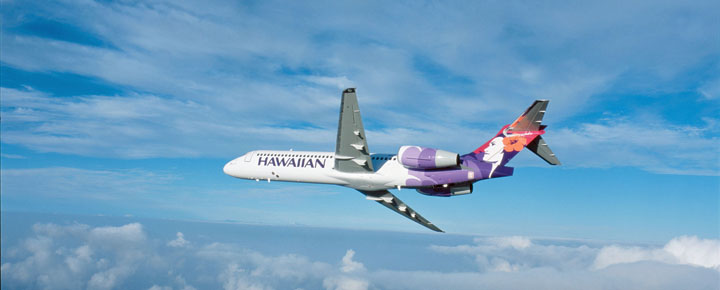 Many Hawaiian Airlines inter-island flights were delayed and/or diverted yesterday, with multiple aircraft grounded, due to a software system malfunction. The company said at 645pm Saturday, "eight aircraft have been returned to service, and we are continuing to work to have our full fleet restored." Delays of five hours or longer are being mentioned, plus cascading issues with passengers' accommodations and car rentals too. If you were on any affected flights and care to comment, we'd love to hear from you.
Technical issues arose in a flight management system that Hawaiian said "had been upgraded over the past several months as part of an FAA-mandate." The resulting delays, groundings, re-routing, and communication issues spiraled into bad PR in social media as well as in emails we received.
We've since learned that this issue may have impacted all US airlines with certain Rockwell Collins GPS/flight management systems.
What we were told is that the problems and delays were not explained to customers who waited in line for hours, and made futile attempts to get answers online and via the call center. As one person said, "a little communication would have really gone a long way, " while another said, "we are appalled at the lack of communication to people who were waiting hours and hours."
Passengers also reported being routed to the wrong island, with flights destined to Kauai and Maui instead going to Honolulu. In addition, there were personnel complications, perhaps as people's shifts ended or they timed-out on the number of hours they can work in one day. More than one person mentioned that there was no pilot to fly their plane.
On Facebook, Hawaiian Airlines said, "please send us your details in a private message; we can also help you with filing a formal complaint if you wish."
One passenger suggested that it could be worse – "at least you are stuck in Hawaii." And yet others opined about how Southwest Airlines entering the inter-island market might change things.
From our own experience flying Hawaiian Airlines inter-island hundreds of times, delays and communications issues have been rare, and overall their systems run extremely well. It's a good thing that problems such as there are infrequent, inasmuch as for those of us living in Hawaii, Hawaiian's inter-island service is tantamount to a bus system. We rely on it for meetings, doctor appointments, and social events. When "the bus or train" stops running or goes to the wrong place, with little communication, this is what can happen.
Disclosure: We receive a small commission on purchases from some of the links on Beat of Hawaii. These links cost you nothing and provide income necessary to offer our website to you. Mahalo! Privacy Policy and Disclosures.