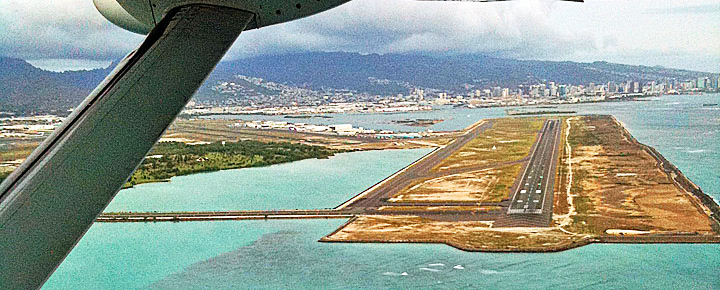 If you're wondering, like we are, how could a Honolulu Airport power outage possibly happen, read on. At about 930am yesterday, there was a complete power outage at Hawaii's primary airport, which wrecked havoc for passengers and employees alike. There were very long security lines that wrapped outside the Hawaiian Airlines terminal (Terminal 1), while TSA was unable to process passengers. Power was restored within about 90 minutes,  but it took far longer for operations to return to normal.
Many flights were delayed as a result of the Honolulu Airport power outage. One airport employee was hospitalized after they became stuck in an elevator and suffered from panic.
Hawaiian Airlines said "all power was out from security checkpoints, to kiosks, to jet bridges."
What caused the outage?
Hawaii DOT said that Hawaiian Electric accidentally tripped a transmission line while we also heard reports of a "faulty transmission line" that powers both terminals. Terminal 2 saw power restored almost immediately via backup power, while Terminal 1's outage continued for what seemed like an eternity.
Backup power did not work!
Hawaiian Electric was able to restore power in three minutes to Terminal 2 and the rest of the airport that was impacted, except for the Hawaiian Airlines terminal. The backup power system for that terminal simply failed to activate. That is being investigated.
Failure of Honolulu Airport to modernize.
We have talked for years with the airlines that use Honolulu International who have expressed concerns about the airport operations and management. So, unfortunately, this did not come as a surprise to us. Before retiring, prior Hawaiian Airlines CEO Mark Dunkerley complained about the lack of progress in the airport's modernization that has been ongoing since 2006. He said there was "a high priority to develop the infrastructure, which is so important to our state and the state's economy." We couldn't agree more.
The aging airport is, however, still trying to renovate. It had hardly seen improvement in the past 40 years. At the same time, use of the airport has grown dramatically, with over two dozen airlines and 300,000 annual flight operations. Last year a JD Power report gave poor marks to HNL, ranking it 22 out of 25 in airports surveyed.
Disclosure: We receive a small commission on purchases from some of the links on Beat of Hawaii. These links cost you nothing and provide income necessary to offer our website to you. Mahalo! Privacy Policy and Disclosures.