We've been hearing from many of you about the unprecedented number of Hawaii flight delays and cancellations so far this week. Both in comments, from friends, and others. One friend exclaimed, "Hawaiian Airlines has dropped the ball every day this week so far." Another used words we won't quote to describe their frustration.
Digging deeper, we found that the problems have rocketed to a new level. According to flight tracking service FlightAware, on Monday and Tuesday, there were 1,199 Hawaii flights delayed and 172 Hawaii flights canceled entirely. And it is too early to know how today will shake out, but it isn't looking much better based on the image below.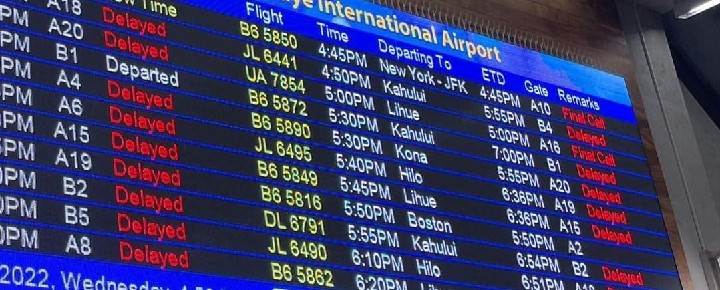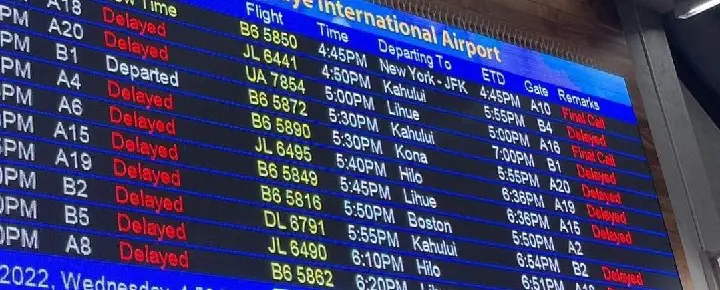 The problems are partly due to the freakish Kona storm that swept through the islands on Sunday and Monday, the ongoing Honolulu runway outage, bad weather this week on the mainland, staffing shortages, and other largely inexplicable reasons. Delays and cancellations also led to enormous baggage handling issues that are still being sorted out today.
Hawaiian Airlines experienced by far the most cancellations and delays, as would be expected with the sheer number of flights they operate in the islands. For example, Monday's delayed and canceled Hawaiian flights at Honolulu Airport represented 77% of their total flights.
Hawaiian Airlines travel waiver issued.
Hawaiian Airlines didn't specifically mention Hawaii's storm in their statement. Instead, they said that the problem and their offer are "Due to the convergence of operational disruptions and inclement weather on the mainland."
Hawaiian is offering those with mainland or interisland flights through December 25 the ability to change flights without any fee or fare difference. Just rebook or cancel by December 25. Guests must call or live chat on the Hawaiian website to obtain the waiver offer.
Update: We are receiving reports from readers that the Hawaiian Airlines Call Center in the Philippines does not seem to be in sync yet with the situation and travel waiver.
(3/4) We are offering a travel waiver for all guests who have booked flights departing Dec. 20 – 25, 2022 HST within the neighbor islands and between Hawai'i and the continental U.S. See details: https://t.co/gkFRPmJMR3. pic.twitter.com/xIpuNi4rFl

— Hawaiian Airlines (@HawaiianAir) December 20, 2022
172 Hawaii Flights were canceled Monday and Tuesday.
Monday's 73 Hawaii Flight cancellations
Honolulu: 26 Hawaiian Airlines, 5 Southwest Airlines, 1 Delta Airlines
Maui: 16 Hawaiian Airlines, 4 Southwest Airlines, 2 Air Canada, 1 Alaska Airlines
Lihue: 6 Hawaiian Airlines, 1 Alaska Airlines, 1 Southwest Airlines
Kona: 6 Hawaiian Airlines
Hilo: 4 Hawaiian Airlines
Tuesday's 99 Hawaii Flight Cancelations 
Honolulu: 40 Hawaiian Airlines, 2 Southwest Airlines, 1 United Airlines, 1 Air Canada, 1 Westjet Airlines
Maui: 21 Hawaiian Airlines, 2 Southwest Airlines, 1 Westjet Airlines
Lihue: 14 Hawaiian Airlines
Kona: 8 Hawaiian Airlines, 1 Westjet Airlines
Hilo: 7 Hawaiian Airlines
1,199 Hawaii Flights delayed Monday and Tuesday.
Monday's 680 Hawaii flight delays (arrivals and departures)
Honolulu (333): 163 Hawaiian Airlines, 59 Southwest Airlines, 14 Delta Airlines, 4 Air Canada, 18 Alaska Airlines, 27 Mokulele Airlines, 29 United Airlines, 5 Westjet Airlines, 14 American Airlines
Maui (166): 77 Hawaiian Airlines, 21 Southwest Airlines, 1 Air Canada, 15 Alaska Airlines, 4 Westjet Airlines, 7 Delta Airlines, 22 Mokulele Airlines, 13 United Airlines, 6 American Airlines
Lihue (60): 37 Hawaiian Airlines, 6 Alaska Airlines, 13 Southwest Airlines, 1 Delta Airlines, 3 United Airlines
Kona (87): 42 Hawaiian Airlines, 1 Westjet Airlines, 7 Alaska Airlines, 2 Delta Airlines, 6 Mokulele Airlines, 17 Southwest Airlines, 5 United Airlines, 4 American Airlines, 3 Air Canada
Hilo (34): 23 Hawaiian Airlines, 3 Mokulele Airlines, 8 Southwest Airlines
Tuesday's 519 Hawaii flight delays (arrivals and departures)
Honolulu (235): 126 Hawaiian Airlines, 52 Southwest Airlines, 17 United Airlines, 2 Air Canada, 4 Westjet Airlines, 12 Alaska Airlines, 8 Delta Airlines, 12 Mokulele Airlines, 2 American Airlines
Maui (136): 65 Hawaiian Airlines, 20 Southwest Airlines, 2 Westjet Airlines, 12 Alaska Airlines, 5 Delta Airlines, 15 Mokulele Airlines, 6 United Airlines, 7 American Airlines, 4 Air Canada
Lihue (52): 26 Hawaiian Airlines, 1 American Airlines, 6 Alaska Airlines, 1 Delta Airlines, 13 Southwest Airlines, 4 United Airlines, 1 Westjet Airlines
Kona (66): 32 Hawaiian Airlines, 2 Westjet Airlines, 9 Alaska Airlines, 6 Mokulele Airlines, 11 Southwest Airlines, 4 United Airlines, 2 American Airlines
Hilo (30): 18 Hawaiian Airlines, 4 Mokulele Airlines, 8 Southwest Airlines