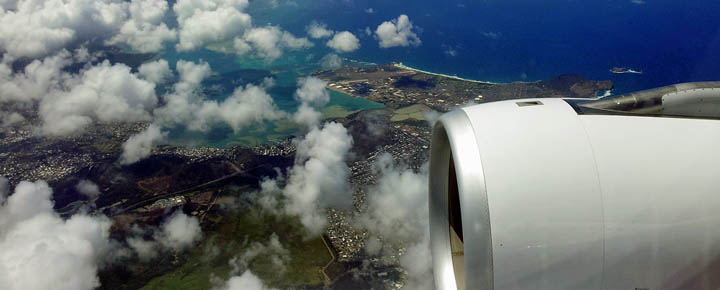 Airline fees are annoying and it is no surprise that they are on the increase again. That means rethinking what to pack for Hawaii in order to reduce baggage fees.
These fees are ubiquitous with the exception of soon to be arriving Southwest Hawaii flights, and it is hard to avoid them when coming to Hawaii. Baggage and other fees have been on the increase since they were first introduced ten years ago. By 2017, it is estimated that airline fees amounted to $82 billion worldwide. Read on for just updated costs by airlines for flights to Hawaii.
1. Updated costs for checked bags on flights to Hawaii (effective 9/2018):
Alaska Airlines: $25 first bag, $25 second bag. (2nd deal).
American Airlines: $25 $30 first bag, $35 $40 second bag.
Delta Airlines: $25 $30 first bag, $35 $40 second bag.
Hawaiian Airlines: $25 first bag, $35 second bag. (3rd best deal).
Southwest Airlines (flights not announced yet): No charge for first two checked bags. (Best deal).
United Airlines: $25 $30 first bag, $35 $40 second bag.
2. Tips and Tricks
Use a larger carry-on that still fits in airline overheads (22 x 14 x 9).  On Hawaiian Airlines for example, our full-size carry-on fits directly into the overhead. Check what size will fit on the airline and plane type that you'll be flying.
Leave the snorkeling gear at home.  There are rental places on each island or head to Costco or Walmart for an inexpensive set. If you are finicky about your equipment, try bringing just the mask and renting/buying fins (as Dawn suggests below).
You won't need as much clothing as you think.  One sweater or sweatshirt, long pants and athletic shoes worn on the plane are generally adequate for staying warm during all seasons in Hawaii. The remaining clothes can be lightweight, mostly shorts, shirts and sandals. Dressing beyond "resort casual" is less common in Hawaii.
Do plan some touch-up laundry while you're here. Many if not most Hawaii accommodations have laundry facilities on location or nearby. The exception is generally the better hotels; although even many highly rated hotels have a guest laundry. Even without laundry facilities, quick washing can be done in a sink (consider packing a 1-2 ounce container of liquid dish washing soap), and a drying line in the bathroom is either provided or can be improvised. Have you tried the incredible travel clothes we wear from Ex Officio? They wash in the sink, dry in a few hours and always look good.
Use the hotel beach towels.  Bringing your own takes up valuable luggage space. Use the hotel towels and drop them off on your day of departure en route to the airport. Or, consider a fast-dry travel towel. We find those very handy after checking out, when heading to the beach before the airport.
White clothes might stay at home. They don't mix very well with the unavoidable red dirt here in Hawaii. Especially true for shoes.
We've seen the suggestion to pack some clothes you'll be giving/throwing away soon. You can drop them off when you're leaving (perhaps donating them if they are in good condition) and replace them in your luggage with souvenirs.
Keep track of the weight of your carry-on (and your checked luggage). Airlines are beginning to enforce carry-on weight limits, so be prepared in case they do. A portable luggage scale just keeps on working trip after trip.
Join the airline's loyalty program. For example, Hawaiian Air's frequent flyer membership will get you a $10 savings on the first checked bag and $15 saving on the second on inter-island flights. We suggest signing up for membership prior to purchasing Hawaiian Airlines tickets.
Check airline credit card programs. Many of these offer free checked bags or other perks worth investigating.
Updated 9/24/18.
Beat of Hawaii photo on approach to Honolulu.