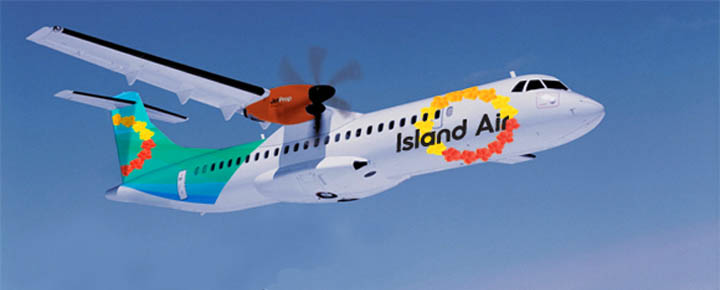 This is turning out to be quite a good week for Hawaii island hoppers as well as for two Hawaiian islands that have suffered from limited air service in recent years. Three distinct announcements all point to new services and reduced pricing ahead for visitors and Hawaii residents.
First you'll be surprised to know that there is no new company involved, and that these changes are with our existing airlines.
Island Air expanding
"…We'll be Hawaii's fastest growing inter-island carrier." L. Kaneshiro, Island Air CEO
Island Air plans is rebranding and plans to acquire new planes to replace and double its aging fleet of Dash 8's. French built ATR-72 and ATR-42 turboprops will now appear for the first time in Hawaii. These are widely used elsewhere in similar operations, such as in neighboring French Polynesia.
The 30 year old Hawaii company plans to begin certification with the 64 passenger ATR-72 next month (August) and will then add the 48 passenger ART-42 starting in 2013.
The company is changing its entire look and feel, which can be seen on their newly launched website.
Hawaiian Air adding turboprop service
Hawaiian Air is on an expansion tear, and that isn't just true internationally. The company announced this week that they will be acquiring new aircraft in order to bring back service to lesser served airports, likely including Lanai, Molokai and West Maui. No additional information about which planes, routes or a time frame, has been revealed. This brings Hawaiian into more direct competition with Island Air and with Mokulele, both of whom serve smaller Hawaii airports. Hawaiian has the obvious competitive advantage of being able to offer through service from all of its US and international destinations.
Summer/Fall interisland airfare sale continues
Earlier this week we announced an excellent inter-island fare sale with prices starting at $51 plus tax. That sale is still going on at Hawaiian and I now find competitive pricing as well at competitor Go! Airlines.  So check them both out for Hawaii island hopping this summer and early fall 2012.
---