If you've ever gone on TripAdvisor and saw their $99 Tripadvisor Plus being promoted, you, like us, probably just ignored it. The program says, "Tripadvisor Plus – Get Member-Only Travel Deals. Travel often? Now, get paid for it. Earn cash at 700,000+ hotels and experiences."
We're still not sold on TripAdvisor.
For newer readers, it was years ago that Beat of Hawaii became known internationally for first revealing the enormous percentage of fake reviews on TripAdvisor. Many other exposés have followed that over the years. That included most notably, a London Times article in 2018 that reported one-third of all TripAdvisor reviews are fraudulent. TripAdvisor did its own report and said that only 9% of its reviews are fake. Others have also reported that TripAdvisor may be swayed by its advertisers into removing unfavorable reviews to improve TripAdvisor's bottom line.
Interestingly, Beat of Hawaii editor Jeff has been looking for accommodation for an upcoming trip to a faraway place and ended up on TripAdvisor reviews. In short order, he became incredibly frustrated by what intuitively felt like fake reviews. He went to sites like Booking and Airbnb, where the reviewers needed to have stayed at the property. Booking says, "On Booking.com, only guests who booked through us and/or stayed at your property can leave a review."
So many iterations of TripAdvisor, but none have stuck.
TripAdvisor has tried many things over the years, including being more social network-oriented and just an advisor for accommodations and activities. But it always comes back to reviews for getting eyeballs on its pages.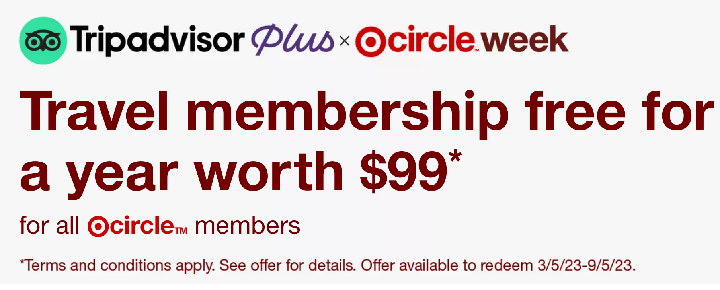 The latest innovation is Tripadvisor Plus.
This was an overly expensive and questionably valuable club-type deal offering discounts. Others who have tried TripAdvisor Plus have reported that the rates may be no better than elsewhere. We also understand that the Plus version of TA may be less focused on reviews and more on the booking aspect.
At the end of the day, Tripadvisor is an OTA (online travel agency) that uses reviews to help sell travel. TripAdvisor Plus will hopefully reveal special discounts and hotel savings as proposed. Members will receive 10% off on "Tripadvisor experiences," the activities and tours part of their business.
How to get TripAdvisor Plus for free.
Starting tomorrow, March 5, a free year of Tripadvisor Plus is being offered through Target. It is part of the Target Circle Week event. Target Circle is free to join as well. The instructions will appear tomorrow on the Circle Week event page.
Can you save money on booking – let's report back.
Tomorrow, then we have the opportunity to get TripAdvisor Plus for free; we'll find out. Let us know if you do the same. Last day to redeem the offer is September 5, 2023.