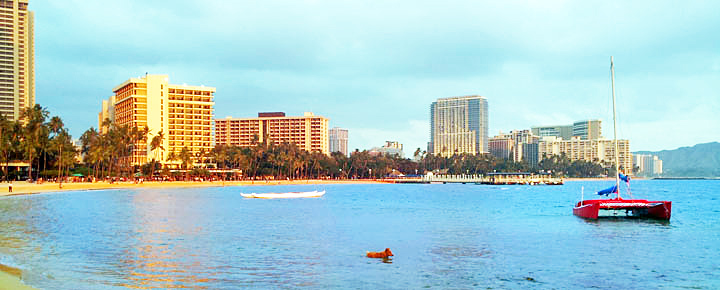 The London Times just confirmed (September 2018) what we first proclaimed a decade ago. When it comes to TripAdvisor reviews, you can't believe what you read. Undercover operations by The Times caught companies buying 5-star reviews on TripAdvisor. They make reasonable claim that top rated hosts (B&B) have up to twice as many fake reviews as lower rated ones. In addition to fake positive reviews, there is likely an equal business in providing negative reviews for rival companies.
"Hotels and restaurants are trying to cheat their way to the top of TripAdvisor amid claims that as many as one in three reviews is fake." — London Times. That while the TripAdvisor website states emphatically "TripAdvisor has a zero-tolerance fraud policy." But seriously, how could both of these be true, especially ten years after this matter first came into public awareness.
Don't believe it? We checked for fake Hawaii hotel reviews and what we found was shocking. 
We are usually suspicious when reading accommodation reviews. In part, being in the industry, we have heard too many first hand stories about people writing fake reviews.
We decided to check the top Hawaii hotels that were listed in the TripAdvisor 2017 Readers Choice Awards. We ran that property through a review analyzer called Fakespot and the results are as follows:
Hotel Wailea. Fakespot: 40% unreliable reviews.
Koa Kea Hotel. Fakespot: 10% unreliable reviews.
Four Seasons Resort Hualalai. Fakespot: 40% unreliable reviews.
Aulani, a Disney Resort. Fakespot: 20% unreliable reviews.
Kalaekilohana. Fakespot: 40% unreliable reviews.
Montage Kapalua Bay. Fakespot: 10% unreliable reviews.
Tremendous financial incentive for top ranking.
Top reviewed hotels and restaurants get significantly more business. At the same time, there are review businesses happy to provide fake reviews in order to make money at our expense. And lastly, TripAdvisor's own business has a strong financial incentive to continue to allow fake reviews.
When TripAdvisor fake reviews first made news.
Beat of Hawaii was one of the first to write about TripAdvisor reviews and fraud, and that was back in January 2009 (see articles below). That was picked up by global publications in the US, Australia and Europe. The subject has since been widely written about, albeit sometimes buried or forgotten. Here's what we first said:
"Intense competition in the travel industry, greatly exacerbated by the state of our economy, has caused hotels and other travel providers to artificially manipulate review rankings in order to achieve increased bookings and revenue." –Beat of Hawaii.
We still confirm that TripAdvisor has no real incentive to stop review fraud. 
As we originally stated, "inherent conflict of interest exists between travel marketing (via advertising) and a user review site like TripAdvisor.  Reducing the number of reviews and site visitors in order to curtail fake reviews will negatively impact marketing revenue."
In 2009, TripAdvisor was owned by Expedia. Now, as an independent company, their focus has shifted as you are undoubtedly aware. Their primary focus is to sell accommodations.
Do TripAdvisor visitors don't fully comprehend the issues?
We all understandably crave reviews prior to committing our precious travel dollars, but at the same time it is very hard to quickly discern the real from the professional, fake results.
Perhaps TripAdvisor's motto, which was "get the truth, then go,"  should be "try to find the truth, and go."
What can you do to protect yourself.
Much of this hasn't changed in the past decade, so we'll restate those first:
"Check each reviewer's profile you're basing a travel decision on, in order to see how many he/she has written.  When I see a profile with only one or two reviews, I normally look the other way.  If the reviewer writes often on multiple properties in various locations, and I see objectivity, I'm more likely to believe what is written."
"Disregard the very worst and very best reviews (unless you trust the writer) and go with what's in the middle.  It's most likely accurate and least likely fraudulent (in either a positive or negative direction)."
"Do your own research.  Find things by professional reviewers (Frommers, Fodors, or Lonely Planet, for example) that corroborate TripAdvisor reviews on which you are basing your travel decisions."
This one is new. Try using a review testing website. We do that, and have been doing so, for example, with Amazon reviews (using reviewmeta.com), for a long time.
How can a shed (that isn't even a business) become the #1 rated restaurant in London?
You may recall that last year TripAdvisor was humiliated to the extreme, when a writer created a fictional restaurant that then became the city's top rated restaurant. The writer was astonished and said that "restaurant owners would pay me £10 and I'd write a positive review of their place, despite never eating there."
He then went about creating a fake web presence replete with fake TripAdvisor reviews. Months later, writer Oobah Butler wrote, his non-existent restaurant became "the highest ranked in one of the world's biggest cities, on perhaps the internet's most trusted reviews site."
Our original articles on TripAdvisor review fraud:
TripAdvisor And The Big Business Of Fake Reviews, Part 1
TripAdvisor And The Big Business Of Fake Reviews, Part 2
Can TripAdvisor Stop Review Fraud?