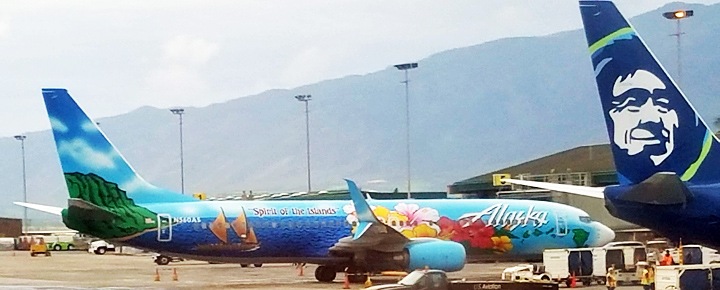 Alaska Airlines has just brought back its "Swell Deals" in conjunction with Surfline. Use the coupon code BARRELED20 and read below for how to apply it.
Alaska is using surf conditions to generate discounts depending on the wave height. The company said, "Alaska will discount flights up to 30% off for travel to premier surfing destinations through Feb. 10, 2021. The bigger the waves, the bigger the discount."
So depending on wave conditions forecast between now and Friday, you could potentially fly to Hawaii for as little as $66 each way. That's based on current sample sale prices between San Jose and Honolulu. $99 x .67 (2/3)= $66.
"Surfline will pull data from five different locations that monitor minute-by-minute forecasts around the Hawaiian Islands." The subregions for data tracking, recommended by Surfline as having the highest surf during this ticketing window, include: San Francisco; Oahu, North Shore; North Orange County, California; Oahu, South Shore; and Santa Cruz, California.
For flights booked between now and October 23, for travel starting October 20, Alaska will discount fares based on the following max swell heights tracked by Surfline:
0-3 feet = 10% off
4-6 feet = 15% off
7-12 feet = 20% off
13+ feet = 30% off
"The discount will change daily at approximately noon and 5 p.m. PDT as Alaska gets the latest forecast information from Surfline. Throughout the course of the promotion, the discount level will never drop and can only increase as swells grow."
BOH: As of right now, the discount is only at 10%, but we are hopeful that waves will increase, so do check back. To obtain the discount, enter the code BARRELED20 in the discount code field.
Alaska's new Hawaii schedule.
As of today, Alaska is flying twice-daily to the Hawaiian Islands from Seattle. Then on November 1, service will resume from Portland, San Jose, and San Diego. Flights from Anchorage and Los Angeles restart on November 20.
Disclosure: We receive a small commission on purchases from some of the links on Beat of Hawaii. These links cost you nothing and provide income necessary to offer our website to you. Mahalo! Privacy Policy and Disclosures.