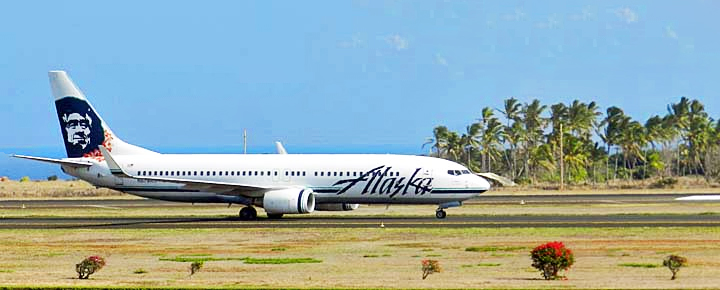 Alaska Airlines revealed two interesting and positive developments and a curve ball, possibly shedding light on what will happen whenever Hawaii travel resumes. The first relates to more space on-board, while the second about protecting your money with up to two years to travel. Lastly, an Alaska A320, barely a decade old, was just scrapped for parts. All signs of the times. Please read on, and keep in mind these changes are for all Alaska Air flights, including Hawaii.
Middle seats blocked on Alaska Airlines Hawaii flights.
First, the company announced it will keep all middle seats empty. At present, that is being offered only on bookings through 5/31/20. First class seats are also being reduced from 12 to 6 on every Alaska Airlines Hawaii flight. We expect that to be extended and subsequently broadened to other airlines, and we'll explain why below.
Alaska Airlines already said, "We'll re-evaluate our efforts to provide extra space in mid-May." In other words, stay tuned for more.
Is this the new normal on flights to Hawaii?
Reading between the lines, today's announcement makes clear the point that this will be an ongoing feature for some time, once Hawaii flights resume. With demand for air travel at the lowest point ever, this will undoubtedly be a most welcome feature for returning passengers while not further encumbering the airlines.
Furthermore, we fully expect to see the other airlines provide the same level of separation. Those wishing to sit closer together on Alaska are being asked to make the request at the point of reservation or at the airport.
Other airlines are already following suit. London behemoth EasyJet, with 1,o00+ routes, announced today that it will eliminate middle seats in order to encourage more people to travel upon flight resumptions. "That is something that we will do because I think that is something that the customers would like to see." — Johan Lundgren, EasyJet CEO.
Historic ticket cancellation extension.
For anyone who has or will cancel Alaska Airlines flights in March through May 2020, the credits will be extended for booking through July 5, 2021, with travel to commence by May 31, 2022.
For any credits you have at Alaska that were deposited prior to March 1, 2020, your booking (not travel) window will be extended by 6 months. You do not need to travel before that 6-month extension date – you just need to book your ticket by then.
Why a relatively new Alaska Airbus A320 was junked for parts.
Yesterday, an Alaska plane met a fate that seemed unfathomable. One of their legacy A320 aircraft obtained when they acquired Virgin America was disassembled for spare parts. The plane was a mere 12 years old, whereas the average airliner flies for 3 decades.
We expect to see a lot more of this as airlines downsize following epic changes and fleets are reorganized. The plane was at the end of its Alaska lease apparently, and there was more value to the owner in the parts rather than in the whole plane. It also eliminated the need for expensive aircraft storage, which can be tens of thousands of dollars per plane each month.
The plane in question was not ETOPS certified, and therefore was never used for Hawaii flights.
Beat of Hawaii photo of Alaska Airlines 737-800 at Lihue.
Disclosure: We receive a small commission on purchases from some of the links on Beat of Hawaii. These links cost you nothing and provide income necessary to offer our website to you. Mahalo! Privacy Policy and Disclosures.