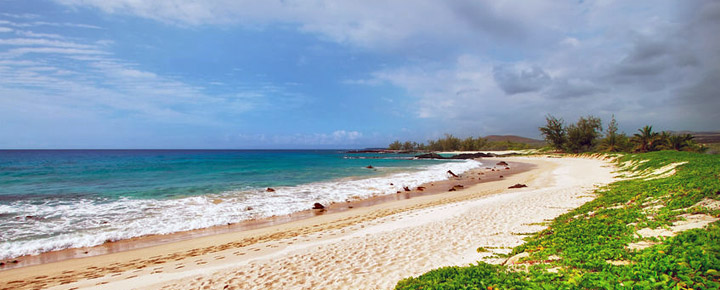 When you return to Hawaii, there are some changes you'll see at airport screenings. Until now, passengers stopped to have their temperature taken by hand-held thermometers. Hereafter, travelers can deplane without needing to stop and will only be contacted as needed, thanks to new equipment and a Safe Travels App.
New Thermal Temperature Screening Coming to a Gate Near You.
The Hawaii Department of Transportation announced this week that "phase two of the new thermal temperature screening equipment installation has been completed at Hawaii's five airports." There are 133 cameras in operation that will detect those with a temperature of 100.4 degrees or above.
This temperature scanning equipment is at all gates used for mainland flights.
The next phase is the installation of facial imaging technology which is scheduled to be completed by year's end to help identify those arriving with an elevated temperature.
Until the facial imaging is available, temperature screenings require that passengers be identified by a specially trained employee, while another employee will speak with the passenger in question. With facial imaging, travelers will be monitored from a central location, thus reducing workforce requirements.
Privacy Concerns Over Facial Imaging.
In terms of privacy concerns, the state said that images are only intended to track those with an elevated temperature, and will be deleted promptly. DOT's spokesperson said that images "Won't be kept for more than 30 minutes. It's not like what you've seen in a spy movie. There is no identifying information about who that person is or where they live."
The technology used for temperature screen and facial scanning will be operated and monitored by the Hawaii National Guard and HDOT.
Those presenting a temperature of 100.4 degrees or higher will receive further evaluation. That will be conducted by AMR paramedics or by the Aircraft Rescue Fire Fighting units stationed at airports. Passengers will be offered a COVID-19 test and the contact information will be provided to the HDOT for contact tracing if needed.
Safe Travels App for Visitors starts September 1.
Starting next week, all Hawaii bound travelers will need to complete an online travel application. The form contains details including origin, destination, accommodation information, and contact details. That can be done in advance. Then, at 24-hours before travel, visitors will complete a health questionnaire detailing any current health issues. This process will be used for both mainland to Hawaii and interisland travel.
A QR code will be sent to the traveler which will then be scanned on arrival at the airport. The app is called Safe Travels, which will be used in conjunction with the above temperature checks as well as additional screening when appropriate.
Hawaii's governor said the app "Will allow our travelers to provide their required health and travel information before they arrive at the airport. It will also help us keep in contact with those who are required to be in quarantine. This is an important step in preparing to reopen our economy."
The Safe Travels website is currently in development and more information should be coming soon at https://safetravels.hawaii.gov/.
Disclosure: We receive a small commission on purchases from some of the links on Beat of Hawaii. These links cost you nothing and provide income necessary to offer our website to you. Mahalo! Privacy Policy and Disclosures.