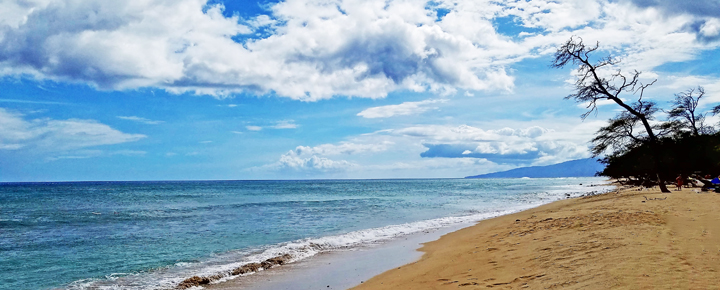 Two critically important Hawaii travel reopening-related press events just took place. The first one was the governor's press conference which just ended. That was preceded by a Zoom travel industry meeting hosted by the University of Hawaii. First below is the governor's exciting news, followed by some takeaways from today's earlier meeting.
Governor Ige: All islands to open on Thursday for trans-Pacific travel without quarantine. 
Governor Ige, Lieutenant Governor Green together with the Hawaii Director of Health hosted a press conference this afternoon. Governor Ige kicked this off with the statement, "We are looking forward to launching the pre-travel testing program on Thursday." He believes that this is the most advanced program in the country. In concert with the neighbor islands, testing will be accepted for travel to all airports in Hawaii.
Kauai and Maui have also developed voluntary post-arrival testing programs and there will also be a state-wide surveillance testing program. These post-arrival tests will all be free of charge. A pre-travel testing program with Japan is also now pending. More details will be forthcoming.
The governor said that the Big Island will differ in its procedures from Maui and Kauai in that mainland to Big Island travelers will require a county provided, no-cost antigen test directly on arrival. That in contrast to Maui and Kauai, where we understand a second test for mainland arrivals will be made available optionally three days after arrival. Oahu is working towards having some form of secondary tests implemented in the near future as well. We are awaiting yet another press conference, this time with Honolulu Mayor Kirk Caldwell.
The governor said regarding the disparity and confusion about differing rules between the islands, "Every county has different situations and different challenges."
Interisland pre-travel testing program also starts Thursday.
Governor Ige said, "Travel between the counties is an essential part of being connected." He went on to say that an exemption to quarantine has been approved and will also be implemented starting Thursday for travelers going between Honolulu and both Maui and Kauai.
"Both Kauai and Maui will be implementing the pre-travel (interisland) testing program on Thursday" — Governor Ige. Details for interisland travel to the Big Island without mandatory quarantine, however, are still being worked out.
The governor said there will be "More details as we proceed." The governor said that $30 million in Cares Act funds will be used to purchase hundreds of thousands of additional COVID tests.
New trusted testing partners just added.
The new partners that have been added today include the following. In total there are now 17 approved partners from whom travelers can obtain tests in accordance with the state's rules:
Industry zoom meeting included details of using the Safe Travels App and more. 
1. Tim Sakahara, the Director of Communications for the state's Department of Transportation provided the following.
Safe Travels App. Travelers must set up their Safe Travels account before arriving in Hawaii. They will be sent a QR code which will be scanned by officials on arrival. Every passenger, including children, will need an email address. Airport screeners will scan and verify passenger's information including their test results, after which travelers are free to leave the airport. He suggested that test results be on your phone or printed.
Regarding a second optional test. Tim said (prior to the governor's press conference) that four days after the traveler has entered Hawaii, a second voluntary (surveillance) test will be conducted to help see if there are any additional cases. The goal is to test 10% of all arrivals. This is a free test and Tim said there may be gift cards or other incentives offered for taking the test.
2. Hawaiian Airlines' take. Avi Mannis, senior vice president of marketing thanked all of their front line workers, saying "There's no work from home option" in the airline industry. We are unique in our dependence on air travel." Avi said in response to a repeated question, that the quarantine has made it hard to know what the underlying demand for travel is. 90% of those who had planned to come to Hawaii since March did not. Some of "Those who did come created headlines and did some lasting damage to our (Hawaii's) brand." Regarding interisland, Avi said that the interisland network used to transport 20,000 passengers a day, whereas now it is down to about 2,000 a day. "What happens to the interisland quarantine remains to be seen. He said that PCR testing like what is happening with mainland travel doesn't make sense in terms of cost and logistics.
3. Alaska Airlines. Daniel Chun, Hawaii regional manager of sales and marketing for Alaska Airlines addressed safety initiatives both at Alaska specifically and in the industry generally. He depicted exceptional changes to promote safe travel including more than 100 specific actions that Alaska has taken.
Airlines on how long will it take to get back to pre-COVID Hawaii travel.
Both Daniel and Avi reaffirmed their inability to accurately forecast demand at least for now. At the same time, both of them expressed the hope that travel could potentially rebound up to 80% as soon as summer 2021. On the other hand, United Airlines regional manager Jeff Tarpey said he is awaiting a vaccine as the critical element needed for more normal travel volume to resume.
Disclosure: We receive a small commission on purchases from some of the links on Beat of Hawaii. These links cost you nothing and provide income necessary to offer our website to you. Mahalo! Privacy Policy and Disclosures.