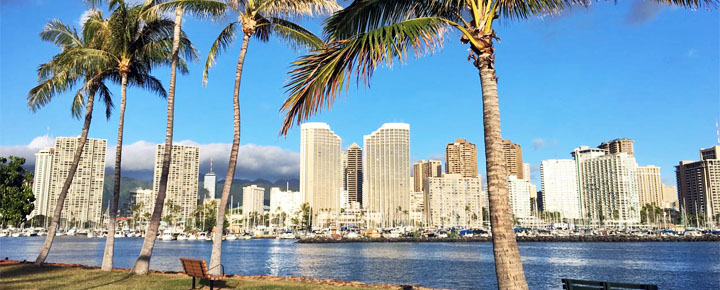 If you haven't noticed, the cost of Hawaii hotels is still on the rise and cheap hotels in Hawaii have become a dying breed. Read on for six tips to help you buck this costly trend.
We were looking for a hotel in Honolulu last week and found even budget hotel rates were starting at over $200 per night. That before a plethora of taxes and other ancillary fees. These are the same hotels that a few years ago were about half that price.
Can You Still Find Cheap Hawaii Hotels?
You can even with Hawaii hotel occupancy so strong. In fact, Oahu ranks as having one of the highest hotel occupancy rates of any island/sun destination worldwide. The other Hawaiian islands are close behind. In the end, after chasing down virtually every choice, we ended up staying at an Airbnb rental at the Diamond Head Beach Hotel.
Tricks to finding Hawaii hotel deals
1. Book accommodations early in the trip planning process.
Buying cheap flights to Hawaii without looking for hotel deals isn't the best plan. It is best to have accommodation costs in mind before buying airfare. Then immediately followup with some place to stay, even one that can be changed later if need be.
2. Plan travel for the lower cost seasons and days of week.
Best seasons for deals are January until spring break, after spring break through first week of June, then mid-August through early December. Holidays are excluded.
Travel mid-week whenever possible to lower your hotel costs. Even if there are great deals they may not be available for higher demand weekends. Fly on Tuesdays, Wednesdays and Thursdays.
3. Avoid non-cancellable reservations in order to retain flexibility.
We usually make a reservation right at the time of booking airfare. That way we know we have a place to stay. We initially seek those that can be cancelled for some period, so that we still can shop around as dates get closer. When we're ready to lock in final accommodations that may not be cancelled, we also make sure that we have travel insurance just in case.
4. Continue to scour options up to the last minute, prior to being locked in.
When accommodation providers get to the 90 day before arrival point, they reassess availability and pricing. If there is excess inventory (which isn't always the case), prices in off-season may trend downwards. That's an ideal time to finalize your accommodations.
5. Consider Hawaii vacation rentals as a cost-effective alternative to Hawaii hotels. 
Vacation rentals can put you in places that hotels just can't. For a unique experience, there's simply no other way to travel. We use Airbnb, but also frequently use VRBO. They have different listings so we like to check both.
6. Try checking with the hotel directly to see if a better rate is available. Also be on the lookout for best rate guarantee options.
This gets tricky. Hotels may promise OTA's (online travel agencies like Booking and Expedia) that they won't undercut the prices shown there. In order to get around that, hotels sometimes require that you create a login so that you can obtain "insider" prices. We've found this to be highly successful. You can sometimes get a cancellable rate from the hotel for the same price as a non-cancellable rate through an OTA. Or even a better room at the same price. Give it a try and let us know how it works.