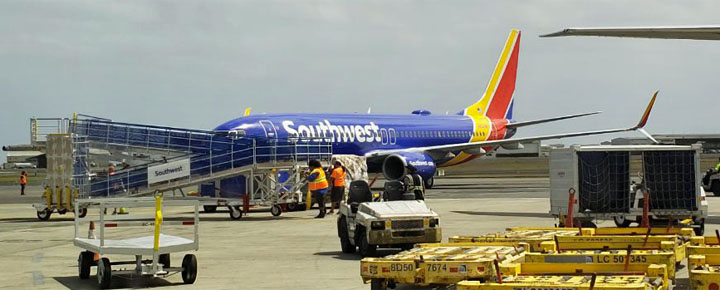 We've been getting messages from Beat of Hawaii readers who were stuck on yesterday's cancelled Southwest Hawaii Flight, which for mechanical reasons did not operate. Southwest Airlines  flight 5700 was scheduled to depart Honolulu at 9:10am and arrive Oakland at 515pm. We reached out to Southwest media relations to inquire about the incident, and just heard back from them moments ago.
Flight 5700 from Honolulu to Oakland was canceled due a mechanical issue. Customers were offered a hotel for the evening and we will be able to accommodate them on a different aircraft on Thursday. We apologize to our Customers and appreciate their patience as we work with them to get them to their destinations as quickly as possible." — SWA
Interesting timing with yesterday's USA Today article entitled "Southwest Airlines has cancelled 9,400 flights in past six weeks, and more are on way." The spate of recent cancelled flights was, according to Southwest, caused by a winter weather (3,800 flights), the labor dispute with SWA mechanics (2,800 flights), and the grounding of the 737 Max fleet (2,800). Our take is that the winter weather is over, the labor dispute appears to be resolved, and the Max fleet issues are outside of Southwest's control. That being said however, there are unique concerns associated with the Southwest Hawaii flight model. So read on.
Southwest Hawaii Flights are Unique.
This is of special importance to us here in Hawaii and those flying to the islands. And this was a concern that we had raised with Southwest recently. Hawaii is over 2,500 miles from the US mainland, and any issues with Hawaii flights could result in some ripple effect now and going forward.
We wondered about potential issues with aircraft on Hawaii routes.
Southwest is just in the beginning phase of rolling out Hawaii flights. It is interesting to note that we omniciently asked Southwest how they would handle issues like these. The reason is in part that they do not have inter-airline agreements to re-accommodate displaced passengers. We were told that while that is true, the company can and will buy tickets for passengers on other carriers when the need arises. We were also told that additional aircraft would be available in Hawaii to be certain that there were no unexpected issues during this time.
Southwest EVP Andrew Watterson told us last year that flights from the mainland would arrive one day, fly inter-island the second day, then return to the mainland the third day. That too would seemingly help in mitigating delay or mechanical problems that inevitably occur.
Southwest And Hawaiian Airlines Fleets.
The Southwest business model for Hawaii flights obviously stands in sharp contrast to that of Hawaiian Airlines, which has all of its 56 aircraft based here in Hawaii, together with its parts and maintenance base. Southwest's fleet is entirely mainland based.
As a side note, we also recall when we were stuck at LAX for 8 hours, due to a Hawaiian Airlines plane that went mechanical. Later we were rerouted to an American Airlines flight. So just saying, this can happen no matter the airline.
If you were scheduled to be on yesterday's cancelled flight, we'd appreciate hearing from you.
Disclosure: We receive a small commission on purchases from some of the links on Beat of Hawaii. These links cost you nothing and provide income necessary to offer our website to you. Mahalo! Privacy Policy and Disclosures.