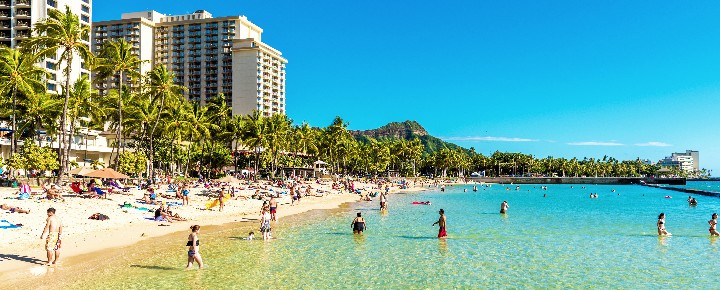 The airline industry is poised to reinstate change fees on flights to Hawaii for the lowest priced tickets. We've checked all the airlines flying to and from Hawaii from the US mainland, and the news is not exactly what you want to hear.
Airlines eliminated change fees during COVID.
That was true even on their normally non-changeable and cheapest, basic economy to Hawaii fares. Last year, the airlines moved to a more flexible, cancellable environment due to uncertain times. When Alaska Air eliminated change fees, they said, "COVID has taught us that flexibility in travel is key. As we evolve our approach to travel… it's important to give our guests flexibility when they book by eliminating change fees." — Andrew Harison, E.VP., Alaska Airlines.
But travel times are changing, and fast. This Thursday, unless something happens, which is highly unlikely, every airline that flies to Hawaii, except one, will reinstate change fees on their cheapest tickets.
The fee elimination during COVID was designed in part to help keep people off planes who didn't feel well. The industry's previously exorbitant change fees made it onerous to not show up for a flight.
Here's what to expect now:
Alaska Airlines: If you purchase a Saver fare through March 31, 2021, "You may cancel your trip without a fee and deposit the funds into My Account wallet or receive a credit certificate for future travel." Thereafter, "No changes, including same-day confirmed changes, are allowed for Saver fares."
Alaska's regular economy fares are normally about $30 more each way than Alaska's Saver fares. Paying the added $30 assures you of assigned seating, not being last to board, and now, the likely ability to change plans at will and without cost. This applies to Alaska's Hawaii flights and to their entire route network.
American Airlines: American will no longer allow changes for their Basic Economy fare tickets starting April 1, 2021. No fooling.
Delta Airlines: Starting April 1, Delta has "Eliminated change and cancel fees for tickets originating in North America (excluding Basic Economy tickets purchased after March 30, 2021, which are non-refundable and non-changeable).
Hawaiian Airlines: You have just two more days for added flexibility for "no change fees for any new ticket booked between Jan. 1, 2021, and March 31, 2021." Thereafter, "There are no change fees for guests who purchase tickets or redeem HawaiianMiles On any route within our network For any seat except Main Cabin Basic."
Hawaiian doesn't sell Main Cabin Basic on every flight. On just checking between LA and Maui, only the changeable regular economy was being offered. Between SF and Honolulu, however, Main Cabin Basic was also available. The fare difference was $35 each way. Hawaii still offers meals, snacks, beverages, and in-flight entertainment on Main Cabin Basic. However, "Seat selection is not available until you check-in, no flight changes or refunds… and last group to board."
Southwest Airlines: Southwest has the most flexible policy in the industry and does not assess change fees. You can cancel any ticket and have a credit for 12 months from the original purchase date.
United Airlines. UAL says, "You can change Basic Economy… without change fees if the ticket is issued by March 31, 2021. Thereafter all other ticket classes will be changeable except Basic Economy.
How do change fees impact us on Hawaii flights?
You may recall that up to $200 per person was the previous charge for ticket changes, as indicated below. That was before Alaska, American, Delta, and United all announced plans to eliminate change fees permanently.
Beat of Hawaii's thoughts:
This is another reminder to pay close attention to what you are buying when it comes to Hawaii flights. If regular economy fares aren't significantly higher-priced, you should take advantage of those both now and in the future.
As a case in point mentioned above, Alaska Basic Economy typically only saved $30 each way compared with regular economy. That, while Hawaiian saved $35. Full fare offers the ability to have pre-assigned seats and free changes among other perks, which makes it a no-brainer to opt for whenever possible.
What's your take?
Updated 3/30/21.
Disclosure: We receive a small commission on purchases from some of the links on Beat of Hawaii. These links cost you nothing and provide income necessary to offer our website to you. Mahalo! Privacy Policy and Disclosures.