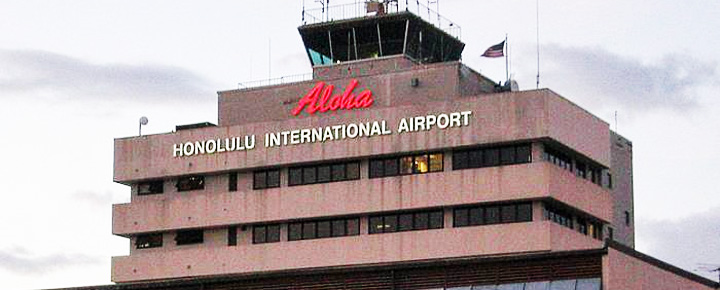 As if last week's crippling Honolulu Airport power outage wasn't enough, yesterday saw another complete debacle at Hawaii's primary airport. That apparently as a result of an overheated laptop initially, followed by an even more dangerous situation, that in turn led to a complete closure of the main terminal. It took nearly seven hours for operations to return to normal following the breakdown. With good timing, we were lucky to have just missed this incident ourselves.
Operations returned to normal today, although that was anything but was the case yesterday. It started with frightening erroneous reports of an active shooter at a TSA check-point, which triggered untold chaos and the terminal being evacuated, which caused major flight delays for nearly three dozen flights across all airlines.
What happened first is that gun-like popping noise and smoke emanated from the overheated laptop computer at the security checkpoint. What happened next, however, is unbelievable. There were multiple reports that TSA officers shouted "fire" and "run, get out, there's a fire."
The rumors of a potential shooter spread wildly throughout the terminal. Whatever was said that caused it, there was a subsequent stampede of passengers wherein TSA said that some "breached the security checkpoint by running into the sterile area of the airport without being screened." As a result, the entire terminal was evacuated.
Passengers who were initially scared became infuriated due to the lack of coordination and communication by airport employees. It took a long time for travelers to even be advised of what had caused the situation. Then all of the passengers were forced to wait outside until security could be reestablished and screening could begin again. After what seemed like an eternity, TSA tweeted "TSA checkpoints have reopened and have resumed screening passengers in Terminal 2 at the Daniel K Inouye Intl Airport. Passengers should check with their airline on flight status and gate information." TSA lines were horrendous.
When things go well at HNL, it can be among the most pleasant of airports anywhere in our opinion. When something goes awry, however, it appears that HNL is completely inept at handling the situation.
Disclosure: We receive a small commission on purchases from some of the links on Beat of Hawaii. These links cost you nothing and provide income necessary to offer our website to you. Mahalo! Privacy Policy and Disclosures.