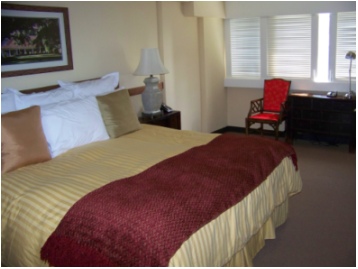 The Hawaii Polo Inn of Waikiki has a new look and name after its multi-million dollar renovation. It's now the Hotel Equus and part of Aqua Hotels and Resorts.
With rates starting at $94 a night, we decided to do an on-site review this month. We also have a pet mule (for real) and felt that we couldn't go wrong staying at a hotel with this name.
Our room was a Polo Executive Suite for $109 a night. When we opened the door we were pleasantly surprised by its large size and fashionable Ralph Lauren inspired décor. The furnishings, colors and comfortable bed were a direct hit. The interior had a soothing feel. It scores two thumbs up with the Beat of Hawaii team.
Hotel Equus is a good choice for techies with its free Internet.  Executive Suites feature an in-room computer and LCD flat screen TV/monitor.
There's no ocean view but I wouldn't expect one at these prices. The hotel is on busy Ala Mona Boulevard across from the Hawaii Prince Hotel.
If you're looking for a nice hotel that won't dent your pocket book, I recommend the Hotel Equus. I know that we'll be back.
We Liked: Décor, Price, Intimate size of hotel with 70 rooms, Free Internet, Location in the Marina District, Complimentary Continental Breakfast, Refrigerator with freezer and Coffee Maker.
We Didn't Like: Slow elevator (there's only one), slow Internet speed, and water that is slow to heat up; Small shower (although the marble and fixtures are nice); Parking is $18 a night.
Details: Check out the Hotel Equus Savvy Surfer Rates at Aqua Hotels and Resorts. You may need to be flexible with dates to find the best bargain. Hotel Equus is located at the gateway to Waikiki at 1696 Ala Moana Boulevard. Phone: 808-949-0061.
(This is not an advertisement. We have received no compensation of any kind for this review).