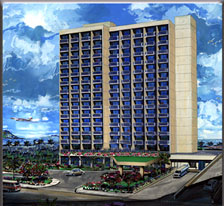 Have you ever tried spending the night at a hotel near Honolulu Airport? If so, you know the choices have been quite slim and frankly disappointing. In fact we usually choose to travel into Honolulu or Waikiki even when catching an early morning flight out of HNL.
We're excited to report that the Honolulu airport hotel situation is about to change for the better. This is great news for Kama`aina on outer islands and Hawaii vacation passengers transiting through Honolulu to other destinations.
Courtyard by Marriott Honolulu Airport Hotel
The developer of the Radisson Prince Kuhio Hotel, Washington based Hadley Properties, has announced that they have completed design for a new 247-room 15-story Courtyard by Marriott hotel adjacent to the airport (pictured here).
No date for the new hotel opening was announced. Let's hope it's soon.
The three current Honolulu airport hotel properties (some of which may be put out of business by Courtyard) are the Airport Honolulu Hotel, Best Western The Plaza Hotel and the Pacific Marina Inn. We've tried them and frankly they weren't anything we'd care to stay at again.
What are your experiences staying near Honolulu airport?