Honolulu's Daniel K. Inouye International Airport is ranked among the worst airports in the U.S. in a 2022 survey of airports by JD Power. That, in spite of much charm of Hawaii and yesteryear that prevails at HNL, including its outdoor gardens.
Problems at HNL have prevailed for years, despite complaints from passengers and airlines, and without regard to the multi-billion dollar Hawaii airports renovation program. That included the still incomplete $270 Million terminal expansion and the new consolidated car rental facility, which to us at least, is a significant improvement.
Passengers lobby-screening by USDA to be eliminated.
Hawaii's airports, including baggage handling facilities, have remained largely outdated and rundown with inferior technology, poor design, and terrible HDOT management. The U.S. Department of Agriculture is also connecting to the new system in order to eliminate the need for passengers to separately have baggage screened in the lobby prior to checking bags. That has long been required in order to be certain that passengers comply with rules prohibiting importation of produce from Hawaii.
Yesterday, the Hawaii Department of Transportation/Airports announced the completion of a new baggage handling system that should vastly improve the experience of visitors and residents at Hawaii's largest airport. At least in one important regard.
HDOT said, "Rolled out a $36 million baggage handling system at Daniel K. Inouye International Airport. The new system will make it more convenient for passengers to check their luggage and streamline the process."
HNL checked baggage handling drastically improved.
HDOT reported, "Luggage checked in at Terminal 1 (used by Hawaiian Airlines) now goes through a maze of conveyor belts and sensors that first determines if additional inspections should be done by TSA or the U.S. Department of Agriculture." This is a big improvement.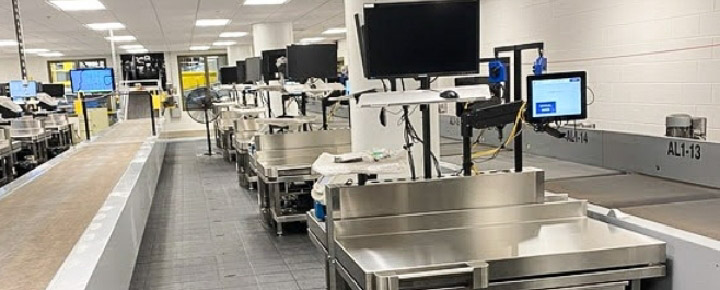 Previous HNL luggage handling nightmares should be eliminated.
HDOT said that sensors positioned above the conveyor belt check bags, which are then sorted and sent through their Explosive Detection Systems (EDS).
This comes after years of baggage handling system issues at the venerated airport. Most recently, HDOT had problems at Terminal 2 that caused passenger delays. Those impacted Alaska, American, Delta, Southwest, and United in March. Now with Terminal 1 completed, Terminal 2 will be next.