It's been almost two years since the much-anticipated 230,000-square-foot Mauka Concourse at Daniel K. Inouye International Airport, pictured above, opened in August 2021. We were initially excited about it, but when we visited it last fall, we were left shaking our heads about exactly what the Hawaii Department of Transportation had created.
The new terminal, one of the most significant projects at HNL, was built to accommodate up to 12 aircraft and to alleviate congestion in the other terminals, especially in the morning and early afternoon. The terminal is so massive that it adds about 30% to the airport's overall capacity.
While the gates are fine, the rest of the terminal is largely dysfunctional.
As pictured above, the space inside the terminal is cavernous and remains mostly unused. Other than at the gates, the terminal is also devoid of seating, or much of anything else for that matter, except for a few venues and a small number of seats along the "great room" far wall. It is just one very large and expensive space to maintain that serves little function until you reach the gates rather far from the terminal entry. That is with the exception of the concessions as shown in our photos. The one that greets you first upon terminal entry is Dunkin Doughnuts Express.
New Honolulu Airport concessions added recently.
A bar area has been added since we were last there; it was reasonably busy when we passed through last Sunday afternoon. There's also a small grab-and-go store. Everything is what we'll call unbranded since it uses the obscure name associated with the concourse. We have to wonder what happened to the branded concessions that long-term vendor HMS Host has been promising for the better part of two decades that never appeared. And the reason it took more than a year to add even these joints is reported to have been building permit issues.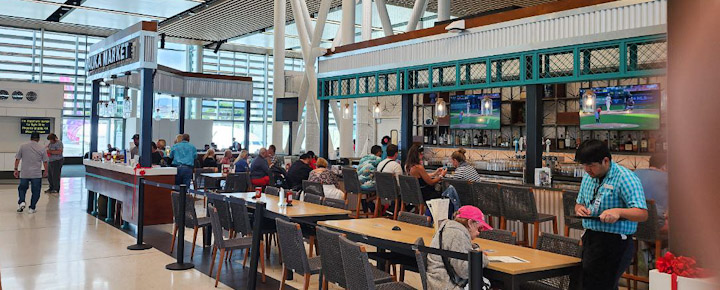 A new restaurant has also opened in the concourse which has a bar seating area as well. The restaurant's appearance was good, but the food looked less interesting. So much so that we ultimately decided not to eat there this time. The choices varied from a Mauka Burger at 22.75 to rice bowls from $23 to $25. There are also breakfast options in the morning, from $16 to $26. We'll do a dining review there shortly, but we will stick to a broader look at the Mauka Concourse for today.
As pretty as the Mauka Concourse is, at least in some ways, being new and having a very high ceiling, we were left cold by the experience when we first visited last year, and once again when we were there this past weekend. We said before that the term "putting lipstick on a pig" may apply, and it still does. "For as much as it cost and the capacity and cosmetic uplift it gives to the appearance of the aging Honolulu airport, you're in for some surprises, one of which is that you'd better still pack your lunch."
The terminal is that of Hawaiian Airlines, which said in 2021, "The Mauka Concourse will offer an improved experience for Kama'aina travelers and visitors, our employees, and all other airport users." Our take is that their statement remains only partially true.
The new "non-island vibe" for Honolulu Airport.
Gone are those unforgettable floral fragrances that many love to this day and that are unique to HNL. The design is all enclosed and fully air-conditioned. With something so intrinsic to Hawaii missing entirely there, the new terminal, whose appearance could place it anywhere in the world, had better live up to some other pretty high standards. But it doesn't.
The last time we transited the Mauka Concourse was when flying to Los Angeles and offering a review of Hawaiian Airlines economy class. We'd been warned that there was no food in the terminal and that it is quite a long walk to the nearest and, might we add, terrible, food options in the next terminal, Terminal 1.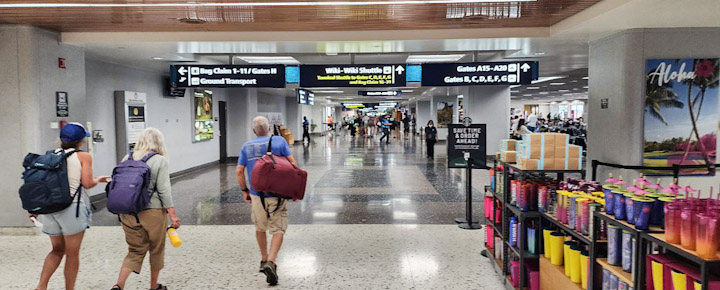 Speaking of Terminal 1: It is worn out and leaves a lot to be desired.
The new Mauka Concourse is at the far end of the airport. Walking towards the other end, you'll first encounter 30-year-old Terminal 1, which we still call the interisland terminal. We are so accustomed to it, having been in that terminal literally hundreds of times, that we forget its appearance. Have a look above. The very low ceilings, and old everything are somewhat more shocking now, when walking out of the large and open new terminal.
Worst airport food in U.S. with Hawaii's HMS Host.
Terrible food at Honolulu Airport results from the State of Hawaii Department of Transportation's questionable choice of concessionaire, HMS Host. We believe that their current contract will expire in 2025. The airport has had the dubious distinction of being rated multiple times as having among the worst food options of any airport in the U.S. That according to J.D. Power's North America Airport Satisfaction Study.
A pop-up Dunkins doughnut shop and a bar were the first to open in the Mauka Concourse. And that was followed by the one restaurant.
As we said previously, "The food at the airport has been rated the worst of all airports surveyed in the U.S., and it is understandable why. What doesn't make sense is why Hawaii has allowed this situation to continue. Just letting our minds wander, countless possibilities could make the food at HNL a gastronomic and cultural standout. We're reminded of the incredible food options at Singapore's Changi Airport. Instead, the nearest food choices beyond the Mauka Terminal are the adjacent (but not nearby) Terminal 1. There you'll find Burger King, which closed by 5:00 pm., and Stinger Ray's. We last ended up at Starbucks."