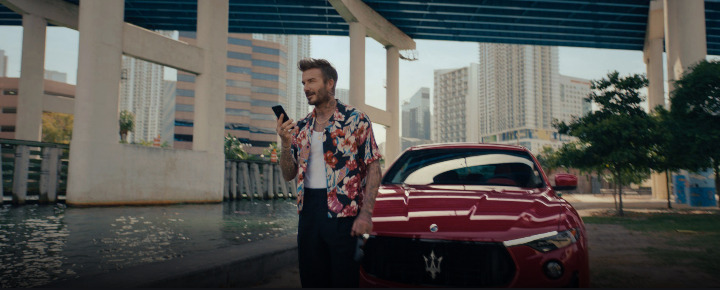 Happy Fathers Day! When is a more appropriate time to think about the Aloha Shirt, an iconic symbol of Hawaii? The post office even got in the act once and created the popular stamps seen below. They sold over 50 million in one year alone.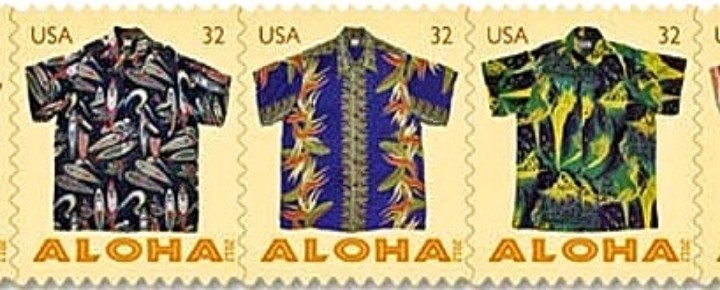 Very cool in every sense, Aloha Shirts have been popular for more than a century, since Japanese women first adapted kimono fabric for men's shirts. By the 1930s and 1940s, they had become a huge success, even on the US mainland.
Fast forward to the '60s, Aloha Shirts had become truly universal. Elvis Presley's Blue Hawaii certainly didn't hurt in that regard. Or Magnum, P.I. during the 1980s. While their popularity has waxed and waned ever since they have again been making a comeback with many fashion icons including Gucci adapting them to their designs. Other high-end retail stores are selling them too like Saks Fifth Avenue.
And last month, pictured above, David Beckham was seen in Miami wearing a new spring collection Saint Laurent by Anthony Vaccarello aloha shirt. He was posed in front of a Maserati, and David is their brand ambassador. That's quite a statement about just how far aloha shirts have come. Other celebrities rocking Aloha Shirts include Leonardo DiCaprio, Brad Pitt, and Harry Styles.
Aloha Shirts make ideal wear both on the mainland and here in Hawaii.
They also make one of the best Hawaii souvenirs to bring home from your vacation. Breezy, comfortable, and classic yet casual, for lounging, dining, the beach, a barbecue, and more.
Finding Aloha Shirts in Hawaii is easy and the range of options to choose from is diverse and fun. At one end of the spectrum, they can come from thrift stores, Longs, Walmart, and Costco. They're also found at our airports. Look too at the higher end, highly evolved creations from fabled names like Tori Richard and Reyn Spooner. You'll find no shortage of places to check out and buy Aloha Shirts, both in-person and online like ETSY and Amazon.
Jonesing to make an Aloha Shirt? 
You can certainly find a pattern if sewing is your passion. Or try making an origami Aloha Shirt by following the short video below. Your paper Aloha Shirt could be glued to the front of a handmade card.
The following are some of our favorite places. Please let us know about yours.
Bailey's Antiques and Aloha Shirts.
This is the mother lode of Aloha Shirts and the place where all Aloha shirt aficionados head to on their Hawaii vacation. Located near the Honolulu Zoo on Kapahulu, street, they have been in business since 1980. Bailey's has over 15,000 shirts in stock! They are divided into four groups: Used, New, Vintage, and Specialty. Get ready for Aloha Shirt overload all starting at under $10.
Tori's history dates to 1953 and was founded by a retiring garment manufacturer, his wife, and a pattern maker. Their concept was to use only the finest fabrics and art designed exclusively for them. They've continued to grow and today have dozens of stores on all the Hawaiian Islands and elsewhere, plus a large online business. Rob is a big fan because of their selection in tall sizes.
The never say die "Store of Hawaii" is still in business and is renowned for its Aloha Shirts. They offer many styles and patterns of aloha shirts in a variety of fabrics and price ranges. Stores on all the islands plus online.
Reyn Spooner became a legendary maker of fine Aloha Shirts, offering a wide range of patterns and fabrics. Since 1964, Reyn Spooner's Aloha Shirts changed the industry with the first-ever tailored fit plus classic styles.
Founded by a WWII Vet who began working at a men's shop on Catalina Island. After visiting Hawaii in 1957, Reyn moved his family to Honolulu and became one of the first stores at Ala Moana Shopping Center when it opened in 1959.
Reyn was one of the brands that helped establish the Aloha Shirt's global acceptance. It has been called the "Brooks Brothers of the Pacific."
Hawaii is well known for its many interesting second-hand stores.
There you'll find countless racks of Aloha Shirts, some of which are inexpensive and others that are from top brands that are making their way around a second or third time. For as little as a few dollars, to hundreds, you can find an Aloha Shirt that will last for decades and bring you right back to Hawaii each time you wear it. These are among the best bargains and Hawaii souvenirs you'll find on your Hawaii vacation.
Our own Aloha Shirt stories.
Rob has been a collector of Aloha shirts for decades, and when he lived on the mainland he'd bring favorites with him. Jeff, on the other hand, has used Aloha Shirts as part of his basic business attire his entire career. Jeff has favorites that were given to him by family and made by friends.
Do you have any Aloha Shirt memories to share?
Updated 6/20/21.
Disclosure: We receive a small commission on purchases from some of the links on Beat of Hawaii. These links cost you nothing and provide income necessary to offer our website to you. Mahalo! Privacy Policy and Disclosures.