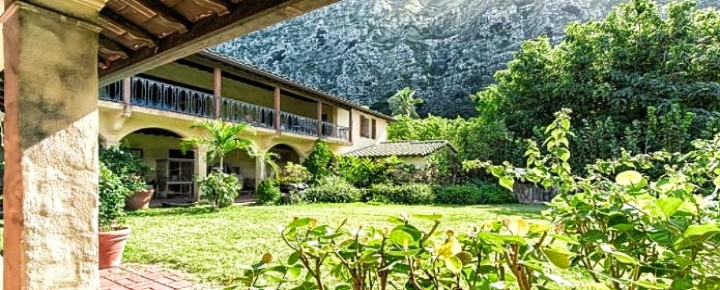 Before Rob moved to Hawaii, his weekly dose of Aloha in the 1980's was watching Tom Selleck in Magnum, P.I. Rob wanted that life here in the islands, wearing the famous Aloha Shirt like Magnum did, and living in that oceanfront home. When Rob drove by its location at Waimanalo, he would always try to take a peek. Now the home that served as the fictional "Robin's Nest," is back in the news and may be getting a presidential makeover.
It's being rumored that the property will be a retreat for President Barack Obama who grew up here and his family. The current neighbors know what is going on and have signed an agreement to stay quiet. We'll pretend to be private investigators like Magnum today, and present the facts, and only the facts. But we do think we are on to something here.
After the property sold a few years ago, the registered owner became Waimanalo Paradise.
What's newsworthy here it that behind the name is longtime Obama friend Martin Nesbitt. If that name is familiar to you, it's because Nesbitt served as the treasurer for two Obama presidential campaigns and is on the former president's foundation board. Another name listed in state records for Waimanalo Paradise is Kevin Poorman, who also has an Obama connection. He is president of the Obama Foundation Board.
So why would these two men need confidentiality agreements signed by neighbors? Unless of course, the whole idea for Waimanalo Paradise was to be a part-time residence for President Obama. It makes sense that is what is happening and the secrecy behind it. What better outcome for the property to replace its former cool Magnum with one cool former president, who probably never dreamed when he was growing up in Hawaii, that famous residence would be his.
Former Robin's Nest, however, will have a whole new look.
Most of it has been leveled for a new future here in the islands. The original 8,500 square foot home on three acres of oceanfront land, was built in 1933, and sold for $8.7 million in 2015 to Waimanalo Paradise. Up until 2015, any residence over 50 years old needed a historical review before it could be demolished. That's no longer the case unless it is on the national historical register or in a historic district.
A new generation, and some of us oldies, now have a brand new Magnum, P.I. to watch on television.
That show was recently renewed a third season and is filmed in Hawaii. If you've seen both the old and new, which is your favorite? I think any show filmed in the islands is a good thing for all.
Disclosure: We receive a small commission on purchases from some of the links on Beat of Hawaii. These links cost you nothing and provide income necessary to offer our website to you. Mahalo! Privacy Policy and Disclosures.