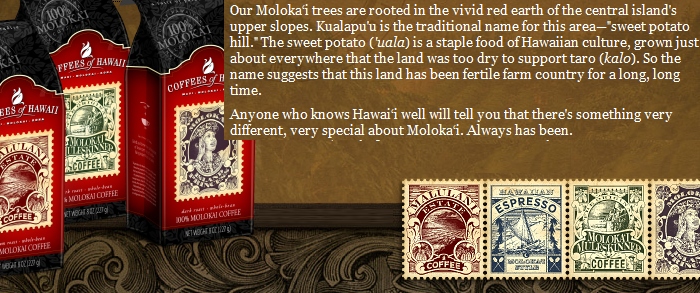 Coffee is serious business to us. We're home roasters with access to hundreds of wild coffee trees, and enjoy visiting plantations while island hopping. Recently, the manager of Molokai's Coffees of Hawaii, Maria Holmes, invited us for a tour and coffee tasting. How could we refuse?
Before we go any further let me just say that their Muleskinner brand was excellent. During taste testing we scored it highest overall. I love a strong coffee without the taste of rancid oils. Muleskinner scored well in freshness and buzz factor. It's a great and distinguished morning cup, and features a medium-body, with complex clear flavors and aromas.
We visited the plantation several times during our stay on Molokai. There's a small cafe and I recommend you try a Mocha Mama (photo below) after hiking Kalaupapa.  They are en route. On weekends the plantation hosts a jazz night with food. During the week there are Morning Espresso Tours and a Mule Drawn Wagon Tour (call for times and availability).
Maria was kind enough to give us a personal tour of their 500 acre plantation. Spending time with Maria we could sense her dedication to the land and to ensuring only the best coffee is produced. I was impressed that they use many environmentally friendly practices like composting, water recycling, and complete sun drying.
Facebook aficionados can join the Coffees of Hawaii fan page to stay on top of deals and what's happening at the plantation. I noticed they currently have a 10 percent discount for on-line orders and free Fed-Ex shipping with a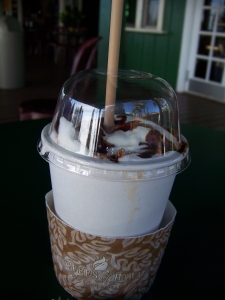 purchase of $100 or more.
I also suggest visiting the Coffees of Hawaii website which offers many features including videos and even Hawaii proverbs. Better yet, plan a trip to Molokai on your next Hawaii vacation and visit the plantation in person.
Subscribe to our email updates.
Disclosure: We receive a small commission on purchases from some of the links on Beat of Hawaii. These links cost you nothing and provide income necessary to offer our website to you. Mahalo! Privacy Policy and Disclosures.