This is a place we keep returning to in Honolulu and wanted to share it with you. It's also our next installment of Jeff's Picks. Kona Coffee Purveyors (KCP) at the International Marketplace in Waikiki may be the only redeeming value of this once-iconic shopping area that was bulldozed and remade into a sterile mall. But that's another story for another day.
Excellent coffee is at the core of Kona Coffee Purveyors on Oahu. The never-disappoint coffee is diligently made, as the owner says, with "a deep respect for the craft." You know this is going to be good because there is usually a line out front. The longest we've had to wait is about 15 minutes.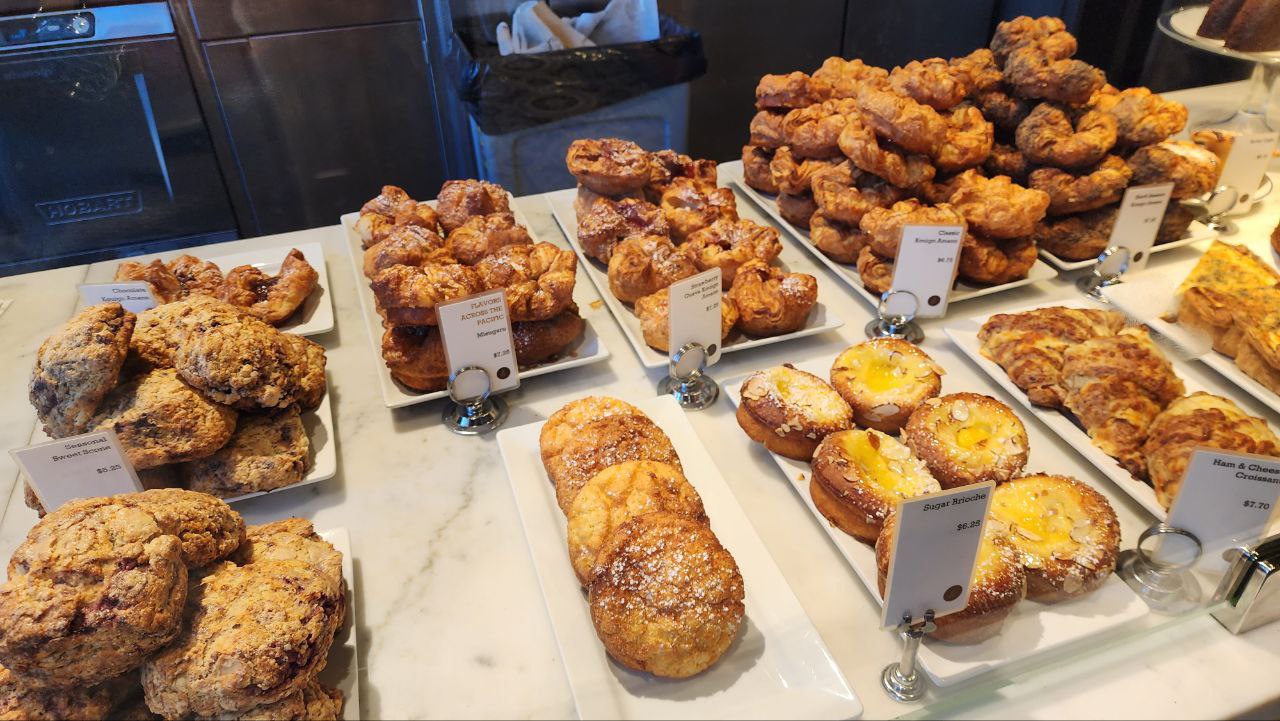 Enters b.patisserie at Kona Coffee Purveyors
There's nothing much better in life "than great coffee with great pastries." says Jeff. And it is absolutely true here with a special licensing agreement between KCP and San Francisco's b.patisserie.
The result is James Beard award-winning croissants, Kouign-Amann, and more that cause the lines to form. Their pastries are unlike anything to be found in Hawaii. As they say, "pastries made with both scientific precision and a great deal of passion," comes through in the taste.
As you walk through the fast-moving line, you'll be able to watch the pastries coming out hot via the cafe's open kitchen, where chefs are layering dough and letting the bread rise.
b.patisserie, is a San Francisco pastry fixture that BOH editors have visited. There, a modern salon de thé includes an open pastry kitchen that showcases the best of long-time pastry chef Belinda ("B") Leong together with Michel Suas. They proffer modern French-style pastries as well as American flavors and local (in this case, Hawaii) influences.
Michel hails from France, where he began baking at age 14 and, by age 21, was named the head pastry chef at Restaurant Barrier in Paris. That restaurant was one of 12 French restaurants honored with the coveted three-star Michelin award. Michel later relocated to the Bay Area, where he has an equally illustrious history.
KCP's History in Coffee
Some three thousand feet above the North Pacific on a third-generation coffee farm in Kona, Hawaii, is where the heart of the venture begins. There the owners – a coffee lover and a food scientist partner to handle growing, roasting, and everything in between. This is Jackie and Raymond Suiter's passion.
Raymond has been a coffee aficionado for more than three decades. Previously, the owner of Honolulu Coffee Company, which he sold to commence KCP in 2008.
Jackie, a flavor chemist, focuses on grading, and coffee tasting and is also an instructor in the art of fine coffee. They said about themselves, "Jackie's scientific culinary background and precise roasting methods – coupled with Raymond's exceptional attention to detail and desire to offer the absolute best experience – make for an inimitable team. They say, "Our coffee is about closeness. To the farmer, the field workers, the plants and the process. We live, work, surf, eat mac salad, grow and roast "at origin", and that's what makes us a little different than most – both in Kona and around the globe."
Tip: If there is a long line, you can go directly to the second counter and order if you want to purchase a t-shirt or coffee beans along with your drink or pastry. Otherwise, just enjoy the wait with anticipation as you watch the espresso, cortado, cold brew and other artisan coffee drinks coming off the line.
Jeff's Picks
Jeff's picks is a new area of Beat of Hawaii featuring things we love personally. We always pay our own way and receive no compensation.
Kona Coffee Purveyors is open daily from 7 a.m. to 4 p.m. at Kuhio Avenue Mall Entrance – International Marketplace, 2330 Kalākaua Ave #160, in Waikiki.