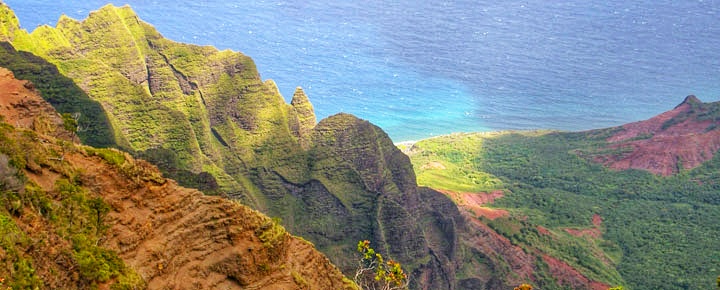 Kauai has just returned to the CDCs highest threat level for Covid infections. Its being recommended that masks be worn indoors on the island, among other measures. Kauai is the only Hawaiian Island to be so warned. The rest of the state is in moderate Covid risk assessment by the CDC. All of the islands went from low to moderate levels just last month, and now this.
The director of the DOH said today they believe the actual case count is 5+ times higher than what is being reported. And based on what we are hearing here on the ground, that may be an understatement.
Today's news came as case counts on Kauai have soared higher than the rest of the state, to 20%. This is something your editors take very personally since we both live here.
For further anecdotal testimony, we have heard of far more people on Kauai who are sick with COVID in the past couple of weeks, than since the outbreak first began more than two years ago. That's been true among both children and adults who we know. Frankly, it's become shocking, and while they aren't dying to our knowledge, they are getting very sick. As one friend told us last week, "you don't want to get this."
There are three key metrics resulted in the increased Kauai warnings.
Those include new infections, hospital admissions over the past week, and the percentage of hospital beds used by Covid patients. At the same time, Kauai doesn't plan to implement any restrictions at this time.
As for us, we have seen that more and more people are wearing masks indoors.
We aren't heading into tight indoor spaces without N95 masks ourselves, as much as we would like to throw them away for good. The CDC suggests masks be worn both indoors and on any public transportation (think shuttle buses, for example), without regard to vaccination status. Also suggested for those at high risk are both social distancing and noting and avoiding poorly ventilated areas.
While the case count over the week ended this Wednesday was 391 here, most of the people we know who have or just had Covid reported to us that they used only at-home tests to confirm the infection, and thus aren't being counted.
Do you plan to wear a mask in Hawaii?
Disclosure: We receive a small commission on purchases from some of the links on Beat of Hawaii. These links cost you nothing and provide income necessary to offer our website to you. Mahalo! Privacy Policy and Disclosures.