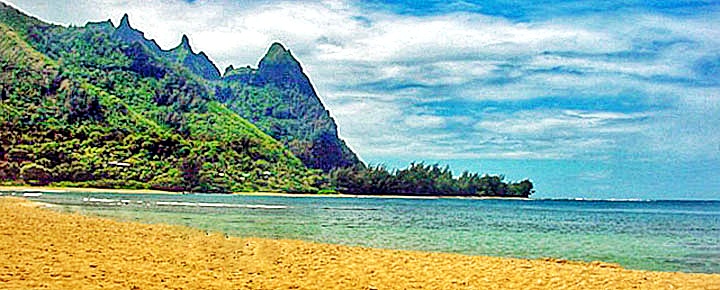 Regular commentors Richard and David B. both raised an interesting topic. It has to do with places to see in Hawaii that were written about in guidebooks and social media, some of which had to temporarily or permanently close because of their popularity.
In pursuit of their instant social media glory, a small but significant number of Hawaii visitors and locals have trampled fragile and sacred ground, climbed boundary fences and trespassed, and otherwise damaged the environment to recreate a moment seen on social media or in books.
Which of us hasn't seen that special Facebook, Instagram, YouTube, or other photo or post depicting the ultimate experience in Hawaii. And perhaps we have been guilty of experiencing that ourselves. So what's the harm? Read what happened in 2011 below.
Guidebooks, websites, and Hawaii laws.
In 2011, a Hawaii bill sought to help eliminate social media and online website sharing of sites that require trespassing on private property. That bill passed through the House and could have ended much Hawaii travel writing. Although never passed into law (which we verified today with a legislative clerk), the bill sought to deter inviting visitors to places requiring trespass. Others felt that the bill was a violation of free speech and was opposed by The Association of American Publishers.
But because of it, things changed and guidebooks no longer promoted trespassing to reach hidden sights. In the popular Hawaii Revealed guidebooks by Andrew Doughty, he says "Don't trespass…ever…for any reason…period." Even if the place you want to reach is on public land, if access to it requires trespassing, the official word is not to go.
You'll recall Kauai's Kipu Falls near Lihue, which was swarmed by visitors when it was written about in guidebooks years ago. For over a century it was popular with no issues. But deaths and injuries resulted as more people came and, in the end, high and impenetrable fencing now prevents access due to safety and liability issues with the landowner.
Not that long ago, Hawaii seemed sleepy compared with today. At statehood in 1959, annual visitors were estimated at under one quarter million. In the next ten years, it jumped to one and three quarter million. It seemed back in the 70s, Hawaii still enjoyed a healthier situation. Did social media and discovering the spectacular and unique natural beauty of the islands help make it the stomping grounds for the 10 million annual visitors Hawaii saw prior to COVID? 
Today's post started with a comment:
Richard (a Hawaii born mainland resident) went into depth about the closure of The Blue Pool located at Helele'ike'oha Falls on Maui. Before it was promoted in guidebooks, people were allowed by private landowners to visit the popular swim spot. But then a guidebook caused it to be overrun with visitors who trespassed on private land.
According to Richard, it got so bad that local landowners blocked the private road leading to the spot so that no one can now enjoy it.
Commentor David B. replied to Richard:
"People want to go someplace interesting and "safe" and visit "secret" and "special" places like the Maui blue pool… And social media obsession has magnified this 10 million percent. It's all about the picture they post on Instagram or whatever."
Social media sharing became our modern-day replacement for postcards.
Oh yeah, those. You'll still find them all around Hawaii, although we suspect their sales are a fraction of what they once were.  
Why are the things we can't have the ones we want the most?
Share your thought on this. There are so many experiences you can do in Hawaii, don't let the one that is off-limits spoil your fun.
Beat of Hawaii © photo on Kauai.
Disclosure: We receive a small commission on purchases from some of the links on Beat of Hawaii. These links cost you nothing and provide income necessary to offer our website to you. Mahalo! Privacy Policy and Disclosures.