Beat of Hawaii has been traveling to and from the mainland again on Southwest Hawaii flights. Most recently, two of us flew from Lihue to Las Vegas very recently, then on to Nashville. The whole affair was a mixed bag with EarlyBird, and then the flight left some good and bad impressions. It was far more favorable to editor Rob than it was to Jeff. But before that, let's talk EarlyBird, and chirp in with your experiences too.
1. Southwest Hawaii EarlyBird failed in part! Pay more or else.
When you purchase EarlyBird ($25 per person) with your tickets, you get automatic check-in 36 hours in advance, 12 hours earlier than for general boarding. Since seats are not pre-assigned with Southwest, the lower the boarding number and group letter you're assigned, the better seat choice you have when you board the plane. With EarlyBird, you'll be in Group A (high number) or B. When you purchase tickets, you can also choose to pay the highest price, Business Select fare, which guarantees A1-15 boarding, or buy Upgraded Boarding to that same group 24 hours before the flight, if it's available.
We purchased EarlyBird with our tickets, hoping to sit together and work on Beat of Hawaii using WiFi during the flight. Wrong. It turned out that to sit together on this full flight, we would have needed to pay $80 more (instead of $25) for Upgraded Boarding, which would have put us in the A1-15 group with a great choice of seats, or pay a lot more for Business Select when we bought tickets.
Because we had only purchased our flights one month prior to travel, the EarlyBird *upgrade* had less impact on moving us up the ladder compared with others who purchased it earlier. That's something to note especially during peak times like summer to popular destinations like Hawaii.
Here's what happened.
After the A group boarded (the first 59 people), Southwest boarded anyone needing time, families with children, etc. By our observation, 50 or more people were probably in that group. Even with EarlyBird, we were assigned the B boarding near the end of that group.
When it was our turn, and we were about to board the plane, we overheard a gentleman next in line behind us say to his companion, "What the heck. I paid for EarlyBird, and I will be the last one on the flight." And he was virtually right. We looked around, and hardly anyone else was waiting to board after B group.
By the time we got on the plane, we could no longer sit together. We quickly jumped into seats several rows apart. Luckily, thanks to WiFi, we could communicate and still get some Beat of Hawaii editorial work completed en route. By the time we boarded, Rob's overhead compartment was packed, and he had to use one five rows back. Jeff also ran into the same problem with his overhead compartment. It had been filled with boxes containing the snacks that were to be handed out during the flight.
On the Nashville flight, however, Early Bird got us a position in A group (near the bottom of that line), but that was good enough to sit together in an exit row and be able to work. However, that flight was not packed like the Hawaii one.
2. Southwest Hawaii check-in rocked.
We each checked one bag at Lihue. Rob was very impressed by how thorough the agent was in being sure that there were no other barcode stickers (which we had from Delta), for example. Also, they were very courteous – think old-school airline ways that we still love. Not only that, we both appreciated that Southwest doesn't charge for checked bags, although we both tend to avoid those charges on other airlines either with their branded credit cards or when flying premium. Another plus with Southwest is that if your plans change, your unused flight credit doesn't ever expire.
3. WiFi worked most of the time. No chargers.
For $8, we were overall happy campers to be able to work across the Pacific. The WiFi was not as good as we've experienced on other carriers over the ocean. It came and went noticeably, but it was possible to work when practicing patience. And on the other hand, it was noticeably better than on those airlines not currently offering WiFi to Hawaii, including Delta Airlines on its A321neo planes, Hawaiian Airlines on all aircraft, and American and United on some aircraft. We'll bring you current on the status of these airlines shortly – so stay tuned for that.
There are still no chargers on Southwest for phones, but that is definitely in the works. Honestly, while that's a nice and nowadays expected feature, it didn't matter to either of us. We have taken to bringing on board lightweight, fast, chargers. The reason? One too many flights when a charger wasn't working.
4. Solid Southwest Hawaii punctuality rocked.
When you're flying nearly 5,000 miles on connecting flights, the last thing you want is to have your flight delayed and perhaps miss your connection. Both of our Southwest flights boarded and departed precisely on time.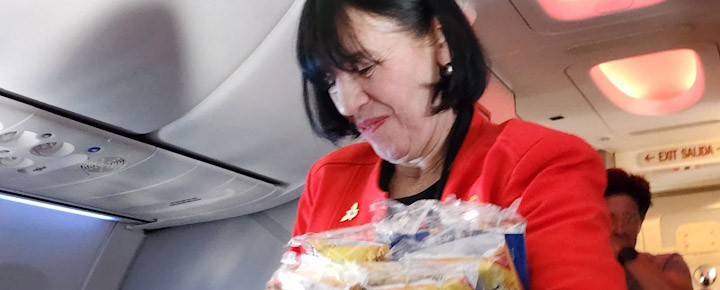 5. Southwest Hawaii flight attendants – mostly great.
When Jeff wrote a review about his prior experience flying to Hawaii on Southwest, one of the things that stood out most to him was the quality of service provided by the flight attendants. They are, for the most part, happy to be doing what they do – and that is obvious. Despite stressful jobs, they are pleasant, kind, and helpful.
On the leg from Lihue to Las Vegas, the flight attendant pictured above was excellent all the way around. Kudos. The other flight attendant, who was mainly serving in the part of the aircraft we were both in, was not particularly good. He didn't bring water unless you asked for it after the initial beverage and snack box and didn't seem to exemplify the Southwest attitude and go-out-of-your-way flair we are fast becoming accustomed to. We both noted that even while sitting rows apart. It was disappointing, especially when reflecting back on our experience on the connecting flight.
On the leg from Las Vegas to Nashville, the flight attendants based in Dallas were superstars once again. It was great to see that the airline delivers consistently in that challenging regard overall. We have not found the same consistency in service to be true on Hawaiian, Alaska, or Delta, for example.
6. Southwest Hawaii snacks: plusses and problems.
As you may recall, Southwest does not have galley space for food on its airplanes. This presents benefits and complications. First, upon entering the aircraft, as mentioned above, several overhead bins were completely stuffed with boxes of snacks such that they could not be used by passengers. Not a big deal, but still worth noting. As we said, Rob found overhead space way behind where he was sitting.
On the plus side, and we'd say a pretty big plus, Southwest doesn't use beverage/food carts. In the photo, the flight attendant carried out all the snack packages by hand. That means no bulky carts are blocking the aisle, which is especially helpful for passengers wanting to get up on the narrow-body MAX 8 plane. Regarding drink service, they take orders and deliver beverages on a hand-held tray.
The unhealthy snacks are, well, unhealthy snacks. Rob accepted his snack box, but Jeff declined that offer entirely.
Lastly, the boxes of chocolate cookies, part of the overhead luggage jam above row four, were never handed out at all. Lol.
Southwest does advise passengers not to rely on their snacks and to bring their food and water. It's that kind of transparency that we like as well. You mostly know what to expect with Southwest.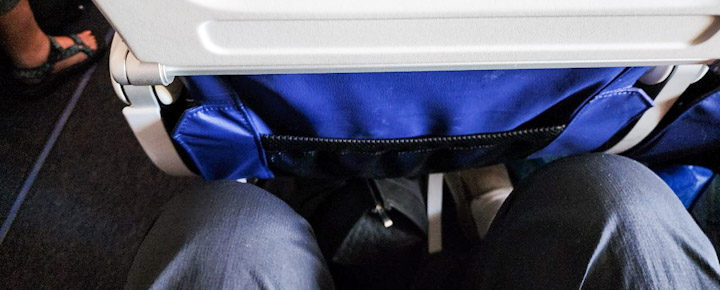 7. Overall, Jeff wished Southwest Hawaii had Business, while Rob liked the flight.
The story's moral is that Southwest is a unique airline; some love it, and some don't. In terms of an apples-to-apples comparison with other narrow-body flights to Hawaii, however, even editor Jeff admitted and stated previously that the comfort on Southwest is superior. The additional legroom on Southwest compared with any other airline flying is between 1 and 2 inches. And the seat width is similar on narrow-body planes, with some variability. If you want to look at those dimensions, look for your plane on SeatGuru.
As we said, you tend to either love Southwest or not, and for now, Beat of Hawaii has one editor in each camp. The flight from Hawaii to Las Vegas was Rob's first time on Southwest in many years. He reports liking it and the novelty of their system.
Jeff, on the other hand, has flown on Southwest Hawaii flights a number of times since last fall. His verdict is that a Business Select enhancement with a guaranteed seat assignment (which is not happening) would be more to his liking. On a short interisland flight for a half-hour, it's not an issue, and he's happy to fly Southwest. But otherwise, he finds their process stressful, including not knowing where he'll be sitting or if he might get stuck in a middle seat again.