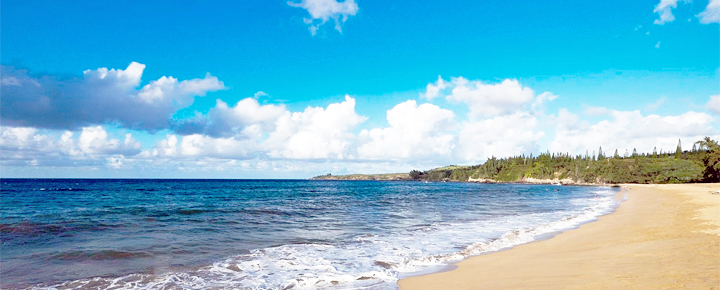 Sitting on a plane on flights to Hawaii, with 31 inches of seat pitch for 5 or more hours, isn't a comfortable or necessarily healthy way to begin your Hawaii vacation. And the last thing you want is to feel exhausted or even worse sick on arrival for your long awaited trip to Hawaii.
Here are our nine best suggestions for what to do before and during your flight to arrive in peak shape in Hawaii:
1. Reduce stress a week before departure.
We're guilty of not always doing this ourselves. Get work projects and packing done early. Try to avoid stress at the airport by allowing enough time for flight check-in and security lines. You can save time by paying for TSA Pre-Check and/or qualifying for an airline's premium check-in.
2. Boost your immune system 2-3 days prior to flight.
Taking a daily zinc tablet and probiotics can make a difference according to health experts.
3. Drink room temperature water on the plane.
Buy a bottle at the airport or bring an empty bottle and fill it at a water fountain before boarding. Drink more than the flight attendants will offer. Chilled water on the plane is not as good for you as warm water according to health experts.
4. Reduce coffee, carbonated beverages and alcohol on board.
These just make dehydration matters worse. Save them for some great experiences in the islands. Tea is a better choice over coffee.
5. Stretch your calves.
While moving around the plane is recommended to prevent the risk for DVT blood clots, it's also good to stretch your calf muscles during the flight which can be done while sitting. The calf is often called your second heart and helps to pump blood to your lower extremities.
6. Keep an eye on your hands.
We're already at increased risk of disease from the dry environment. It's always good to pack a small container of liquid hand cleaner or sanitizing wipes. We also use this to clean the tray, surface areas around the seat, and controls.
7. Eat less on the plane.
Even with those free meals on Hawaiian Airlines, you may want to consider eating at the airport or elsewhere before departure. While in the air, try to limit really cold foods. Fennel seeds are reputed to be good for digestion. When packing snacks from home we consider things including nuts, sandwiches, pasta, salads and some sweets. We'll be back with more on this later.
8. Hydrate skin.
Massage key sinus points on your face. Take a saline solution to spray inside your nose. Hydrate skin if so inclined.
9. N95 respirators.
We bought these ourselves and plan to use them starting now after getting sick following flights too many times. We hear mixed reports on their effectiveness at preventing disease.
Please add your ideas below. We also want to thank Cheryl Yamamoto, a physician assistant, for her contributions to this article.
Disclosure: We receive a small commission on purchases from some of the links on Beat of Hawaii. These links cost you nothing and provide income necessary to offer our website to you. Mahalo! Privacy Policy and Disclosures.