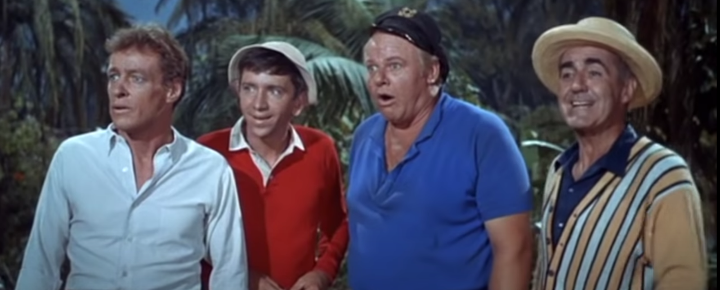 We were reminded recently of Gilligan's Island due to the passing of actress Dawn Wells, who died of COVID in December. The former Miss America contestant Wells played Mary Ann Summers, the youngest in the cast of four men and three women. That leaves only one cast member remaining, Tina Louise, who played Ginger and is now 86 years old. For those of you old enough to remember, the iconic TV show comprised of nearly 100 episodes ran from 1964 to 1967 and is widely associated with Hawaii.
Be sure to watch the opening of the pilot episode we have featured at the end of this post. If you were a fan of the show, it's really weird to see!
Gilligan's Island | On Oahu and Kauai.
The opening scene of the series was filmed at Coconut Isle in Kaneohe Bay. Also known as Mokuoloe, and pictured below, the small island serves as a research facility for marine biology and is a short swim off of Oahu.
The island, now about 28 acres in size, was previously just 12 acres. In the 1930's owner and Fleishmann yeast heir, Chris Holmes II, created more island using sand, coral rubble, and other landfills. He housed many pets. Later, during WW2, the island was a rest station for US Navy flyers. In the 1940s, it was purchased by a group wishing to create an exclusive and private resort, Coconut Island Club International. The concept failed, and in 1950, the 32-room Coconut Island Hotel opened. Part of the island had already donated to the University of Hawaii for marine research.
Series pilot and first episode filmed on Kauai.
Many think of the show being filmed here on Kauai, but that is not the case. Only the pilot was filmed on Kauai, at Moloaa Beach. The remaining episodes were at CBS in Studio City, California. Before settling on the Kauai location, Catalina Island was under consideration, but ultimately they chose Kauai for its tropical splendor and palm trees.
A rumor has existed that star Natalie Schafer, who played Lovey Howell, said she would only play millionaire Thurston Howell's (played by Jim Backus) wife if she could have a free trip to Hawaii. In her later years, Dawn Wells was Natalie's caretaker.
The crew arrived here on Kauai in November 1963, when the crew stayed at the iconic Coco Palms Hotel. They later stayed at the Hanalei Plantation Resort, which was also the location of Club Med.
The boat used for the SS Minnow was towed to Kauai from Honolulu for the filming.
If you ever watched the pilot episode, see below. There is a different theme song with a Calypso melody, and the roles of Ginger, Mary Ann, and the Professor did not exist. Instead, two secretaries and a high school teacher were played by different actors than in the series.
If you have any Gilligan's Island trivia, be sure to comment.
Disclosure: We receive a small commission on purchases from some of the links on Beat of Hawaii. These links cost you nothing and provide income necessary to offer our website to you. Mahalo! Privacy Policy and Disclosures.