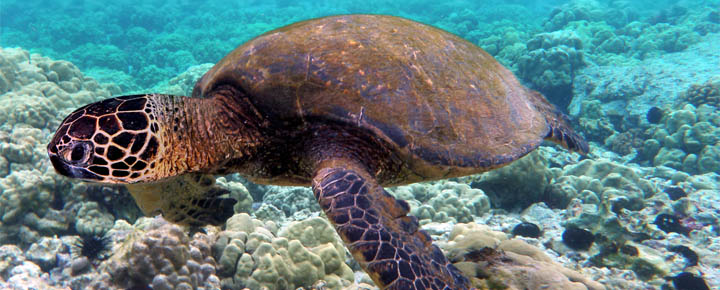 Our beloved green sea turtles "Honu" have their own Independence Day celebrated on July 4th. If you find yourself on the Big Island this weekend, take part in the 27th annual celebration at the Mauna Lani Bay Hotel. The event is free and the public is welcome.
Green sea turtles released into the wild on July 4th, have been cared for in saltwater ponds at the Mauna Lani Bay Hotel for two to three years. They arrive on the Big Island from Oahu's Sea Life Park, where they are born.
A few years ago, a turtle found at Kaloko-Honokahau National Historic Park was determined to be one that was released on July 4, 1999. The turtle, which would now be 21 years old, weighted in at a healthy 267 pounds with a shell nearly three feet long.
Green sea turtles have been around for 200 million years. Read more about them here: Hawaii's Green Sea Turtles.
Event Details at Mauna Lani Bay Hotel:
Located 23 miles north of the Kona International Airport.
Live entertainment.
Educational display about Hawaiian Green Sea Turtles.
Island food trucks at event offer traditional 4th of July fare for purchase.
July 4 from 1030am to 12noon.
Disclosure: We receive a small commission on purchases from some of the links on Beat of Hawaii. These links cost you nothing and provide income necessary to offer our website to you. Mahalo! Privacy Policy and Disclosures.