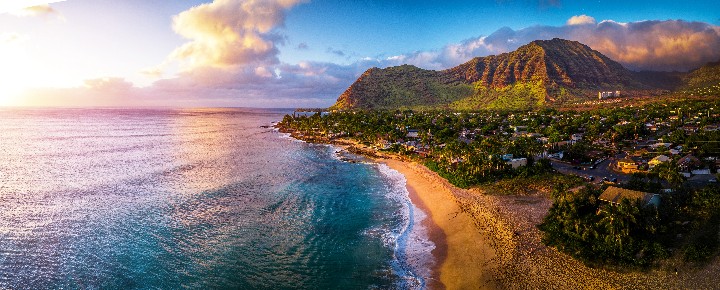 Governor Ige has announced two vaccination passports for Hawaii travel in the past three days. These can both be used on all flights and all airlines, effective immediately. The bigger question is, what do they do for you, and do you even want them? Read on because the choice isn't all that simple.
The first Hawaii vaccination passport was from CLEAR, which was announced last Friday. Then today, the governor said that SMART Health Cards from CommonPass have also been approved. Both of these vaccination verification systems allow visitors to manage vaccination and testing records digitally. That provides an alternative for visitors to uploading documents on Safe Travels and then presenting those records physically on arrival.
BOH note 1: Registering and using the state's Safe Travels portal remains a requirement for all Hawaii-bound travelers. It is needed to create your trip, link and obtain approval of these vaccination passport exemptions, and complete the required health questionnaire within 24 hours of travel.
CommonPass Hawaii was destined to be a Hawaii vaccination passport.
When we last wrote about this about 45 days ago, it was already in a pilot rollout for Hawaii-bound visitors. There is no cost for the app or its usage.
CommonPass said that "U.S. visitors with a 'SMART Health Card' digital vaccine record can use CommonPass to verify that they've been vaccinated and waive the testing requirements… When travelers use the CommonPass exception to confirm their vaccination status in Safe Travels, they will be instantly verified, rather than needing to wait for verification as they would when uploading a paper CDC card."
How SMART Health Card from CommonPass works. 
First, you download the CommonPass App, available for both iOS and Android. Finding it in the phone stores can be confusing, so we found it easiest to start here.
Next, either 1) scan your vaccination record directly into the app. "Note: CommonPass does not accept CDC vaccination card uploads." Or, 2) for test results, "select the lab where you were tested and log into the lab portal through the CommonPass app or scan or import your SMART Health Card QR. Note: you must get tested at a CommonPass compatible lab." Then, use the CommonPass and the pass ID number as the exception method in the Safe Travels Portal.
BOH note 2: It appears that the CommonPass compatible lab choices for Covid testing remain extremely limited, according to their website. The only ones listed are Quest, Vault, Worksite Labs, and XpresCheck.
CLEAR Health Pass.
On Friday, Hawaii's first vaccination passport partnership with CLEAR Health Pass was announced. This can be used by all passengers 18 and older. CLEAR's no-cost mobile phone app's health pass allows 1) vaccine verification or 2) negative test results to be uploaded.
To use  CLEAR upload your proof of vaccination or COVID test result on the CLEAR app and then go to the Safe Travels website and apply for quarantine exemption via the CLEAR Health Pass. Also, complete the health questionnaire on the Safe Travel site within 24-hours of travel.
BOH note 3: CLEAR has far more options when it comes to Covid test providers.
Difference between vaccine passports and using Hawaii Safe Travels directly.
When using only Safe Travels (without either passport), there is a limited number of approved testing partners. However, with the CLEAR Health Pass at least, that number just grew tremendously and now includes a wide range of doctor's offices, clinics, hospitals, pharmacies, Walmarts, and more, nationwide. For visitors using the 72-hour pre-travel testing exemption instead of proof of vaccination, this is a big improvement.
Not available for kids.
At this time, CLEAR (for sure) and Smart Health Cards (we believe) are only available for those 18 years of age and old. Those tested under age 18 will need to use Safe Travels for vaccine verification, while those not tested will need to comply with the Safe Travels testing protocol
BOH tips and final thoughts.
Using either of the new Hawaii vaccination passports does not change the Hawaii Safe Travels' rules but may expand testing options and can simplify the proof of vaccination process for Hawaii travelers.
Before relying on these, however, be sure your vaccine provider is listed as accessible through their apps. If it is not, you will still need to upload a photo of your CDC card directly to Safe Travels.
Remember that vaccination exemption is just one option for Hawaii travel. Testing remains the other option to avoid Hawaii's rigid 10-day quarantine.
Hawaii officials have repeatedly stated that vaccinations will only be an option, not a requirement.
We do not know what Hawaii plans in terms of maintaining the current Safe Travels method of vaccine and testing verification or whether at some point they could move to using vaccination passports exclusively.
Previous CommonPass Hawaii trial program.
In the trial program, this was exclusively for COVID test results, and only today has it become available for vaccine verification. Hawaiian Airlines and United Airlines were the two carriers who took part in that trial.
Revised on July 12, 2021.
Disclosure: We receive a small commission on purchases from some of the links on Beat of Hawaii. These links cost you nothing and provide income necessary to offer our website to you. Mahalo! Privacy Policy and Disclosures.