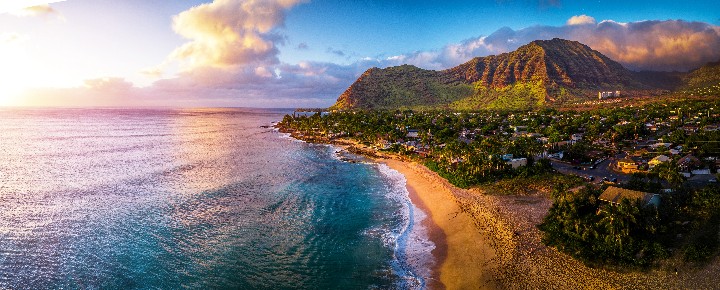 CommonPass, the testing and vaccination passport/digital health app that enables travelers to present verified proof of testing and vaccination, has launched a website all about Hawaii passport travel.
The site reads: "Hawaii's Safe Travels Program Welcomes CommonPass. Heading to Hawaii? CommonPass has you covered."
CommonPass Hawaii is currently in a pilot rollout for Hawaii-bound visitors. It has many limitations at this point, but it certainly tells us where Hawaii is headed with CommonPass. Read on for all the details.
Initially for COVID test results, with insights on what's next.
The site says that CommonPass Hawaii, currently in a pilot, was developed according to the Hawaii Safe Travels Program and permits visitors to access lab options across the United States to satisfy the negative COVID-19 test requirement for entry initially and can enjoy a safe, smooth travel experience. There is no cost for the app or its usage. The next phase will be wider deployment with more airlines, testing partners, and vaccination results.
At this point, it doesn't YET include Hawaii vaccination passports.
What the pilot side does provide is another set of options for fulfilling 72-hour pre-travel testing requirements.
To use the CommonPass' pilot deployment, you must be flying on certain airlines and Hawaii routes. You also need to get tested at one of their Safe Travels participating facilities within 72 hours of your departure. At this point, no other facilities, airlines, or flights are included.
Participating mainland labs:
XpresCheck and Vault only. CommonPass is also partnered with testing partners in Japan, UK, Hong Kong, and Germany. The labs will be expanded for full deployment.
Participating airlines and routes:
Hawaiian Airlines between Phoenix and Honolulu. Use invitation code: HAWAII.
United Airlines between Denver and Honolulu, Kona, Lihue, and Maui. Use invitation code: UNITED.
How and why to use CommonPass pilot with the Hawaii Safe Travels Program.
At this point, you will just be giving their system a try while it is in its early rollout. To use it, first, download CommonPass from one of the two phone app stores. You can also download it from the CommonPass Hawaii website. Again, there is no charge for the app or its usage.
Using CommonPass is a bit confusing at this point, but here's what we were told. Visitors must still register with Hawaii Safe Travels once they have made reservations. Those under age 18 will be included in an adult's Safe Travels form. Then use the CommonPass app to generate your CommonPass ID. On the "Trip Details" sections of the Safe Travels website, go to the section entitled "Exemptions." There you will use your CommonPass ID as the exemption.
Your CommonPassID is a 32 digit code found beneath your CommonPass QR code. Tap the copy symbol to capture the ID, paste that into Safe Travels and select "Verify."
Once it has been verified, you can add other travelers if needed. Also, within 24 hours before departure for Hawaii, you still need to complete the Hawaii Safe Travels health questionnaire.
Where else is CommonPass being used, and how.
CommonPass has also been deployed in the Netherlands Antilles and on flights from Germany to the US. In those places, it is currently used only for COVID test results. The CommonPass website clearly states that it is intended, however, for proof of vaccination in addition to test results.
The first Hawaii vaccination exemptions start May 11. 
In another pilot, Hawaii residents, vaccinated in Hawaii, and traveling interisland, not from the mainland, will be eligible to avoid other testing requirements. Children from 5 years to vaccination eligibility age will still be required to continue pre-travel testing to avoid quarantine. Hawaii is still working on verifying vaccinations for those who were vaccinated outside of the state, such as with CommonPass. The governor confirms that Hawaii is working with CommonPass and Clear to arrive at appropriate vaccination validation for visitors from all states.
According to the state, those seeking this interisland vaccination exemption can upload vaccination records to Hawaii Safe Travels starting May 7.
Important note: Those traveling interisland (except to Honolulu) who are not exempt per this limited pilot are still required to test within 72 hours of interisland travel.
When will Hawaii vaccination travel exemptions be available for mainland visitors?
Regarding opening this up to mainland visitors, Governor Ige said it would happen within weeks. Lt. Gov. Green also said, "It won't be long before it can roll out." We are awaiting dates, which could still be as early as July.
Hawaii and New York working ensemble.
Hawaii is only the second state to offer this kind of vaccination exemption. That following New York's program, which went into effect late in March.
Lt. Gov. Green indicated this week that Excelsior, the New York passport developer associated with IBM, is now helping Hawaii with its vaccination passport plans. He indicated July as the target date for the mainland to Hawaii deployment. That, assuming all goes well with the current interisland rollout.
Vaccine cards + Safe Travels will be needed for now.
Passports still aren't quite ready, according to the state leaders. In the interim, a photo of travelers' vaccination cards will be required, according to Green. Those will be uploaded to the Hawaii Safe Travels website. On arrival, passengers may also be required to present the actual cards for inspection. Vaccinations will be required to have been completed vaccination at least 14-days before traveling.
Current COVID travel rules will remain in effect for now and will continue thereafter for those who choose not to be vaccinated. Hawaii officials have said that vaccinations will only be an option, not a requirement.
Revised on May 6, 2021, at 11 am.
Disclosure: We receive a small commission on purchases from some of the links on Beat of Hawaii. These links cost you nothing and provide income necessary to offer our website to you. Mahalo! Privacy Policy and Disclosures.