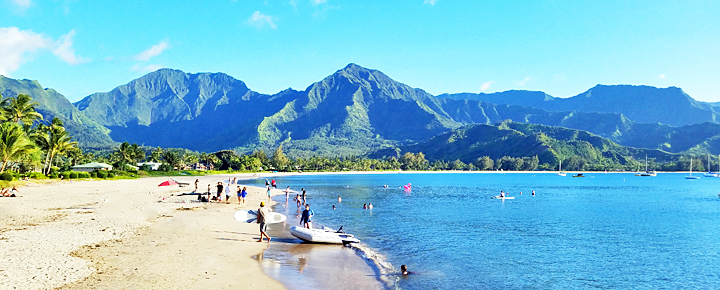 As of 3/21/21, there is more progress to report on reopening access to Kauai's north shore. Yesterday the road became accessible to the public, including visitors during specific hours, and we know the plan at least through the end of this month. The current level of vehicular access is limited to one alternating lane. Restrictions will remain for some time before repairs are completed so that two unattended lanes can be restored.
Traffic could well be a consideration since both traffic directions are sharing only a single lane with supervision. On checking just now on Sunday morning, however, we did not see any backups indicated, and the time between Princeville and Hanalei was about 10 minutes.
Visitor Christina just asked, "We are hoping to have my parents meet us in Kauai and wanted to take them to Hanalei around April 17th. Do you think it will be possible to travel the roads that were damaged during the flooding?"
Things may well change between now and then, Christina, but as of today, these are the times that passenger vehicles can access Hanalei.
Public weekday access hours: 5:30 a.m. to 7:45 a.m., 1:45 p.m. to 2:30 p.m. every day except Wednesday, which is 12:45 p.m. to 1:30 p.m., and from 5:45 p.m. to 10 p.m.
Public weekend access hours: On Saturday, March 27 – Sunday, March 28, public access is from 5:30 a.m. to 10 p.m.
Starting March 29, work will be 6 days per week, except Sunday. Public access is set to remain per the above schedule except that Saturday will have weekday hours and restrictions. What happens after that is still to be announced.
DOT said, "The public access schedule will ensure safety, efficient single lane alternating movement through the area, and necessary construction hours for the emergency repairs and long term mitigations."
We're continuing to follow updates from DOT (image credits), and we plan to visit the area within the next week and report.
The mudslide occurred near the site of the 2018 landslide.
This enormous landslide with tens of thousands of cubic yards of mud slid down onto the highway, effectively cutting off regular access for communities of Hanalei, Wainiha, and Haena from the rest of the island.
The mudslide and subsequent road closure took place on Kauai's north shore of Kauai near mile marker 1, approaching the Hanalei Bridge in an area called "Hanalei Hill." You know this area as the location where you wind down the hill from Princeville towards Hanalei.
You may recall that the state had previously protected the area with mesh slope covering as well as a rockfall fence to capture debris. This landslide, however, is "Outside of the area we stabilized with soil anchors following the 2018 Floods. The current slide is much deeper than the previous event at this location, but thankfully not as wide." That according to the State DOT.
According to the Governor's office, the most recent mudslide is related to "An irrigation tunnel dating back to the 1800s. HDOT is working to identify the water sources feeding into the tunnel."
The DOT said, "Monitoring of the road above the Hanalei Hill landslide, Kuhio Highway between Kolopua Apartments and Hanalei Plantation Road, will continue and HDOT will maintain this closure out of an abundance of caution."
Kauai remains on track to reopen on April 5.
Despite the devastation and massive flooding island-wide that occurred last week, the island will still reopen to travel on that date set.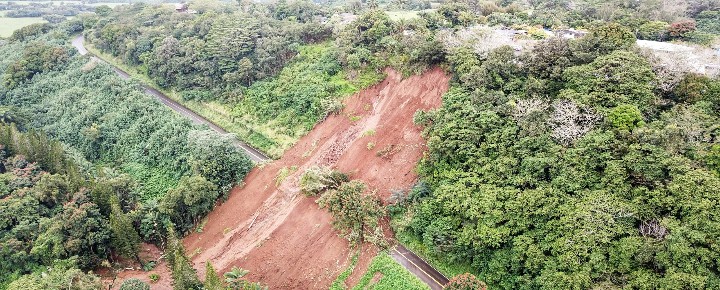 Disclosure: We receive a small commission on purchases from some of the links on Beat of Hawaii. These links cost you nothing and provide income necessary to offer our website to you. Mahalo! Privacy Policy and Disclosures.