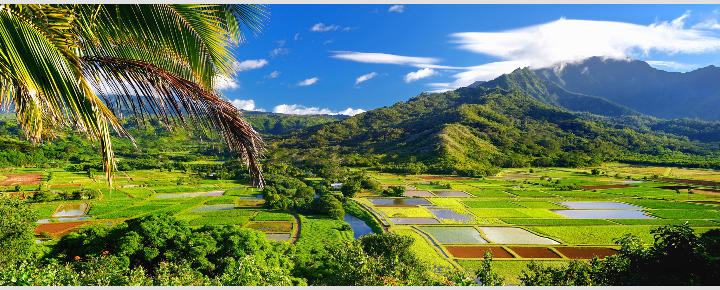 BOH editors have been driving up to Hanalei regularly for the past month and are closely following progress since the historic Hanalei Landslide closed the highway in March. After the incident, the road was made accessible to the public, including visitors, during set hours. The highway remains limited to one alternating lane during specific hours only, weekdays. We have a tip about that. Also, weekends have a different schedule, and we have good news to report in that regard.
Restrictions will be ongoing until repairs are completed when the two unattended lanes will be restored. Read on for the latest update from the state, revised access hours, and more details about what we are finding.
Traffic can be a significant consideration, and you should plan accordingly, especially on weekdays. Both directions are sharing only a single lane with supervision. Our top three choices on when to go are as follows:
Sunday when there's no construction, or on state holidays: no significant backup in either direction, with a wait time averaging no more than about 10 minutes each way. Those managing the alternating traffic appear to be doing an excellent job, and we have been pleasantly surprised. The backup usually starts at the entrance to Princeville but moves fast. It's our favorite day to go.
Saturday is our next favorite but note that there is a 30-minute closure on the hour between 8:30 am and 5:00 pm (see schedule below).
Weekdays are tricky, with only 3 access times daily and only 90 minutes each time. We suggest you try the 5:30 pm opening, go to Hanalei for sunset, and take advantage of the longer summer days.
Latest repair update from DOT.
The Hawaii Department of Transportation has not updated its website on this since May 15. At that time, they reported, "339 out of 500 planned soil nails to anchor slope have been drilled into place and grouted. The top two rows have been substantially completed, working on the third row. Weight restriction to the highway above the slide area increased to 10 tons. Design on the lower portion of anchor wall and drainage system continues."
There has been no estimate of when the repairs will be complete with normal access to Hanalei and north restored. The project is on an extremely steep slope. The uppermost part appears to be have been largely completed, while below that, we don't see many changes to report on. Once all of the soil nails are installed, there is still more work to do to complete the renovation, although the exact nature of the state's plans after that isn't clear.
How long will this go on?
The design aspect of the lower portion of the hillside and the drainage system required is still in process—no word on when that will be done or how long the subsequent work to implement the design will take.
Based on what we see, and having watched the just completed and nearby Kalihiwai slope stabilization project, the work isn't likely to be done for at least three to six months, at best. And it could be longer.
Why aren't we getting more updates?
The state said that it would provide daily updates on the repairs. At this point, we are lucky to get one update monthly, however.
Revised public road access schedule.
Access leading to the Hanalei Bridge is on the following schedule. Vehicles are escorted through the work zone by pilot vehicles.
Saturdays (note the 30-minute closure on the hour)
5:30 a.m. to 8:00 a.m. (Hanalei side goes first)
8:30 a.m. to 9:00 a.m
9:30 a.m. to 10:00 a.m.
10:30 a.m. to 11:00 a.m.
11:30 a.m. to 12:00 p.m.
12:30 p.m. to 1:00 p.m.
1:30 p.m. to 2:00 p.m.
2:30 p.m. to 3:00 p.m.
3:30 p.m. to 4:00 p.m.
4:30 p.m. to 5:00 p.m.
5:30 p.m. to 11:00 p.m.
Sundays:
5:30 a.m. to 11:00 p.m. (Hanalei side goes first)
Weekdays:
5:30 a.m. to 7:45 a.m. (Hanalei side goes first)
1:00 p.m. to 2:30 p.m. (Princeville side goes first)
*5:30 p.m. to 11:00 p.m. (Princeville side goes first)
*Tip: This opening has the shortest wait time during the week.
Here's what occurred in March.
An enormous mudslide occurred near the site of an earlier 2018 landslide. This landslide resulted in tens of thousands of cubic yards of mud slid down onto the highway, effectively cutting off regular access for communities of Hanalei, Wainiha, and Haena from the rest of the island.
The mudslide and subsequent road closure took place on the North Shore of Kauai near mile marker 1, approaching the Hanalei Bridge in an area called "Hanalei Hill." You know this area as the location where you wind down the hill following Princeville shopping center towards Hanalei.
DOT had previously protected the area with mesh slope covering and a rockfall fence to capture debris. This landslide, however, is "Outside of the area we stabilized with soil anchors following the 2018 Floods. The current slide is much deeper than the previous event at this location, but thankfully not as wide." That according to the State DOT.
The state said that the most recent mudslide is related to an irrigation tunnel dating back to the 1800s. HDOT was working to identify the water sources feeding into the tunnel, although we have not heard the result of that work.
The DOT said, "Monitoring of the road above the Hanalei Hill landslide, Kuhio Highway between Kolopua Apartments and Hanalei Plantation Road, will continue and HDOT will maintain this closure out of an abundance of caution."
BOH photo of recent conditions.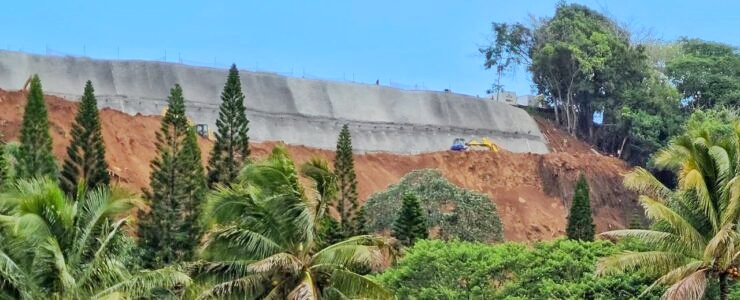 DOT photo below was taken soon after the landslide occurred.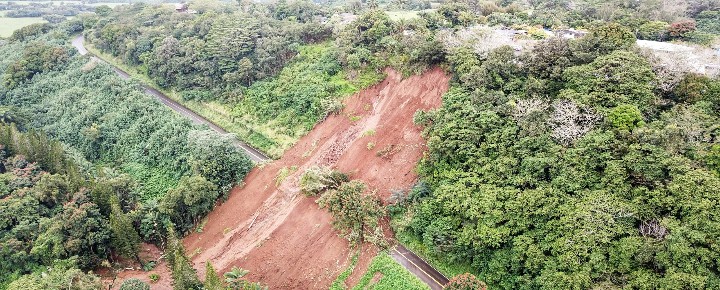 Updated 6/16/21.
Disclosure: We receive a small commission on purchases from some of the links on Beat of Hawaii. These links cost you nothing and provide income necessary to offer our website to you. Mahalo! Privacy Policy and Disclosures.