We keep wondering what is going on with delays on Hawaii flights and when it will finally improve. This Sunday at Honolulu Airport, your editors found themselves there while well over 100 flights were delayed once again, as detailed below. In addition, there were 42 delayed flights at Maui, 24 at Kauai, 20 at Kona, and 17 at Hilo. In total, Sunday featured 212 being delayed at Hawaii's airports.
At Honolulu, the delays broke down as follows:
Alaska Airlines 13
American Airlines 1
Delta Airlines 6
Hawaiian Airlines 43
Mokulele 6
Southwest Airlines 20
United Airlines 2
Other airlines (cargo and international) 38
Your editors got caught up in the fracas but felt lucky to escape with relatively short delays this time. But what became clear is just how much the airport continues to suffer.
Recently, we wrote about the Massive Honolulu Airport Closure To Wreak Havoc Into 2023. And since then, we've learned more.
Gate holds one of the aspects of these Hawaii flight delays.
On Friday, when traveling to Honolulu, your editor's flight pulled away from the departure gate right on time. But then stopped after it cleared the gate. The captain announced that Honolulu had placed a gate hold on the flight. By pulling away from the gate, was the departure considered to be on time? In any event, we sat for about 15 minutes near the runway until HNL could release the plane for takeoff. HNL, it turns out, was simply not ready for the flight to arrive on time.
Being on time has given Hawaiian Airlines its decades-long reputation for the best performance in the industry. But, as a side note, they didn't arrive at that reputation for punctuality easily. Until about 20 years ago, the Hawaiian Air acronym HAL was often used to mean "Hawaiian Always Late."
What happened as our plane was taxiing for takeoff is just one example of the current airport problems. Furthermore, on approaching Honolulu, the flight circled over the ocean several times to hold back its arrival time even further prior to a delayed landing.
Runway 8L is completely out of commission until sometime in 2023. For what reason?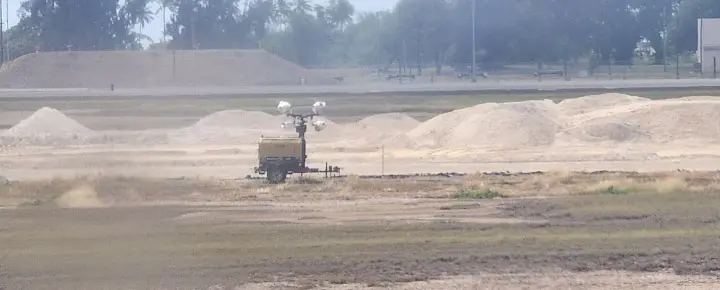 A massive $90M+ runway repair project is underway to widen one of two primary HNL runways (one of four in total). Airline pilot friend John estimated that this critical runway being out of commission represents more than a 50% overall capacity reduction. You'll recall we previously contacted the Hawaii DOT-Airports and were told there is no completion date yet for the project.
The runway project is the largest of its type ever undertaken at HNL, except when the Reef Runway was added in 1977. This will add 50′ to the runway width, increasing the total width to 200′. And it comes right on the heels of the odd new Mauka Concourse being completed at the cost of more than a quarter-billion dollars.
"The principal goal is to allow unrestricted Aircraft Design Group VI aircraft operations on Runway 8L-26R." That is according to the engineering firm Orion. Aircraft Design Group designation includes the following types of airliners:
III Boeing 737, Airbus A320
IV Boeing 767, Airbus A310
V Boeing 777 /787, Airbus A330

VI Boeing 747-8 and Airbus A380
The repair work underway has many elements, including surveys and investigations, pavement design, construction and rehabilitation, geometry layout, FAA compliance, airfield lighting, signage, and more.
Does that mean this enormous effort and disruption was to accommodate the A380/747-8?
The work is clearly making an incredible mess at HNL. If it is being done solely for the accommodation of the limited number of A380 and 747-8, of which very few use HNL, does that make any sense?
It's interesting to note that some locations are now banning these 4-engine aircraft.
Expensive accommodations done for just a few A380 aircraft at HNL aren't new. About five years ago, the Hawaii DOT invested some $30 million to allow two gates to accommodate the aircraft.
Korean Air flies the 747-8 to Honolulu, while ANA flies the A380.
Bye-bye, four-engine airliners in any case.
Much-loved four-engine airliners are definitely fading away. Airbus has moved to the two-engine A350 as its wide body of choice. Fuel savings and maintenance costs are the primary reason given, with the manufacturer saying that A350 is 25% more fuel efficient than the next best plane. Not only that, but recently due to noise and air pollution considerations, Israel has banned all 4-engine plans from traveling there.
What can travelers do?
Plan on delays for flights arriving in or departing from Honolulu. The situation is worse for interisland flights. If you are traveling from the mainland, you may want to fly nonstop to the island of your choice if possible and not try for an interisland connection. Allow more time between arrival and departure for connecting flights. And it isn't just Honolulu flights suffering, as this has a spillover effect that impacts all of Hawaii's airports.