We retain a deep passion for exploring all of the captivating islands of the Pacific Ocean, and we know that you share that love. One particular destination, other than Hawaii, has held a special place in our hearts – the enchanting islands of French Polynesia.
Like a sister to Hawaii in some aspects, Tahiti sits just five hours away from Hawaii, in the same time zone. Like Hawaii, Tahiti and its neighboring islands exude beauty, fascination, and an irresistible sense of the exotic. Tahiti is located approximately 8.5 to 9 air hours southwest of California. While French is the predominant language, English-speaking visitors will have minimal difficulties if they stick to well-trodden paths.
One of the standout features of these islands is the unparalleled lagoons that surround them, teeming with awe-inspiring marine life. This sets Tahiti apart from Hawaii, as it is more sheltered from the open ocean, offering superior-quality snorkeling and scuba diving experiences but less boarding.
Once known for exorbitant prices, Tahiti vacations now offer a sometimes lower-cost alternative.
Since Covid, we've witnessed a decline in prices from the US mainland to Tahiti, with more flights and competition. Again today, those prices have dropped. And it isn't just airfares that have become affordable; accommodations and car rentals are also reasonably priced compared with Hawaii, opening up a world of possibilities.
If you seek experiences beyond the Hawaiian Islands and are ready to try something new, Tahiti offers an option worth considering with nonstop flights. And the good news is that flights from LAX and SFO to Tahiti are currently on sale from $236 to $301 each way!
The sale prices are available from this August through next May, but dates for the best prices are spotty. Check Google Flights first to find availability, as it varies by route and date.
Speaking of prices, here are a few of your comments regarding Tahiti.
DJ, a regular commenter over the past three years said, "For my family, we're trying Tahiti this next ho around. Hawaii has some kinks to work out, imho."
Jay added, "Was planning on a Hawaii trip until I found hotels were $500 plus per night. Going to Tahiti instead. Only 3 hours further and better deals."
Regular reader Sandi said, "Tahiti another island that I love so dearly — fantastic deal so far so this is it since it was my second favorite place on earth. I truly truly wished that things were not so expensive, and I truly truly wished that the tourists that are flying to the Hawaiian islands were really in tune with the culture, islands, and its people."
And Jeff F. concluded, "With hotel and car rates up over 40% from our last visit pre-Covid we have been to Tahiti twice where it is less to stay and you don't need a car rental. We have free airfare to Hawaii but will wait until prices come down."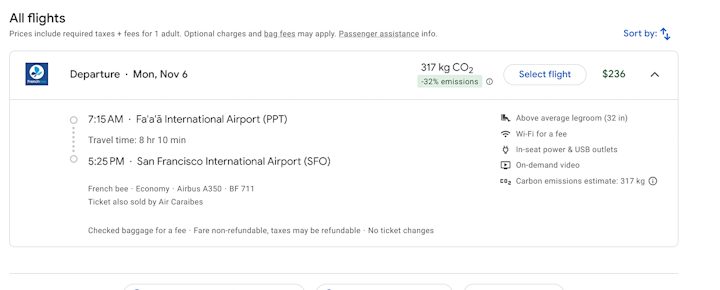 The lowest price tickets are $236 on French Bee from Papeete to San Francisco.
Historically, airfares to Tahiti have always been prohibitively high. However, the advent of French Bee Airlines, which operates flights between San Francisco and Papeete, has stirred up healthy competition with Delta/Air France, the carrier flying from Los Angeles. As a result, visiting Tahiti has become much more affordable for the time being.
That is one way, on the return flight. But getting down there will cost slightly more. The point is you can buy one-way tickets and start from one city on the west coast and return to another. Or start from or go on to yet another Pacific destination. As an example itinerary, you might fly from LA to Auckland for $725, then from Auckland to Tahiti for $288, and finally return to San Francisco for $236.
San Francisco to Papeete $284 each way when purchased as round trip.
That is aboard the French Bee Airbus A350 aircraft.
Los Angeles to Papeete via Delta/Air France from $301 each way when purchased as round trip.
Alternatively, you can fly the other California route to Tahiti, which is between Los Angeles and Papeete on Delta Airlines/Air France. The price for that, based on a round-trip ticket, is from $301 each way.
To the point of competition: Hawaii to Tahiti starts at about $500 each way.
Hawaiian Airlines operates the only nonstop weekly flights between Honolulu and Papeete, which is the only connection at all between Hawaii and Tahiti. The most economically priced round-trip option for this 2,731-mile journey typically starts at $497. In comparison, this distance is roughly equivalent to flying from California to Hawaii, which can often still be bought for as little as $119 each way. The disparity in distance and cost becomes apparent when comparing the journey from Los Angeles to Papeete, which spans approximately 4,095 miles.
This stark price difference in air fares demonstrates the impact of airline competition.
Flying between California and Tahiti can cost under 6 cents per mile, while traveling from Hawaii to Tahiti amounts to three times the price, or 18 cents per mile. The only variable responsible for this discrepancy is the lack of competition traveling from Hawaii.
Tahiti also has some reasonably priced accommodation and car rentals.
We also checked again on accommodations for Moorea, Tahiti's bedroom neighbor, and found highly rated accommodations along the lagoon starting for only $200 per night. And that included all taxes and fees, The affordability of these options left us astounded. We also found Hertz compact rentals on Moorea for just $250 per week, ensuring that transportation costs remain within budget.
French Polynesia is a treasure trove of remarkable destinations.
Papeete, serving as the country's business hub and the gateway for international flights, has resorts, shopping districts, and excellent dining establishments. It is quirky for sure, but we enjoy it.
Moorea, located just a 10-minute flight or 30-minute boat ride from Papeete, represents a tranquil bedroom community that retains its unique character while being close to the bustling city.
Bora Bora, often regarded as the crown jewel of French Polynesia, stands out as one of the most famous islands in the region. Despite experiencing significant development and tourism, it retains its natural beauty and features an astonishing lagoon teeming with abundant fish and rays.
Huahine, an editor's personal favorite in French Polynesia, remains a hidden gem to this day, offering a serene atmosphere that is notably quieter than Moorea or Bora Bora. We have personally experienced the allure of this island, which resembles a Kauai from bygone years, evoking a sense of nostalgia and tranquility.
Embark on an extraordinary journey to Tahiti as at least a one-time alternative to Hawaii, where a world of captivating experiences awaits you, currently at unexpectedly low prices.