Hawaii is the only state which produces cacao. It's been grown in Hawaii, mostly on the Big Island, for over 150 years. Only recently, however, has it become commercially viable. While still small, it is rapidly expanding and could someday surpass coffee as Hawaii's premier crop.
I can't think of a sweeter addition to a Hawaii vacation than a chocolate tasting and tour. Unless it's a Hawaii travel deal.
This week I was gifted a box of handmade Kauai Chocolates, which were delicious. That coming from a European chocolate snob.
Today also marks the second annual Hawaii Chocolate Festival, which I'm sorry to say I'm not attending. It's taking place at Honolulu's Dole Cannery. The festival serves to stimulate global interest in Hawai'i's emerging chocolate industry.
Here are some places where you will find chocolate in Hawaii. I'm not talking the chocolates you typically find at Wal-Mart or Long's, but rather unique hand-made varieties. This list isn't comprehensive, so if you have others to add, please do so in the comments below:
Sweet Paradise Chocolatier (Maui)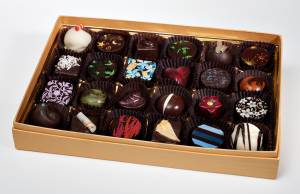 Melanie Boudar is a classically trained candy maker with 30 years of experience. She was the Judges Choice winner of the Kona Chocolate Festival, 2007-09, and has received other awards.
Sweet Paradise has a retail location at Wailea, Maui and will be opening at the Maui Tropical Plantation, which will include the history of candy making process including cacao growing, tours and tastings,
Original Hawaiian Chocolate Factory (Big Island)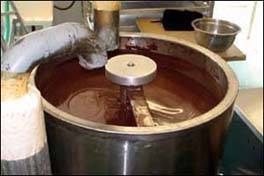 Pam and Bob Cooper, originally from North Carolina, were the first to grow and process exclusively Hawaiian grown cacao beans. No other chocolate is used. They've been doing this for 15 years and sell dark and milk chocolate in bars and small and large plumeria-shaped pieces. Their Criollo Dark Chocolate is said to be unique in flavor and taste. They also offer roasted cacao nibs.
Purchase their chocolates at Honolulu Chocolate Company, Whole Foods and at the Bishop Museum store. They also offer tours of their farm near Kona on the Big Island.
Kauai Chocolate Company (Kauai)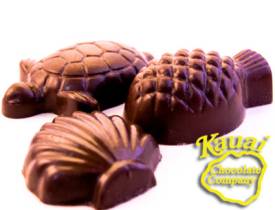 These were the inspiration for today's article, and although not a single origin Hawaii-based product, I'm still enjoying the box I received earlier this week. They are delectable small candies each luscious piece filled with an island flavor like guava and passion fruit.
Owned by Don and Marleen Greer, and employing students from the local high school, these two have been at it since 2003. Located in Eleele, don't miss this when you're on Kauai.
Also while on Kauai, you can also learn more about cacao growing and taste delicious chocolates. Steelgrass farm in Kapaa offers a chocolate farm tour, on their eight-acre tropical garden specializing in vanilla, bamboo, and chocolate.
 Malie Kai Chocolates (Oahu) – My Top Pick
Oahu's North Shore chocolate purveyor is Nathan Sato. Originally from California, Nathan has been busy growing cacao since 2004. His sustainably grown 20 acre orchard now produces 10 tons per year.
You'll find Malie Kai Chocolates at Hawaii's Foodland markets, Whole Foods and Native Books. They do not have their own retail location currently.
Madre Chocolates (Oahu)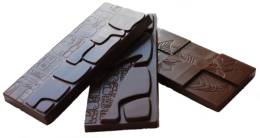 David Elliott and Matt Bletter's chocolates are bean-to-bar made to preserve health-giving antioxidants while still being delicious. They have original Hawaii chocolate as well as chocolate purchased from organic growers in Central America. They also teach classes.
I haven't tried their chocolate but look forward to doing so.
Padovanni Chocolates (Oahu)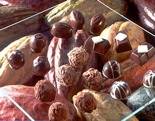 Australian brothers, Philippe and Pierre Padovanni, are globally acclaimed chefs. Their hand-made Hawaiian chocolates using only natural ingredients are sold at the Chocolate Factory at the Dole Cannery. Customers have included Bill Clinton, the Dalai Lama, the Emperor of Japan, and John Travolta. I look forward to adding myself to their distinguished list.
Sweet Paradise Chocolatier (Maui)
From Maui's north shore en route to Hana, Manawai Estate Chocolate offers their unique and sustainable Hawaii chocolate farm including tours.
---
Congratulations to Christi Ross, today's winner of free VIP Alerts for one year. Many more drawings upcoming so please sign up . Here's what VIP alerts are all about: https://beatofhawaii.com/vip-alerts.
While it's not a free trip to Hawaii, VIP Alerts will sure help you get here for less money.