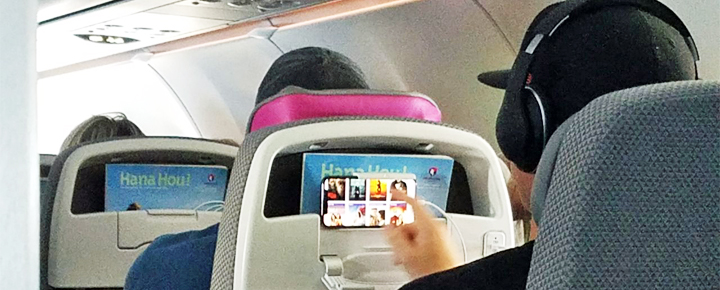 Oh how we have bemoaned the inappropriate use of phones on flights to Hawaii. While it is still rather hard to talk on the phone en route to Hawaii, the use of cell phones for entertainment is widespread. Even more so as airlines move away from providing seat back entertainment (think Hawaiian Airlines and above photo onboard A321 neo).
Hawaii Flight Etiquette | Cell Phones on Airplanes
A recent article we saw which was reporting on a survey conducted for AT&TPublicity, pointed to the frustrating issues travelers encounter with cell phones. This brought our thoughts to Hawaii flight etiquette, since on a long Hawaii flight, sometimes even overnight, these issues can be even more relevant. It looks like we aren't alone in our frustration.
📱 83% were irritated when others are playing movies, music or games without a headset. Many airlines will hand out headphones for free that fit your phone.
📱 64% found use of a very bright cell phone screen in a dark cabin disconcerting. Consider turning your brightness down out of courtesy. It will also save your battery.
📱 63% were annoyed by others talking on the phone while still on the ground. Not sure what to make of this issue. It's something we do ourselves.
When asked should be done about these issues, 30% went so far as to say the devices should be confiscated, while some suggested a fine, or removal from the flight. Most, however, did not suggest consequences for these annoyances. We aren't sure what to think about consequences here. Any thoughts?
"One minute you're enjoying your flight, the next you're daydreaming about throwing the guy next to you out the window. And you wouldn't feel that bad about it, either."
We found other findings of interest as well:
📱1 in 15 reported that they don't turn their phones off or put them on airplane mode. (We question the accuracy there and suggest it is far higher than 1 in 15)
📱67% turn phones off; 27% go into airplane mode. (Do you believe that?)
📱Males ignore instructions about phones at a rate of two to one compared with females.
The study further checked on why people do or don't choose to comply:
📱83% turn off phones in order to not negatively affect the flight.
📱Nearly one-third think phones could cause cabin pressure loss.
📱Another common thought is that the phone can interfere with aircraft communication.
Are you guilty of any of these infractions? How do you handle your cell phone in terms of Hawaii flight etiquette. And lastly, we'll stay out of the science of cell phone signals on aircraft.
Disclosure: We receive a small commission on purchases from some of the links on Beat of Hawaii. These links cost you nothing and provide income necessary to offer our website to you. Mahalo! Privacy Policy and Disclosures.