When we recently heard that "AlohaSafe" was just discontinued, we were thinking about other COVID programs and terms we lived with for years. It was a crazy time, and none of us knew what was happening or what to do. We still have large tubs of Clorox wipes used to wipe down groceries, packages, and even the mail in the early days.
Covid time warp.
While AlohaSafe alerts just ended, it's been over a year since Safe Travels has been gone. There is a time warp, it seems, where we want to forget everything that happened during it, and somehow it just doesn't compare with any other period we can remember. What about you?
Here's a look back at AlohaSafe, Resort Bubbles, Hawaii Safe Travels, Hawaii's Covid curfew, and more. These programs emerged as Hawaii tried its best to navigate the way through Covid. How many of these do you remember?
AlohaSafe mandatory tracing was a phone App. It shared your Covid test results with other users' phones near you. A notification was sent to your phone if you had been within 6 feet of an infected person for 15 minutes or longer. We wrote about the AlohaSafe program and said, "Governor Ige late yesterday approved the mandatory contact tracing requirement for all travelers from both the mainland and interisland to Maui." Editor Rob installed it on his phone, while editor Jeff did not.
Kauai Mayor Derek Kawakami became an instant celebrity. After a nightly curfew was imposed on Kauai, he and his family did evening broadcasts featuring home-based activities like cooking, making masks, and dancing. Regarding the nightly curfew at 9 pm (or was it 10 pm?), rarely does anyone ever go out late on Kauai anyway, but suddenly we missed the mere ability to do so.
Hawaii Safe Travels. Can you believe this ended less than two years ago? The chart below will be a reminder of what it was like to visit Hawaii, which included Covid tests, a health questionnaire, and more. Failure to adhere precisely to the policy would land you in Quarantine for 14 days on arrival.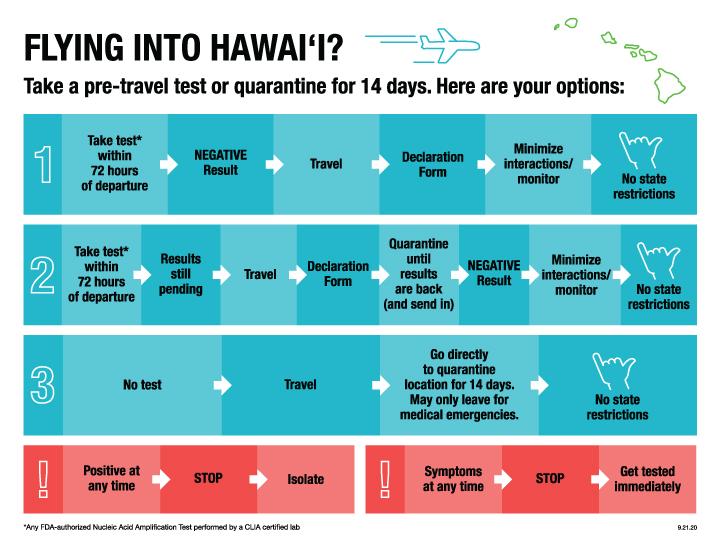 Hawaii Resort Bubbles started at select resorts like the one above.
Kauai, Big Island, and Maui pursued "resort bubbles" for travelers. The governor at the time issued a proclamation approving it. The resort bubble concept was a way to replace the 14-day in-room quarantine with a 14-day resort stay as long as you did not leave the property.
In a post with about 500 comments, visitors were overwhelmingly against the bubble idea. One reader, Kathy, commented, "Perhaps we can make a reality show called 'Prison in Paradise'; the old Fantasy Island show with a twist. The theme song should be Hotel California."
We said then that Hawaii hotels, unlike other all-inclusive resorts worldwide, were never intended to be destinations in and of themselves. And the whole idea of a resort bubble was antithetical to the expected Hawaii experience. Visitors stayed at oceanfront resorts but could only view the ocean from their hotel. On Maui, there was talk of setting up a beach in front as an alternative that would be closed to everyone other than those in the hotel's quarantine.
Ultimately, the idea was deemed not viable, seemed insulting, and we aren't even sure it was safe. Editor Rob said, "We're reminded of blowing bubbles as a kid, how pretty it looked for a moment, but then the bubble burst. So it went with this idea." The resort bubble boondoggle allowed your every movement to be followed via a transponder bracelet and associated location compliance tracking software connected with police and other security.
Kauai modified resort bubbles and opted out of Safe Travels.
Quarantine had been reduced to 10 days, and Kauai implemented a 3-day Resort Bubble to shorten the time. Visitors could test on the island after three days and be released with a negative Covid test.
The Kauai major proclaimed that resort bubbles were "Just one step in the staged approach for a broader opening of travel."
The Grand Hyatt Kauai was closed during Covid and had no interest in the program. This, the largest resort on Kauai, simply was not wanting to "bubble."
And if you got antsy and needed to free yourself from your bubble's bracelet, you'd have better thought twice. The mayor said, "This technology… if somebody tries to take this band off, it will also ping the resort security as well as our local law enforcement."
Then it all came to a welcome and rather abrupt end.
We wrote in March 2022, "There's a change in the air throughout Hawaii today. It's our last day wearing masks. Starting at midnight tonight, we will, at long last, mark the end of the state's emergency Covid proclamation. With that goes the Hawaii Safe Travels program and the indoor mask mandate."
And so began the return to Hawaii following Covid.
Suddenly when traveling to Hawaii, it was just like before we ever heard of Covid. This was great news for many, including those heading to the islands for spring break. Following that, there were some 1 million visitor arrivals in the first 30 days.