Delta Airlines just announced that it will begin flights between Honolulu and Tokyo starting this fall. While seemingly insignificant for our U.S. travel visitors, nothing could be further from the truth. Putting it in perspective, Japanese visitors have to a large degree never returned to their beloved Hawaii since Covid, for a multitude of reasons. Normally there would be more than one and one half million Japanese visitors arriving in Hawaii annually. And it looks like that pace or more may be set to resume later this year.
Hawaii has had record-breaking domestic tourism this year, except for one element. And that is international tourists and more specifically Japanese visitors whose numbers have remained at just a fraction of normal.
Lack of international tourists offered some elasticity in Hawaii's challenging travel environment.
Hawaii is still trying to cope with extremely limited resources in our travel sector. The lack of workers is a huge strain in terms of hotels, airlines, restaurants, and more. We've said before that you need to come prepared for this and it could be exacerbated by the return of international visitors. On Maui, for example, there are said to be 3,000 available hotel jobs that can't be filled. Restaurants too remain challenged as noted here: Hawaii "Closed Without Notice" Signs Include Guy Fieri Find.
International arrivals will result in yet another level of record tourism.
One of several big obstacles to Japanese visitors has been the requirement to obtain relatively expensive Covid testing on return to Japan. That even though both the U.S. and Japan have curtailed most border restrictions. That comes at a time when Japanese visitors must also face a weakened Yen valuation, in addition to large $600 fuel surcharges. In addition, Japan has for now retained a cap on the number of arrivals into the country daily.
The state's research arm (UHERO) said that the U.S. dollar is "20% higher than what it was a year ago. A Japanese visitor coming to Oahu, they not only have to pay whatever the increase is in the cost of their hotels and the cost of their flights here, but they also have to pay an additional 20% in yen because of that exchange rate."
Prior to Covid Japanese arrivals were 1.6 million annually.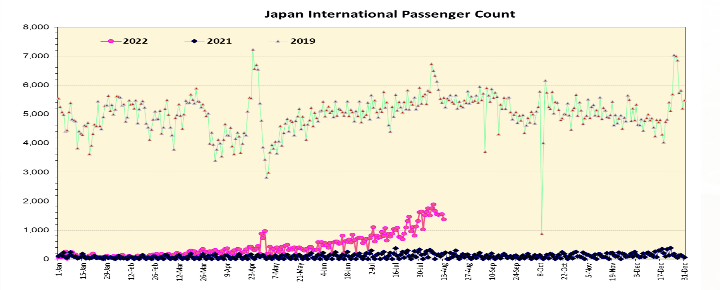 Delta Airlines Honolulu to Haneda starts December 1.
Delta said, "This is the first time Delta has offered service from Haneda to Honolulu with its start delayed due to the pandemic." DL181 will leave Honolulu at 1:30 PM and arrive Haneda at 6:00 PM. The return flight leaves Haneda at 9:00 PM and arrives Honolulu at 9:00 AM.
"As travel restrictions gradually ease in Japan, we decided to restart the service from Los Angeles and Honolulu and increase the frequency of the flights currently operating flights to Haneda."
Hawaii Airlines now has Japan flights to three airports, with three more routes pending.
Hawaiian Airlines is also now flying to Narita, Haneda, and Kansai. It isn't clear if or when they will resume Japan flights from Fukuoka and Sapporo or the route between Kona and Haneda.
520-passenger ANA Flying Honu, JAL and Zipair have all returned to Hawaii.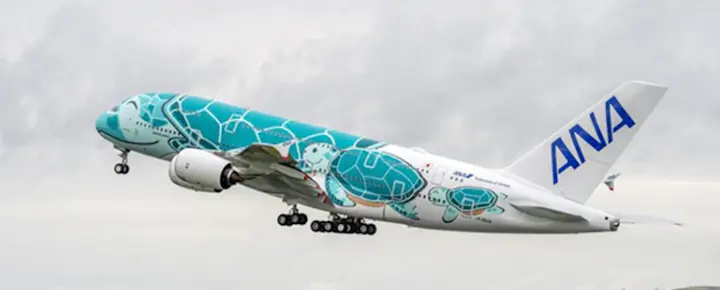 Recently, ANA, Japan's largest airline restarted its A380 service twice weekly from Tokyo's Narito to Honolulu. It also flies from Haneda. One of the planes is pictured above on its delivery fight from the factory in Toulouse. Japan Airlines is also flying to both Honolulu and Kona. And Zipair is flying to Honolulu as well.
How can Hawaii handle even more visitors?
First, we don't know how quickly international visitors will return. If what happened domestically is any indication, however, we're guessing it will happen faster than anyone thinks. Without adequate staffing and infrastructure, what can we expect? Perhaps this is a place where Hawaii Travel Customer Service Is Dead. Here's What's Next will make somewhat more sense.