One difficult subject for Hawaiian Airlines has been the incredibly slow resumption of its all-important international routes following Covid. Japan reopened international travel to Hawaii's bellwether about three months ago. Hawaiian hoped Japan service would have resumed last summer, but that didn't happen as Japan didn't move forward with international travel, leaving Hawaiian hanging. Japan has been a large part of Hawaiian's overseas network for years, second only to the west coast, and Hawaii remains a much-in-demand leisure market for Japanese travelers.
Hawaiian is adhering to their plans to gradually resume more and more foreign routes, and this announcement is a good sign of that happening.
Japan is critical to Hawaiian's bottom line.
Hawaiian continues to battle with Southwest in many west coast markets and interisland. This will help alleviate substantial financial pressure on the carrier. Hawaiian's prior network coverage to Japan consisted of five destinations. With this addition, the only route still off-schedule will be Sapporo.
While Japan has a high degree of airline competition, it is a segment in which Hawaiian excels. Delta started flying to Tokyo last fall from Honolulu.
Japan and other international arrivals will result in higher levels of record tourism.
Before Covid, for example, 1.6 million Japanese visitors arrived in Hawaii annually. We don't know yet how quickly international tourism will return.
Four Hawaiian Airlines routes to Japan are now back.
The company will restart 3x weekly service between Honolulu and Fukuoka, Japan, starting on April 28. Hawaiian said, "We remain steadfast in our commitment to Japan and want to thank our guests for choosing to fly with us."
Fukuoka is Japan's 6th largest city and is on the island of Kyushu. It's known for its temples, beaches, and shopping.
The Fukuoka flight will operate as HA827, departing Honolulu on Tuesdays, Fridays, and Sundays at 1:35 p.m. and arriving in Fukuoka at 6:40 p.m. the next day. On the return, HA828 departs at 8:40 p.m. on Wednesdays, Saturdays, and Mondays and arrives back in Honolulu at 9:55 a.m. on the same day.
With the addition of Fukuoka, the airline will have flights to both Tokyo airports (Haneda and Narita), Kansai, and Fukuoka.
Hawaii warned that while Japan reintroduced visa-free entry for foreign arrivals last year, visitors should remain aware of government requirements for entry into the country.
This route is a resumption of service that only operated for four months starting in November 2019. It was terminated due to Covid.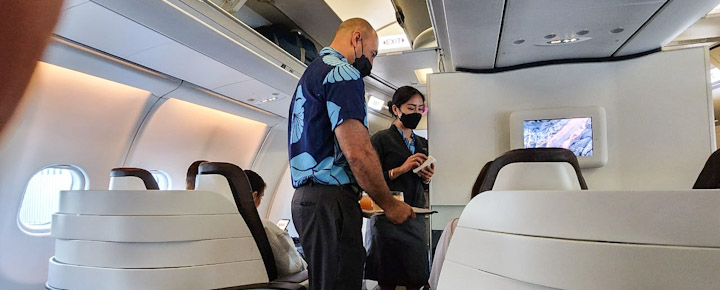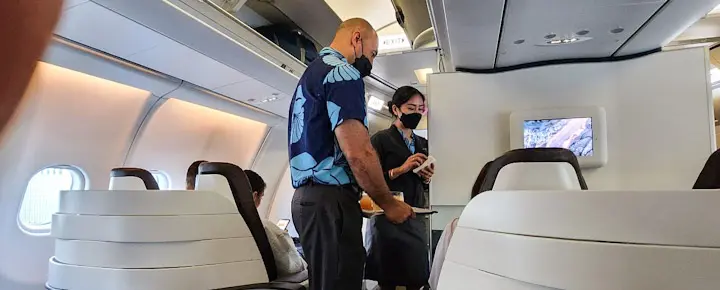 At this time, Hawaiian will continue to operate all Japan flights on their fleet of 278-seat, wide-body Airbus A330 aircraft, with 18 business-class lie-flat seats (pictured directly above), 68 Extra Comfort (extra legroom economy) seats, and 192 economy seats.
In the future, Hawaiian will move a number of the Japan flights to their new Boeing 787 Dreamliner fleet once they begin to take delivery of those planes starting later this year. The Dreamliner also offers a more premium business-class cabin which will play well in these markets.