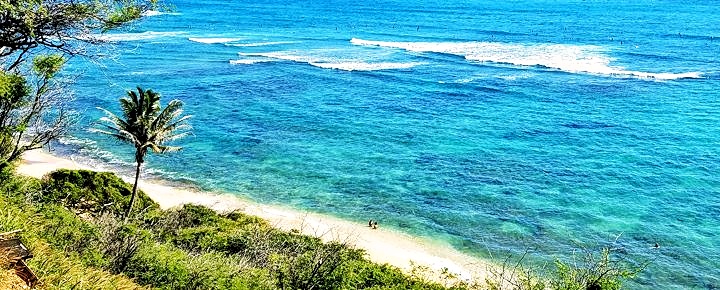 Yesterday, we revealed the governor's yet to be widely publicized Hawaii mask mandate requiring face coverings statewide with few exceptions. That apparently hit a nerve and resulted in many comments of support or opposition to wearing masks on a Hawaii vacation. Here's the reality. You can't escape the pandemic on a Hawaii vacation. We need to keep our businesses open and be able to continue to share the beauty of the islands with visitors. But we have to keep everyone safe, to the best of Hawaii's ability.
Look at what happened just this week on the island of Lanai. Their island and its tourism were shut down due to a run-up from zero to nearly 100 COVID cases in just a week's time. The outbreak was largely reported to be a result of no masks and social gatherings.
So you want to visit, and we want you to be here. To help make that happen, we're largely all wearing masks here. Personally, we see that more and more every day. Not only that, but according to the most recent Hawaii Emergency Management Agency report, 73% of people in Hawaii are wearing them correctly (as in both nose and mouth covered). For what it's worth to you (or not), the Centers for Disease Control and Prevention says that mask-wearing prevents COVID-19 spread in addition to washing hands regularly and social distancing.
You can also go online or when you're here head to Hawaii's stores and find Hawaii-style masks. You'll fit right in while enjoying everything Hawaii has to offer from our culture to beaches.
Here are just a few of the fascinating comments you proferred.
Chris S: Why anyone would go to Hawaii with these restrictions is beyond me. Wearing a mask outside when no one is near is an absurdity. Don't go to HI until things are back to normal. Don't risk having your trip ruined by being told you have to quarantine by government hacks.
Beat of Hawaii: This is the new normal, at least for now.
GK: One solution may be, to close off one lane on Kalakaua avenue to use as a wider pedestrian "sidewalk". Since Kalakaua has less vehicular traffic. This would help pedestrians in Waikiki follow the 6′ SD mandate.
Beat of Hawaii: We like your creative idea GK.
Jon D: If I can't exercise while maintaining 6′ it cuts out 90% of why come to Kauai. Waimea, Sleeping Giant, Kalalau are where we spend our time. I have no problem wearing a mask or buff when I pass people on the trail but if I have to wear it full time its a deal breaker. There is zero logic in that. I am sure it is a deal breaker for many like me. I hope common sense prevails by April or we will be forced to cancel again.
Beat of Hawaii: We wear masks too while exercising outdoors. Especially on trails, where it can be difficult to know when social distancing is or isn't possible.
Mar: It should be automatic. Like a seat belt sheesh. Get one to match your bikini too.
Beat of Hawaii: Great idea Mar. Make it more fun, be creative, and find a mask and design that reflects you. But who ever imagined we'd be saying these words?
Julie: Where is any valid evidence that the use of masks are effective? Some researches have even proved the opposite. I often wonder if people have lost they ability to think critically. Masks are nothing but a illusion. A fake sense of safety – with the exception of the use on those who are coughing or sneezing… I will not use a mask except when entering any indoors facility. No matter how many fines they give me and I'll fight them in court if necessary. The constitutional rights are above the Governor's mandate.
Beat of Hawaii: Refer to our link above Julie from the Centers for Disease Control and Prevention. We aren't experts and are simply following the guidelines offered. Sorry, but you shouldn't come to Hawaii now if you feel like this.
Amanda responded to Julie: Julie, you may have missed this: Asymptomatic virus carriers (that means people who feel perfectly fine) can be spreading the virus just by talking, laughing, shouting. They do not "know" they are spreading the virus. They are not coughing or sneezing. And they may never actually have symptoms because their body fights it off…but they are still spreading. The virus spreads in aerosols through the air….you, yourself, could pass someone while you are talking and spread virus aerosols in their personal space. Sheesh! Wearing a mask until we have this virus under control protects everyone from you…and protects you from everyone who may be spreading.
Rob L: It may be ridiculous but that is the rule, as mentioned here on BOH. A person is also subject to one year in jail, I guess depending on the severity of the case and the arresting officer's discretion.
Pam M: I cannot believe that no one can agree on the mask issue and Hawai'i has lost it's Aloha completely if no one agrees to communicate clearly with one another.
Beat of Hawaii: Thanks for mentioning the Aloha Pam. We've just seen new masks emblazoned with the words "Sharing Only Aloha."
Vicki G: Incidentally, the local people having their week-end picnics and bar-b-ques DO NOT wear masks and are definitely not social distancing. Can you explain why they are not following the rules and not given citations but the visitors are targeted?
Beat of Hawaii: These rules apply to everyone. Not just visitors.
David W:  Here is the thing. Nobody should need a mandate. Everyone knows by now what is required if you want to minimize your chances of getting the disease or spreading the disease. Social distancing, wear a mask anytime you are indoors or near anyone outside, wash or sanitize your hands often. That all should be obvious by now and nobody should need to be told that. Otherwise Hawaii will be shut back down very quickly. I'd like to see some kind of fine but that shouldn't be necessary. For now I can't see traveling there until this all plays out a little more.
Sandra K: Yes masks are required. It's a pandemic.
Reg Y: I mask up when I go outside; to work and around others. It's best to just wear a mask, err on the side of caution. It has been shown that anyone can get Covid, so why take a chance? Nobody knows about the long-term effects on a person's health. So please wear a mask. If you're not at home, then you need to wear a mask. There's some minor variation among islands, but if you put on a mask when you're not at home, without trying to pick at the loopholes, then you'll be in compliance anywhere… If you're not at home, put on a mask, easy as can be to understand.
Peg H: Just wear a mask. Is it really that confusing for you? We know they work. At most a very minor inconvenience. People that cannot understand this simple dynamic are why we're here eight months later.
You may want to draw this out as long as possible but most people don't.
Cindy W: As a resident who lives at the end of Kapiolani Park, where people exercise heavily (90% of the time without masking) and someone who keeps up with the WHO and CDC Recommendations, I applaud Ige for coming forward with a Mask Wearing Mandate, Finally!!! Now post the Mandate including the fines in the elevators and lobbies of every hotel, condo, park, bus stop, grocery store, restaurant, restroom, tennis court and retail establishment on the island.
Disclosure: We receive a small commission on purchases from some of the links on Beat of Hawaii. These links cost you nothing and provide income necessary to offer our website to you. Mahalo! Privacy Policy and Disclosures.