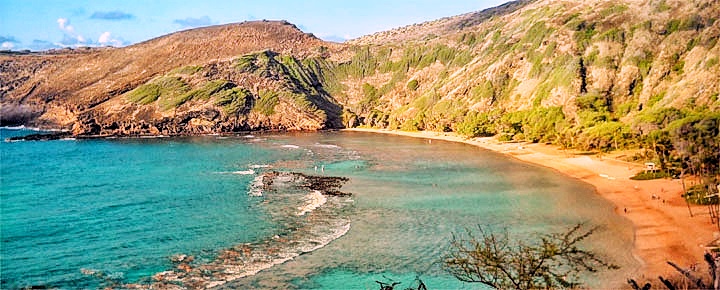 We need a little relief here, and maybe you do too. It comes right on the heels much discussion of what it will take to reopen Hawaii tourism, and dow Hawaii is, or is not, handling things right now. It has been topical, interesting, albeit at times quite heated. There have been well over 700 fascinating comments recently on Hawaii Public Relations Nightmare as Media Frenzy Fuels Unrest, How Do Hawaii Residents Honestly Feel About Tourists and Testing Approved As Hawaii Visitors Demand Essential Information. You're more than welcome to join in those conversations too.
If, on the other hand, you, like us, yearn for remembering the healing qualities of the islands, the aloha spirit, memorable beaches, tradewinds, Hawaiian rainbows, and more, read on, then get back to us with your thoughts. Here are a few questions we asked ourselves, then turn over to you, our ohana of website visitors.
1. When did you first visit Hawaii?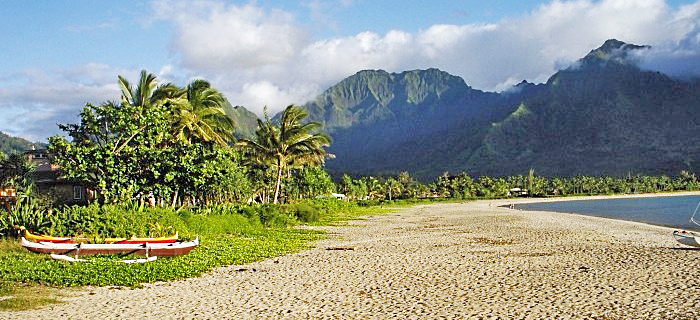 Rob: The year was 1989, and I was in my early 30's. I wasn't sure I was going to like it, but once I drove away from the airport and saw the beauty of Kauai, I was hooked within minutes and suddenly felt at home. The part of the island that I connected with the most was Hanalei and the North Shore as pictured above. But when I moved to Kauai, it was to South Shore and Kalaheo.
Jeff: I first came to Hawaii in 1970. I had no idea what I was getting into and how much my life was about to change permanently. My heart never returned to the mainland, and my body soon followed. I began as a part-time resident, then bought property, and subsequently moved here full-time. 
2. Why did you come here for the first time?
Rob: It was a vacation. I wasn't sure what island to visit and talked to a travel agent. I saw the map of Waikiki and its hotels and felt overwhelmed. After talking to me, the travel agent suggested Kauai but told me it would be very quiet. I stayed at the Kauai Beachboy near Kapaa.
Jeff: I'd honestly never given any thought to Hawaii, but loved the ocean, surfing, and warm summer days spent in Santa Monica growing up. So when I was invited to come with a friend to Kauai, I didn't give it much thought and just did it. Stepping off the plane, something about me changed at that moment. And the rest is history. I knew I was home. That trip was followed in quick succession with countless additional visits. 
3. Which islands have you visited and how many times each?
Rob: Between 1989 and moving here in 2004, I was a college admission director. That meant multiple visits each year to Kauai, Oahu, Maui, and Big Island. I would do high school visits and college fairs in the fall, and come back later in the year for follow-up. Many times I would add vacation time to stay longer. In the process, I became connected with many families here in the islands. When their son or daughter came to my college, it was a big deal and I was made to feel like part of their ohana.
Jeff: Honestly I do not recall, but here goes. Oahu, at least 200 times over the years. Big Island, Lanai, Maui, and Molokai, perhaps 50 or more times in total. On Oahu, for everything from shopping (when there were very few options on the outer islands, and even Home Depot required a trip to Honolulu, for the culture and nightlife that is uniquely Honolulu, and even to doctor visits. I can honestly say I've never had a bad time visiting there. The other islands have been for work, and with family and friends, or just to visit. I am grateful to have friends on all the islands. 
4. What calls you to return?
Rob/Jeff: Lucky to both live full-time on Kauai.
5. Have you ever grown tired of Hawaii vacations?
Rob: So now my Hawaii vacation is visiting another island. If I want the big city experience, I go to Honolulu with its pulsating energy that is so different from Kauai. The other place that attracts me is The Big Island. I'll check into one of the big resorts like the Westin Hapuna Beach which is my favorite oceanfront location. 
6. What are your trips to Hawaii like? Are you a budget traveler?
Rob: I take advantage of Kama'aina rates when possible to get the best price. On Oahu, I like staying on the Diamond Head side of Waikiki which is quieter. My pick is often an oceanfront corner room at the New Otani Kaimana Beach Hotel.
Jeff: The first time I visited Honolulu, I had a small Japanese style vacation rental (before they called them that). It was $30 a night, including breakfast, and was steps from the beach. My how times have changed! I'm not opposed to luxury either, and enjoyed the Kahala Resort among other destinations. 
Disclosure: We receive a small commission on purchases from some of the links on Beat of Hawaii. These links cost you nothing and provide income necessary to offer our website to you. Mahalo! Privacy Policy and Disclosures.