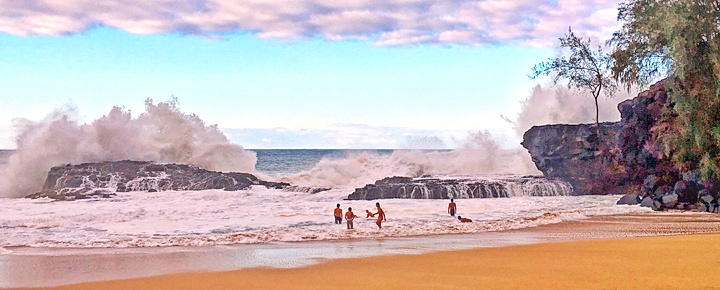 Pre-travel testing onflights to Hawaii appears to have been approved by the federal government. How that will work and more follows.
And when will travel restrictions be lifted? Without adequate guidance, many of you are left unsure and unwilling to commit to your Hawaii travel plans. That only makes sense.
With mandatory 14-day isolation on arrival now extended until June 30, we all need to know what happens after that? Times are turbulent, just like the waves in the photo above.
Some news sheds light on initial thinking here among Hawaii government officials that includes implementation of just approved elective testing.
State officials announced reopening plans without addressing Hawaii tourism.h
The state government announced a four-phase reopening plan, but it did not address tourism. Not having a plan in place, no matter the timeline, for the reopening of Hawaii tourism, is an epic failure.
In the interim, last week, Senator Schatz said Governor Ige's Cabinet is dragging its heels on the issue of contact tracing, another important aspect of reopening, even though the senator helped obtain tens of millions of dollars to do that work.
Counties are being left to make their own decisions, either out of lack of direction from the state, or for their own reasons, including political ones. So for example, the June 30 extension of mandatory isolation date was first called by Kauai, then followed by Honolulu, and only later, announced statewide, by the governor.
Elective testing green light from the federal government.
Last week State Senator Ed Case asked the FAA if testing before departure for Hawaii was an option. Yesterday, the answer came back that there is "Nothing in the Federal Aviation Administration (FAA) or the United States Department of Transportation (USDOT) regulations that prohibits the state from requiring such testing."
Prior to the decision, Case said, "It's not a criticism of the state, because they have been left with no options… they have understood that pre-board testing is not available to them, so I'm trying to fix the state's problem… The federal government reserves that… jurisdiction to itself."
Caveats are that testing cannot be a requirement for boarding or travel to Hawaii according to the federal government. That having been said, those who do not have a test, would still be required to submit to mandatory 14-day isolation.
Beat of Hawaii. So how does that work if passengers on the plane have either not been tested or are positive and are flying with you, since denial of boarding cannot be mandated. Doesn't that pose additional risk to the remaining passengers?
Just head to CVS or Walmart says Hawaii State Rep. Gene Ward.
He envisions passengers will "Go to CVS, go to Walgreens, get your test, give it to the airline, you're in great shape." On checking, however, even for those willing (and may of you have said that you are not), we found that CVS does not currently even offer rapid testing for those in California, Oregon or Washington. Those are the states with the most visitors to Hawaii. Walgreens on the other hand, does Oregon and Washington, but not California.
TSA Temperature checks up next.
At the same time, TSA is said to be planning for temperature checks on passengers before boarding, and Hawaii has volunteered Honolulu Airport to be one of the first US test airports.
If you are denied boarding.
Passengers appearing ill can be denied boarding either by TSA or by the airline. According to DOT, passengers who appear ill with communicable diseases can be barred from flying. If they are so denied, are airlines required to offer alternate travel or a refund? We found conflicting information on that important piece, which we are attempting to clarify.
Tourist economy of Hawaii devastated as we wait for direction.
A University of Hawaii/Hawaii Chamber survey just found that 34% of Hawaii businesses statewide had no revenue last month, and on Maui, that number was 61%. We estimate the total explicit and implicit Hawaii unemployment rate at well over 50%. Thousands of employees don't know yet when they can plan to return to work.
Post updated 5/21/20.
Photo © Beat of Hawaii: Lumahai Beach Kauai. 
Disclosure: We receive a small commission on purchases from some of the links on Beat of Hawaii. These links cost you nothing and provide income necessary to offer our website to you. Mahalo! Privacy Policy and Disclosures.