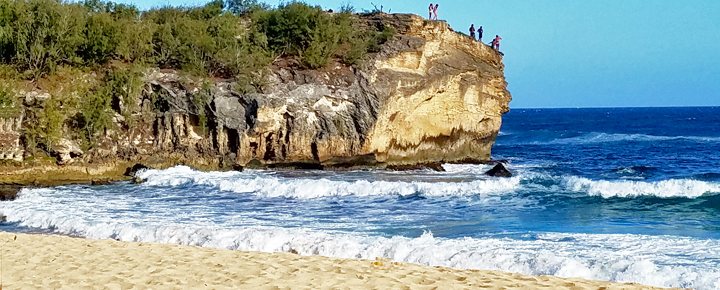 During a briefing this morning, Hawaii's governor said he will now extend the 14-day mandatory isolation through at least August 31, putting the kibosh on Hawaii travel. That comes as the pre-travel testing program that Hawaii had planned has collapsed, and will not be occurring anytime soon. Reopening was originally slated starting August 1 with no 14-day isolation required for those testing within 72 hours before travel. There's a lot more to this, so please read on.
Wait times for test results have dramatically increased.
Our Beat of Hawaii commentors called this before, and now it is in the national news. CVS is reportedly taking multiple times longer than originally promised for test results. Ironically, if they take any longer than they are now, it may exceed the 14-day isolation period, so that these test results could become entirely meaningless. California's governor said, "Because of backlogs with Quest and others we're experiencing multiday delays."
We have heard that some locations have purchased rapid test machines that do not rely on the same supplies that are in short order or have secured additional lab supplies. It isn't clear what Hawaii has done in such regards.
Hawaii's CVS testing partnership failed before it even started.
As recently as a week ago, Hawaii's health director Bruce Anderson touted the relationship with CVS as the white night that would result in timely travel tests via their 1,400+ locations. That was unquestionably the most critical aspect of Hawaii's reopening plans. Since then, however, CVS is reporting multi-day to multi-week delays in returning results.
CVS's spokesperson Charlie Rice-Minoso said there is currently a wait of five to seven days for test results. "As demand for tests has increased, we've seen test result turnaround times vary due to temporary processing capacity limitations in our lab partners, which they are working to address." Others are telling us that five to seven days is on the optimistic side at this time, however. Giant testing lab partner Quest Diagnostics said, "Quest is doing everything it can to add testing capacity to reduce turnaround times."
US Assistant Secretary for Health Brett Giroir, who is responsible for the US testing system said, "The nation's testing system is nearing limits and commercial labs are taking longer to complete non-emergency C0VID tests… I'm not saying it's at a max now, but we're certainly pushing the frontiers."
Did Hawaii see this coming?
It looks like the state did not. In Alaska's example, there are multiple options as seen in the image below to accomplish travel testing. Even then, however, these are not guaranteed and we suspect they are having significant problems. For example, they are suggesting you do a test at home 72 hours before travel, and yet Alaska's test provider says there is a 4-6 day delay in obtaining results. Oops.
Will waiting help Hawaii's situation?
We're just not sure that changing the date will make any difference. The reason is that there is no guarantee or even likelihood that there will be adequate testing available in California and elsewhere in the near future. That given the rapid increase in cases and the need for more testing. It is painfully obvious that travel testing will be taking a back seat here to those of medical necessity.
If the situation isn't confusing enough, the State via its tourism site as of today still says that to avoid the 14-day isolation period, visitors will need to obtain results from an FDA-approved test from a CLIA-certified laboratory. That is the third time their stated requirements have changed in the past week. First, it said PCR test, and then it was changed to the NAAT test. There have never been any follow-up details offered, such as: from what age will children be tested, how long the pre-arrival testing requirement and quarantine process will be in effect, whether this only applies to travel from the mainland United States or does it also apply to travel from other countries, and how this affects residents returning to Hawaii.
Other problems with pre-travel testing are getting worse by the day.
1. How will pre-travel testing work for travelers who have stops en route from places that require connections and even stopovers?
That remains unclear.
2. When visitors unexpectedly don't have the required test results on arrival, or if their test comes back positive, what will happen to them?
Will they be returned to the mainland, and if so at whose expense? Visitors who normally stay about a week aren't going to be going into 14-day isolation, but perhaps a brief period (hours not days) until test results are returned might be possible.
3. Will any refunds be available should things go awry?
The major airline trade organization announced that its members will "refund tickets for any passenger who is found to have an elevated temperature—as defined by the Centers for Disease Control and Prevention (CDC) guidelines—during a screening process conducted by federal authorities prior to travel." That having been said, however, there is no provision for what happens when someone tests positive on either pre-departure or arrival testing. We are hearing that trip insurance could help, although that should be verified before purchasing coverage.
4. What are the costs associated with tests, and who will pay for it?
The governor has said that tests will be paid for by travelers and might be as high as $160 per person, which we believe is excessive and creates yet another roadblock to tourism. Could some of the costs be subsidized?
On-arrival testing being offered in Alaska, London, Frankfurt, and Iceland. 
London's Heathrow Airport will offer an example of new on-arrival, saliva-based testing. This means passengers can be checked for C0VID after landing at Heathrow and will know within 24 hours their test results. Passengers will go to their place of isolation until results are obtained. The estimated cost is $187.
Germany also announced on-arrival testing at extremely busy Frankfurt Airport via private-sector partner Centogene. For a fee of 59€ to 139€, tests results are returned within two to eight hours. Currently, 380 tests per hour can be processed at FRA. The airport also accepts pre-departure testing which will lessen the burden on arrival testing.
Iceland allows for on-arrival testing at airports. The cost is $65, which is being subsidized, and children under fifteen do not require testing. Test results are said to take no more than five hours.
Alaska provides an on-arrival test option too. The timely availability of results, however, is of great concern. The majority of travelers are testing one way or the other, before departure on arrival. About one-third of Alaska arrivals have already tested before departure and provide results at the airport, while more than one-third more obtain free tests on arrival.
Options for on-arrival Hawaii tests. 
Hawaii's' governor said recently that those who do not have their results on arrival will be in isolation until they obtain negative test results. In that comment, the door was opened to the need for more Hawaii testing options. Yet, the state continues to say that there will be no on-arrival testing. So just what does that mean? To us, it means that arrival testing will be provided not by the state, but perhaps by private-sector testing partners.
On-arrival testing has its own set of issues, since visitors will need to enter isolation until they obtain results. How that will be supervised here in Hawaii is anyone's guess.
Private testing partners.
As the government moves out of testing and private vendors move in, Hawaii first partnered with CVS and will undoubtedly try to add others in their traveler testing program. There is the possibility that the federal or state government may provide some reimbursement for test costs, but we have heard nothing about that.
We look forward to reading your comments! Please see our new comment policy effective 8/7/20. Mahalo.
Revised 7/13/20.
Disclosure: We receive a small commission on purchases from some of the links on Beat of Hawaii. These links cost you nothing and provide income necessary to offer our website to you. Mahalo! Privacy Policy and Disclosures.