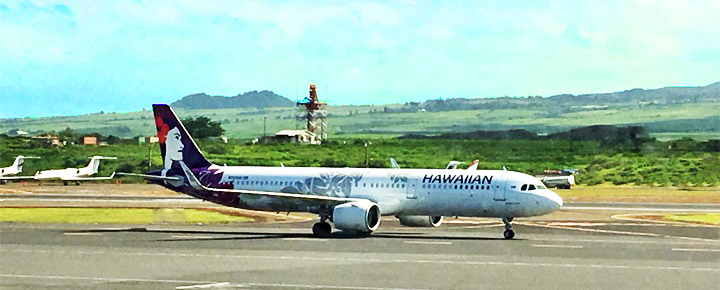 Much of interest to Hawaii travelers from bellwether Hawaiian Airlines and their quarterly earnings call this morning. First, by June, all domestic routes will have resumed, and the company is set to fly more domestically than ever before, even before COVID. Wow. What a difference two months can make.
CEO Peter Ingram said, "Leisure travel has been growing very well, and we are particularly well-positioned… Average fares have continued to improve." He added, "Right now, North America is booking out very similar to 2019… (with) pent-up demand for leisure travel after a year of lockdown… We are out of the ditch and back on the highway… Demand looks much more like pre-pandemic."
BOH: Depending on when and how international travel either resumes or doesn't, Hawaiian plans to look at other opportunities to utilize its resources. That will include domestic travel, which could, in turn, hopefully, result in additional routes. We continue to expect Hawaiian to expand in the middle-US, among other new route possibilities.
First-class now in growing demand.
Hawaiian's CEO said, "We're seeing a good amount of strength in our front cabin. It has come back exceedingly strong and may even exceed 2019 levels."
BOH: Premium, business, and first-class are seeing a resurgence post-COVID. That, as people look to have more personal space onboard after a year of physical distancing. While premium is already available, even more space will become soon when Hawaiian introduces its new 787 Dreamliner fleet on routes yet to be announced.
Boeing 787 Dreamliner fleet still starts late next year.
Hawaiian will begin delivery of the first two of 10, 787s late in 2022. They are set to enter service by early 2023. These planes will offer larger, more luxurious accommodations than offered currently.
BOH: Depending on international travel resumption, London and Southeast Asia remain two of the most likely destinations, although there are other possibilities, including some domestic routes. We see the opportunity for New York flights, for example, to use the premium aircraft.
New onboard services.
On June 1, 2021, the company will resume onboard services such as drink service, free Koloa Breeze cocktails in economy, and assorted alcoholic beverages and snacks for purchase. Complimentary meals for all passengers are also continuing. And, starting May 1, priority boarding is being reinstated.
BOH: Premium service defines Hawaiian's raison d'etre. The sooner they can reinstate their full-service components, the better positioned they are.
Additional 5 routes will all be in the air by next month.
Maui to Long Beach flights began on March 9, 2021.
Flights from Honolulu to Orlando started on March 11, 2021.
Honolulu to Ontario flights, which was the reinstatement of a prior route, resumed on March 16, 2021.
Flights from Honolulu to Austin began on April 21, 2021.
Maui to Phoenix flights, the last up of new routes announced, will commence on May 21.
Can Hawaii overall meet this increased travel demand?
Hawaiian has confidence that Hawaii has the capacity. Obviously, the rental car problem which we've addressed repeated must be resolved. Hawaiian described the problem as "transitory, which will work itself out."
CEO Ingram added that the Safe Travels process is something they are keeping a close eye on in terms of both testing and vaccination components. They are working closely with travel partners to keep people moving through Hawaii's airports efficiently, adding there is a need to "keep an eye on the guest experience."
Disclosure: We receive a small commission on purchases from some of the links on Beat of Hawaii. These links cost you nothing and provide income necessary to offer our website to you. Mahalo! Privacy Policy and Disclosures.