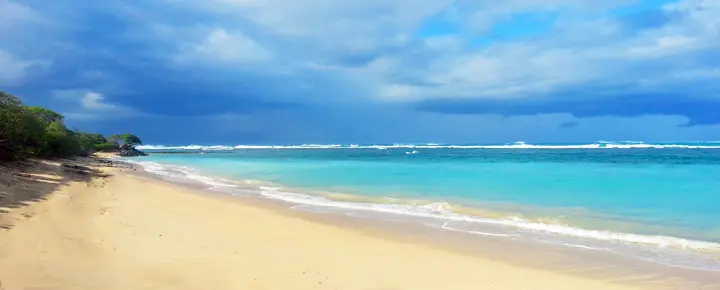 Hawaii's bellwether airline is shoring up its presence in Southern California, with a new maintenance base coming to Long Beach Airport. Currently, Hawaiian Airlines flights are offered to both Honolulu (HNL) and Maui (OGG), with basic economy, main cabin, and first-class service and airfare starting at a best price of $119 each way, including taxes and fees.
We wouldn't at all be surprised to see them extend that Long Beach reach to both The Big Island and Kauai when possible, and that availability would provide for more tickets and cheap flights to Hawaii. A press release from Long Beach's mayor said "Hawaiian Airlines making this long-term investment in Long Beach is a real testament to the strength of our airport."
BOH: We concur that this is a good sign of economic recovery for Hawaii travel while providing local jobs in California. It is a strategic opportunity to improve performance and presence, both in terms of all-important Los Angeles area-to Hawaii travel, and to better compete with newcomer Southwest.
The LGB airport is an undeniably popular gateway serving Hawaii visitors that sits strategically placed for residents of both LA and Orange counties.
Strategic Location in Southern California.
Long Beach Airport is located three miles north of downtown Long Beach. Its other names are Daugherty Field and LGB. The airport's largest airline presence is that of Hawaiian's competitor Southwest Airlines since JetBlue Airways pulled out of Long Beach two years ago. Southwest also offers nonstop flights to Hawaii from Long Beach.
It's just twenty miles from LAX, yet a world away from having less traffic and within-airport congestion. Guests love that and we've tried it and concur.
The new scheduled and non-scheduled maintenance facility (the fourth Hawaiian Airlines maintenance depot) was previously within a hangar of JetBlue. It will also house a significant supply base and warehouse for the airline. Already operational, it houses mechanics who perform inspections including brake, fluid checks and tire services, and electrical work, among other things.
Major airport improvements underway.
A major construction project to improve the airport's safety started earlier this year and will go through August.
"The $25 million project, primarily funded by grants from the Federal Aviation Administration (FAA), will bring the airport in line with the latest FAA standards," according to a recent city statement.
Among strictest noise ordinances in U.S.
It's interesting to note that Long Beach Airport also has one of the strictest noise control ordinances in the nation, requiring that all flights be scheduled between 7:00AM and 10:00PM. Return flights with an arrival time from Hawaii between 10:00PM and 11:00PM are only permitted when delays are caused by weather, air traffic or mechanical issues.
Airbus A321 service facility.
The new facility will provide service for Hawaiian's Airbus A321 fleet of narrow-body aircraft and gives the airline greater operational flexibility. Hawaiian began Honolulu Oahu service there nearly four years ago, and last year added its second daily flight to and from the beautiful island of Maui. It's believed Hawaiian, Hawaii's longest-serving airline, has an interest in obtaining supplemental flight spots at the historic terminal at Long Beach to serve Southern California travelers with more local presence (it has two permanent flight slots currently).
Disclosure: We receive a small commission on purchases from some of the links on Beat of Hawaii. These links cost you nothing and provide income necessary to offer our website to you. Mahalo! Privacy Policy and Disclosures.