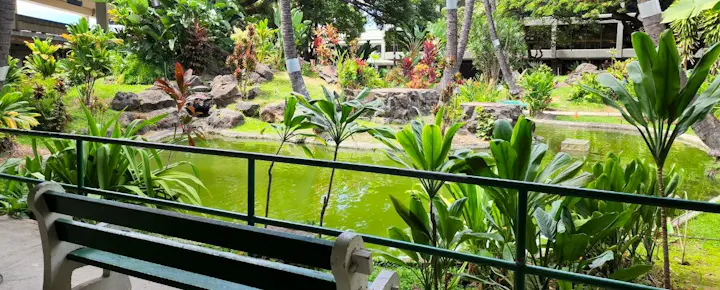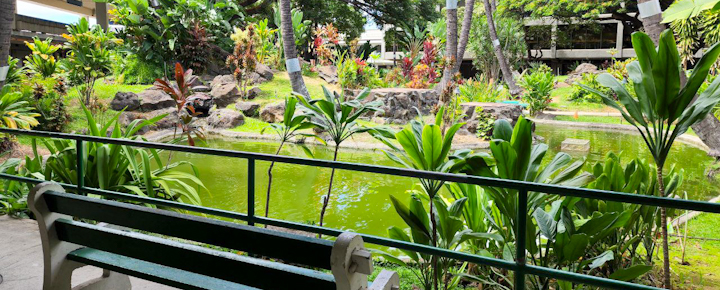 Honolulu's Daniel K. Inouye International Airport has had a unique garden feature for decades. And they keep improving with new renovations, including beautiful new restrooms that don't see much foot traffic. The Cultural Gardens at HNL joins a list of 7 top airport gardens in the world that includes Jewel Changi (Singapore), Sky Garden at Incheon (Seoul), and Central Garden at Ben Gurion (Tel Aviv).
Why go: If you're leaving Hawaii, the gardens are a great spot to get your last dose of Hawaii or have a Zen break from the hubbub of airport travel.
Garden Vibe: Relaxing and virtually unused, which makes no sense. When Jeff was at HNL on Monday, he took the photos below of the gardens; as you see, hardly anyone was there. The garden themes are Chinese, Hawaiian, and Japanese and were created by Richard C. Tongg, for the airport in the early 1960s. They demonstrate the influence of various cultures in Hawaii and have a series of pathways, bridges, stepping stones, and beautiful water features that tie together all three gardens. Waterfalls, koi ponds, and garden ponds add to the relaxing and beautiful ambiance.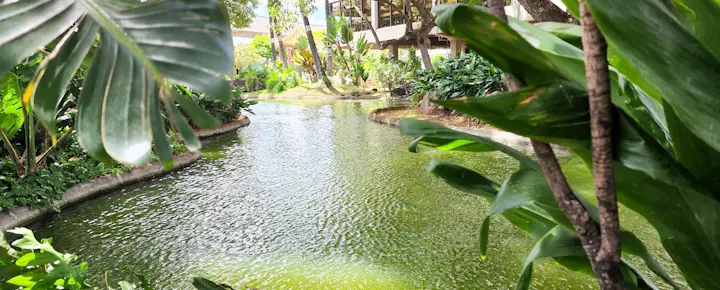 Tip: Have a lunch break here. Bring food or buy it at the airport, and eat in this magical setting on a garden bench. There's a food court above, yet many people don't venture down to this lush oasis.
Location: Terminal 2 Ticketing Lobby and the E Gates of the airport. It is very close to where you'll find Southwest Airlines.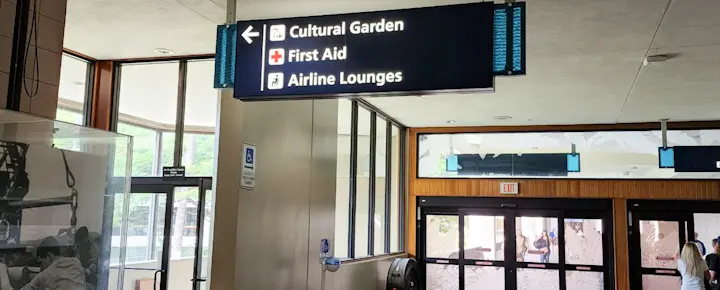 Chinese Garden at Honolulu Airport.
The most notable feature is a striking red pavilion with a lovely curved roof created in Hong Kong and then transported to the airport, where it was assembled. An arching bridge represents a span over the seas for world peace. There you'll find the Koi ponds set amid craggy rocks, bamboo and pine trees, and flowering trees.
Japanese Garden at Honolulu Airport.
Look for the zig-zag bridge representing serenity, with a wood shelter and stone benches for relaxing. Here, colorful carp swim in ponds surrounded by weeping willows and pine trees. If you visit in the evening, you will find stone lanterns beautifully illuminating the garden. Also, enjoy the elevated and commemorative pagoda.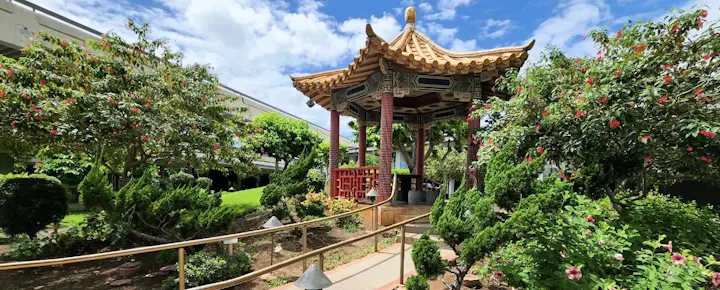 Hawaiian Garden at Honolulu Airport.
Here, lagoons are replete with koi and beautiful water sounds from springs and waterfalls flowing down lava walls. Beautiful tropical plantings and flowers are everywhere. And at night, the garden is torch-lit.
Interisland Terminal's C. B. Lansing Garden.
The most recent addition was the 1995 C.B. Lansing Garden, built when Terminal 1 opened. It is named in honor of Clarabell Lansing, the Aloha Airlines flight attendant who died on flight 243 in 1988.
Have you been to the Cultural Gardens at HNL? We invite you to share your experience.
All photos © Beat of Hawaii.
Disclosure: We receive a small commission on purchases from some of the links on Beat of Hawaii. These links cost you nothing and provide income necessary to offer our website to you. Mahalo! Privacy Policy and Disclosures.