Yes, you read that right. Qantas discount brand Jetstar is having a Hawaii airfare sale today that starts as low as $107 from Honolulu to Sydney, as shown below. Returns are slightly higher, and we have all the details below. This is a very unusual sale for a 5,000-mile (10-hour) flight to the "land down under" from Hawaii. Our thoughts go to mainland visitors wanting a vacation in Hawaii tied to one in Australia.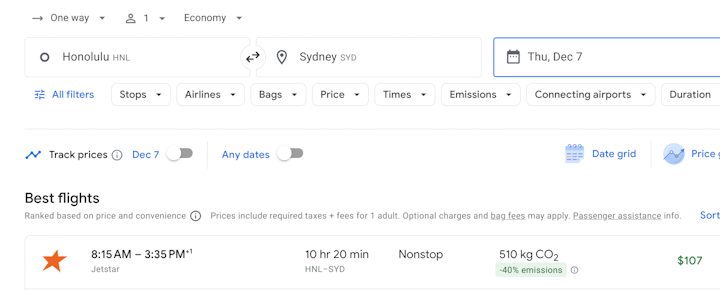 How this Hawaii deal works:
The best fare is extremely limited in availability. Use Google Flights to find the best prices and dates. Your return flight is higher in price, and the lowest round-trips are still eye-popping $342 to $442, including all taxes and fees. Or get down there via Jetstar then book a reasonably priced cruise back to Hawaii as another option.
The end of the year is the perfect time to visit Australia and Hawaii.
Whether you're starting on the U.S. mainland or in Hawaii, there is simply no better time of year to be in Australia than beginning in the fall. The seasons are reversed in Australia, so that's during their springtime.
Save big compared with flights from the west coast to Australia.
Flights from Los Angeles to Sydney are much higher-priced. By comparison, the one-way fares from Los Angeles to Sydney start at over $600, again making this a unique opportunity.
What's it like to fly Jetstar?
Beat of Hawaii editors have previously flown Jetstar. It is definitely an economy airline, and they charge for everything, including seat assignments, meals, and all baggage. This is best for foot-lose and carefree people looking for the absolute best price base airfare. Watch out for extra charges.
Flights on Jetstar are on the Australian airline's Boeing 787 Dreamliner.
The lead photo shows an example of the beautiful beaches you'll find in Australia — Manly, near Sydney.