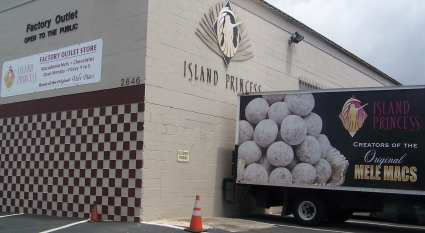 If you're a fan of Hawaii's Island Princess brand (I like their macadamia popcorn crunch), you can do some last minute shopping at their factory outlet store near Honolulu airport.
Just how good are the deals and is this worth a stop?
1. Values are there but you have to be a smart shopper.
At first it looked like the prices were the same as what I would pay at Long's.  I asked the cashier to show me the deals.  She pointed out their weekly specials and mentioned a 20 percent discount when you buy a case.  That's a lot of Island Princess and I asked her for a special on smaller quantities.
2. I selected export chocolate boxes for a unique find.
Each box was priced at $1.99 and designed for export.  I liked the fact the box was not available in stores.  At check-out I also found packages of Sweet Heat for 75 cents each.  This is a 5 spice chocolate whole macadamia treat.  Yummy.
3.  Operating hours may not always fit into your flight schedule.
While the store is 5 minutes from Honolulu airport, and close to Alamo car rental, it's only open Monday through Friday from 9 am to 5 pm.
For a map, check out the Island Princess Factory Outlet link.  Even if you don't find anything to buy, you can always try their free samples before your flight.
Located at 2846 Ualena Street in Honolulu; Phone: 808-839-5222 ext. 214
Disclosure: We receive a small commission on purchases from some of the links on Beat of Hawaii. These links cost you nothing and provide income necessary to offer our website to you. Mahalo! Privacy Policy and Disclosures.